Home schooling your children in the face of COVID-19?  Or are the children you teach returning to your classroom or are about to?  ACAP has come up with a way to keep young children occupied and entertained for an hour or two: the very first World Albatross Day Colouring-in Competition!
Earlier this year ACAP collaborated with Artists and Biologists Unite for Nature (ABUN) to produce a series of posters and individual artworks depicting the 22 species of the world's albatrosses to mark and help support the inaugural World Albatross Day ('WAD2020') on the 19th of this month.  ABUN artists were also requested to try their hand at line drawings, suitable to be coloured in by children (or young-at-heart adults).  One drawing for each species has been selected for the competition, listed by species' name below as downloadable PDFs.
To enter the competition, simply download drawings by clicking below the chosen photographs, colour in as many as wished, write the name and age of the child in the available blank space on each one, then scan or photograph the finished drawings and e-mail them to This email address is being protected from spambots. You need JavaScript enabled to view it.. Write "Colouring-in Competition" in the Subject Field and the child's name and age and your e-mail address in the body of the message.  There is no limit to the number of entries submitted per child.
It is not essential-to colour in the albatrosses with realistic colours.  In fact, artistic license is encouraged, so hoping to see at least one COVID-19 rainbow albatross.  But if it is wished to stay realistic look at the photographs on which the line drawings are based.
Entries will be assigned to age classes depending on the numbers received.  Four judges of international standing (see below) will then decide on the winners and runners-up for each age category.  All entrants will receive a specially designed electronic certificate illustrated with an ABUN albatross painting for printing and prize-winners will in addition receive a high-quality albatross poster suitable for framing by mail.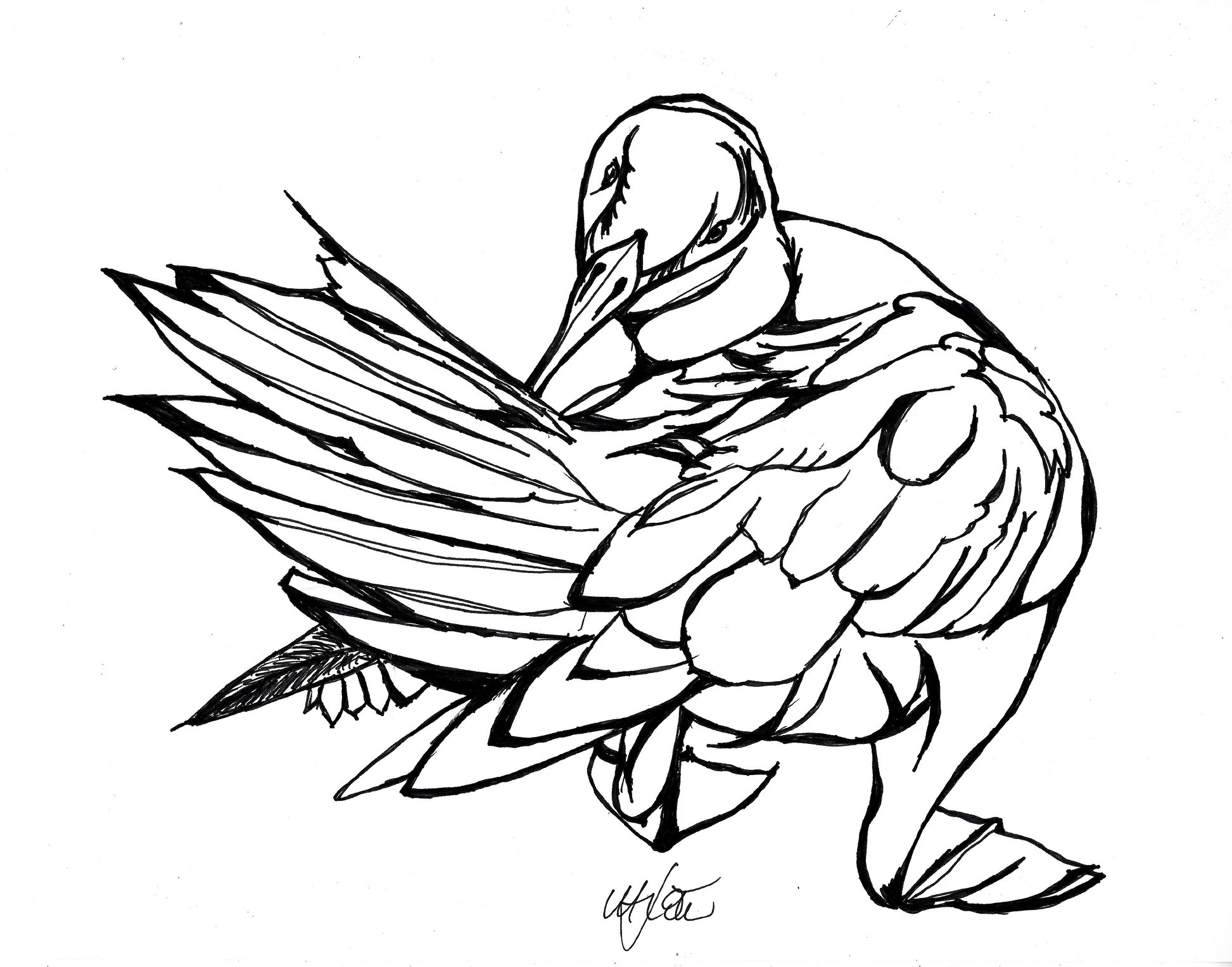 Light-mantled Albatross by Marion Schön, from a photograph (see below) by Oli Prince
The competition will close at the end of June, allowing time for drawings coloured in on World Albatross Day itself time to be submitted. Judging will take place in July with the expectation prizes can be posted shortly thereafter.
Get out your crayons!
MEET THE JUDGES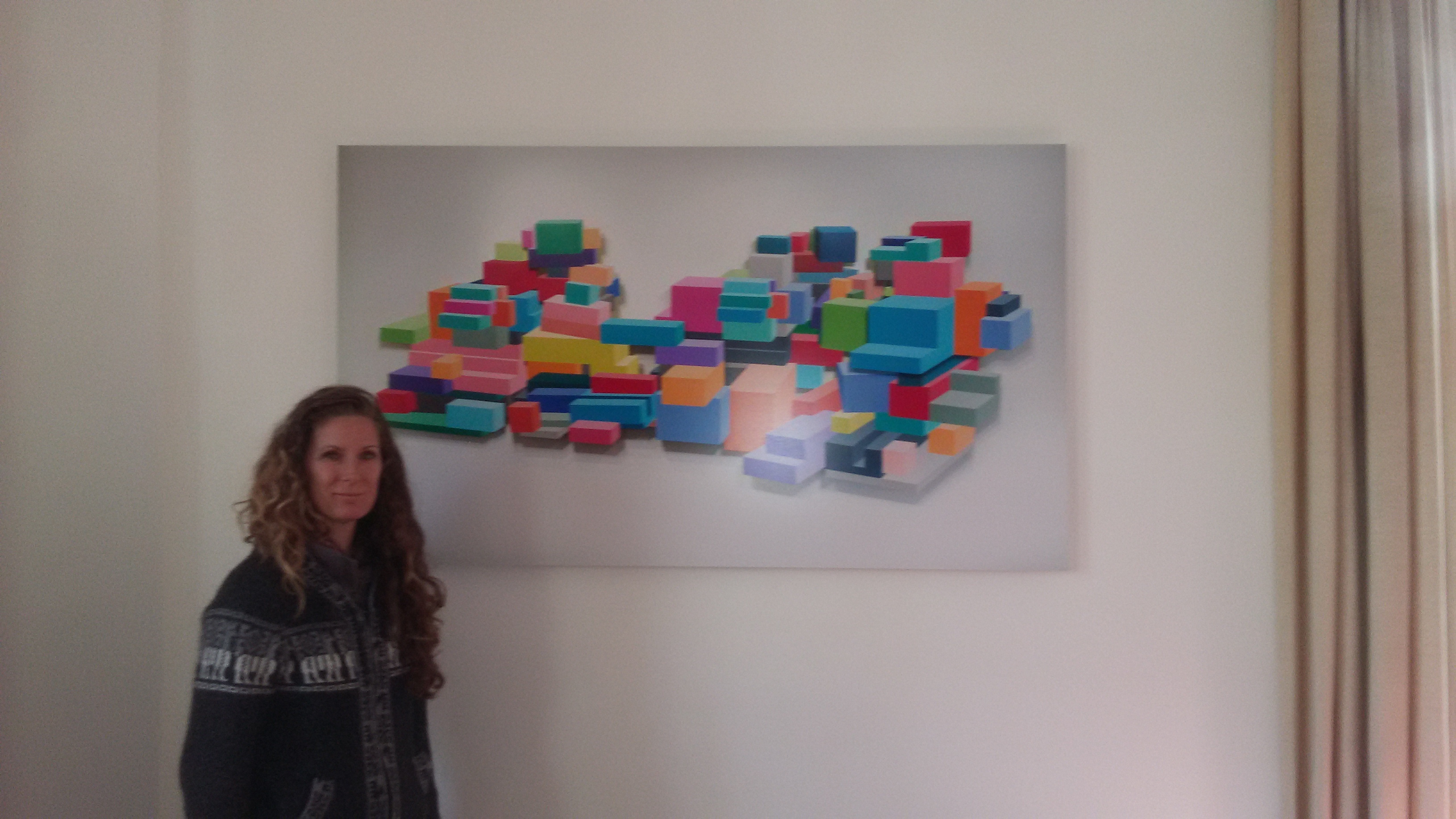 Dana Hargrove stands by a print of her artwork "Cairn 2013", photograph by John Cooper

Dana Hargrove
"My first encounter with the marvellous albatross was on a college trip to a volcanic archipelago of islands called the Galapagos.  We anchored for the day at Española Island where we encountered many Waved Albatrosses nesting, mating and conducting life, uninhibited by us tourists.  Amazed when the guide told us that their wingspan is 8 feet [2.4 m] across, we were thrilled to see one of these birds try to land.  It was eventually successful, with a bounce or two, and was welcomed by its mate with many clacks of the bill.  I spent some time drawing the albatrosses in my Visual Journal, enthralled by their behaviour and beauty."
Dana Hargrove, born in Edinburgh, Scotland, is a Professor of Studio Art at Rollins College, Winter Park, Florida, USA where she now resides.  Hargrove concerns herself with ideas that frame our perceptions of the land and our sense of place and space; she employs a range of media from photography, collage, sculpture and installed paintings.  Represented by the Bridgette Mayer Gallery in Philadelphia and Snap! in Orlando, she continues to exhibit her work both internationally and nationally.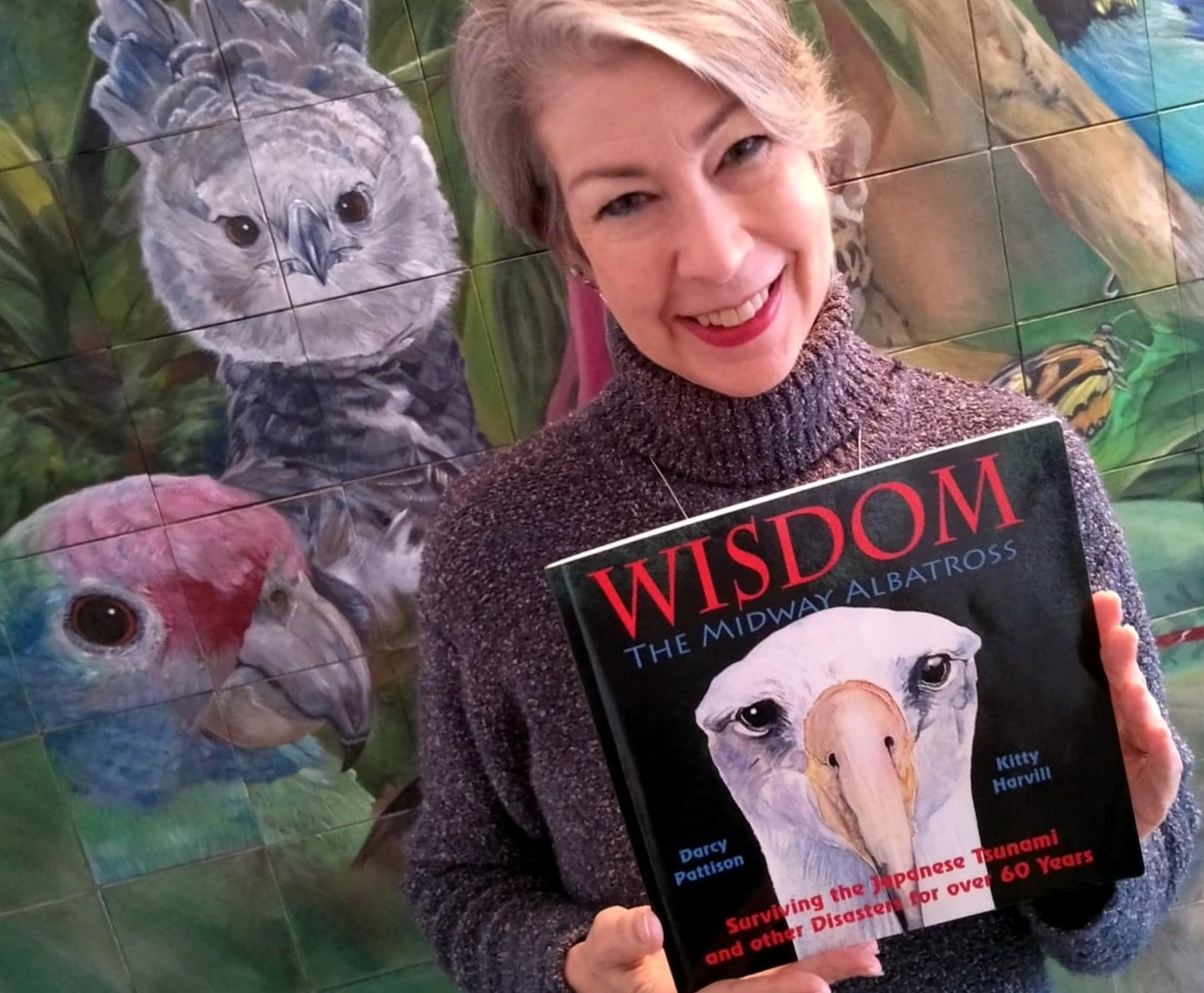 Kitty Harvill holds the children's book on Wisdom the Laysan Albatross that she illustrated
Kitty Harvill
"I fell in love with Wisdom, the 68-year old Midway Laysan Albatross, while creating illustrations for the book by the same name.  She's well named, and has much to teach us as conservationists and activists battling for the survival of our planet - patience, perseverance and setting an example by making waves that will carry forward, further than we might ever have dreamed."
Kitty Harvill, Signature Member, Artists for Conservation; Co-founder, ABUN - Artists & Biologists Unite for Nature; illustrator, Wisdom: the Midway Albatross: Surviving the Japanese Tsunami and other Disasters for over 60 Years.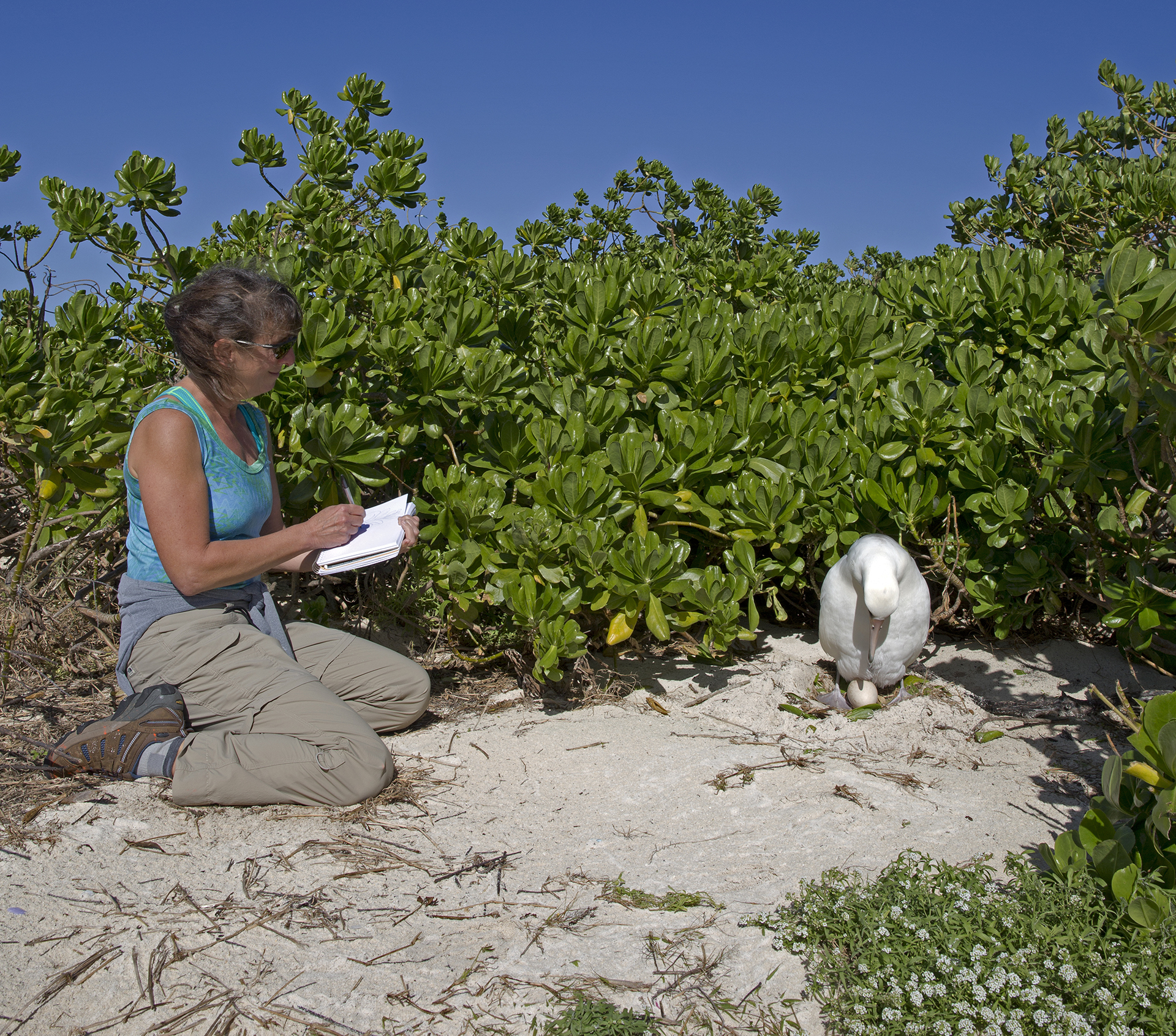 Caren Loebel-Fried sketches an incubating Laysan Albatross on Midway Atoll, photograph by Dan Clark

Caren Loebel-Fried
"The albatross has long been my muse.  Traveller of vast distances on long, thin, glider wings, passionate dancer, exuberant vocalizer, so committed to a mate and a youngster.  I've been lucky to know albatrosses, but their lives are mostly hidden from us humans.  Our lack of awareness makes them even more vulnerable than they already are.  World Albatross Day, a yearly celebration of these incredible creatures, brings the albatross into our lives, and knowledge can spark the desire to protect our natural world."
Caren Loebel-Fried, award-winning author, artist and naturalist from Volcano, Hawai'i, has created eight storybooks to date, including A Perfect Day for an Albatross, Manu, the Boy who Loved Birds and Hawaiian Legends of the Guardian Spirits. Birds, conservation, culture and the natural world are the foundation for her work, which incorporates the ancient art of block printing, taught to her by her mother.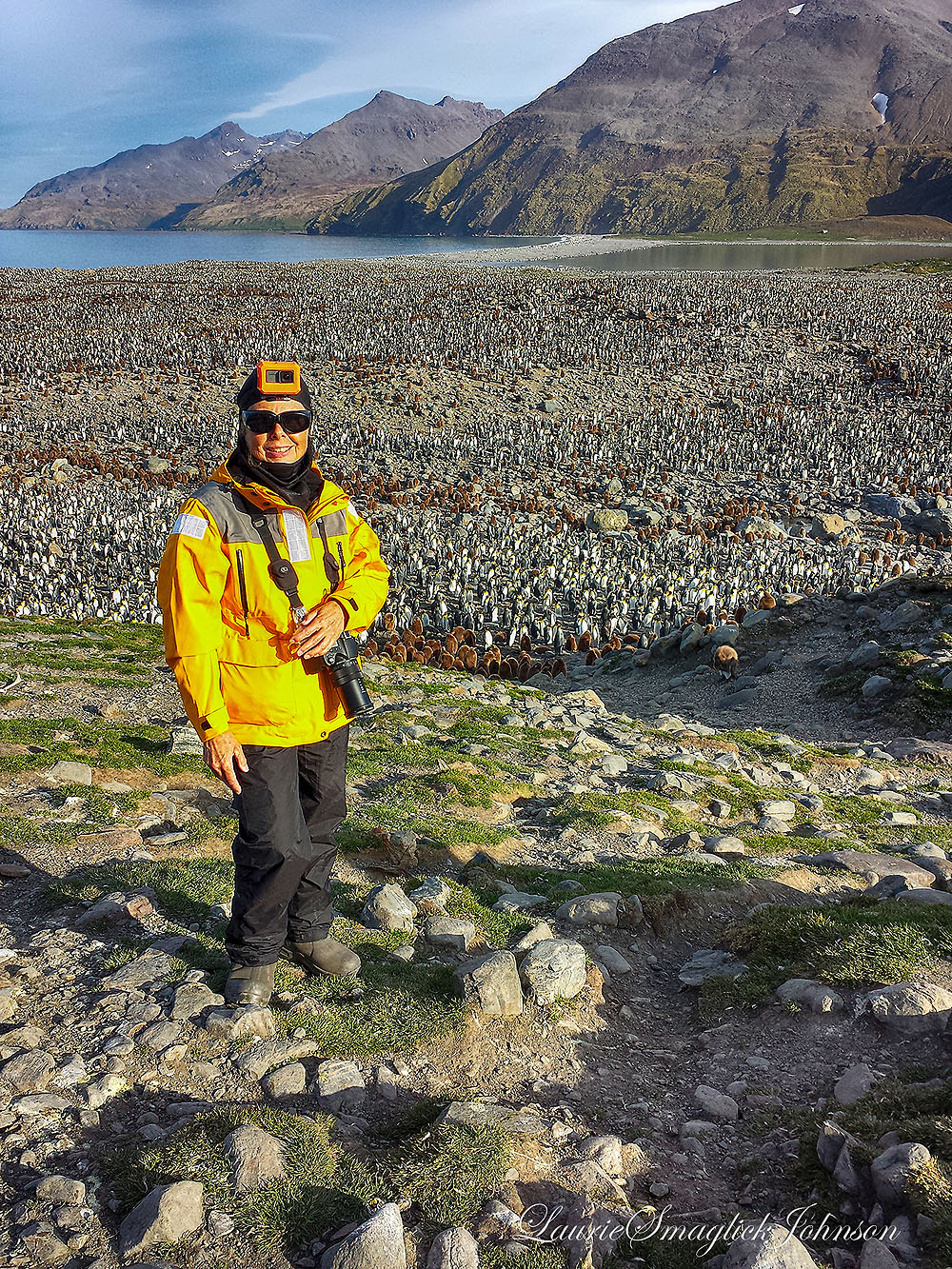 Laurie Smaglick Johnson at a King Penguin colony in the South Atlantic
Laurie Smaglick Johnson
"Having spent most of my career in office buildings, from my view, the lifestyle of the albatross embodies the meaning of freedom.  Their ability to fly thousands of kilometres non-stop for days, weeks and months; to soar dynamically and blissfully in weather that sends humans rushing for cover; to circumnavigate the earth without the trappings of vehicles - all come together to create what can only be described as magical in the minds of human beings. Each and every time I am in their presence, I feel this magic in every fibre of my being.  It imy hope that World Albatross Day will bring much needed attention to the things we, the human species, do that harm these incredible creatures.  We must teach our children to love and respect all other species on the planet as much as our own."
USA-based Laurie Smaglick Johnson has been engaged in conservation photography for 25 years.  She has photographed albatrosses in both hemispheres, with her donated portfolio of stunning images covering 17 species.  Laurie's focus as a photographer has always been on the behaviours of birds, resulting in interesting albatross 'action shots' taken both on land and at sea.  Laurie, now retired, describes herself as an electrical engineer and corporate executive by education and career experience; a scientist by thought process; and a conservationist by heart.
And the original photo of the Light-mantled Albatross by Oli Prince: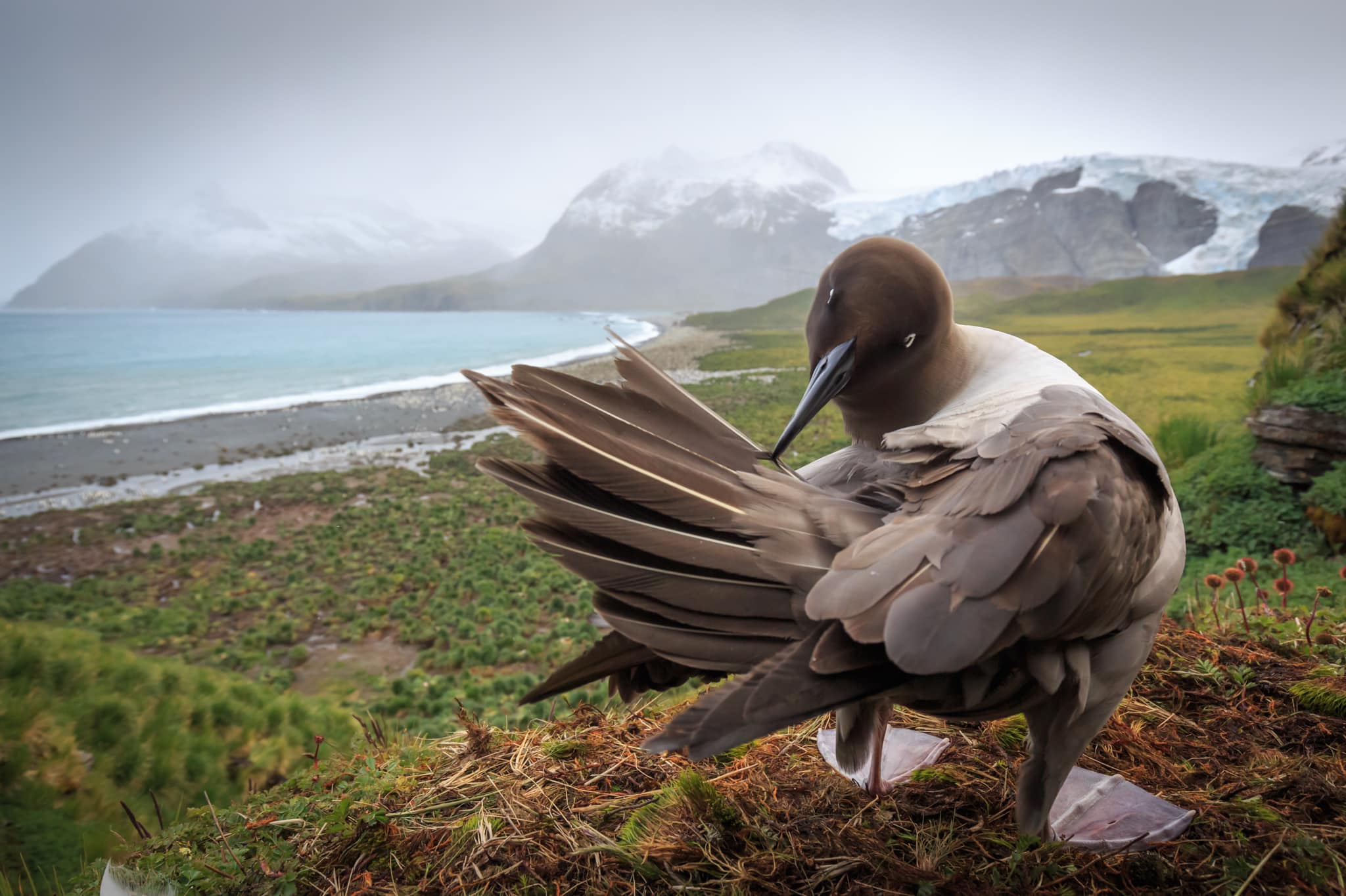 John Cooper, ACAP Information Officer, 02 June 2020