A personal challenge in 2012 has been to post a daily news item to ACAP Latest News.  This story is the 365th of the year so the self-imposed daily streak* has been achieved.  Now is a good time then to look back at the highlights of a years' worth of stories and see what has been achieved in progressing the conservation of albatrosses and petrels.
Let's start with some good news.  In the North Pacific on Japan's Mukojima Island it looks increasingly likely that the translocated Vulnerable Short-tailed Albatrosses Phoebastria albatrus will establish a new breeding colony as we wait to hear whether the first egg laid will hatch (click here).  Also in the North Pacific the first-ever Short-tailed Albatross pair on Midway Atoll successfully fledged their second chick.
More significant news perhaps has been of the progress achieved by two tuna Regional Fishery Management Organizations (tRFMOs) in adopting the ACAP-recommended best-practice mitigation measures of line-weighting, night-setting and deploying bird-scaring lines (see IOTC & WCPFC).  Research has continued into new mitigation measures: safe leads, smart hooks and water sprayers to name just some of them.
There has of course, been less cheering news.  Most ACAP-listed species remain threatened, following updates of their Red Data status in 2012 and as reviewed in an important paper from BirdLife International.  The Critically Endangered Tristan Albatrosses Diomedea dabbenena of Gough Island in the South Atlantic have had yet another poor breeding year as their chicks faced the onslaught of the introduced "killer mice"  and plastic pollution continues to affect seabirds around the World.  And what of the near 40-year old Vulnerable Southern Royal Albatross Diomedea epomophora that was killed by a trawler, highlighting the still much too large numbers (48 500 in the Atlantic in four years) of albatrosses and petrels that die from fishing activities?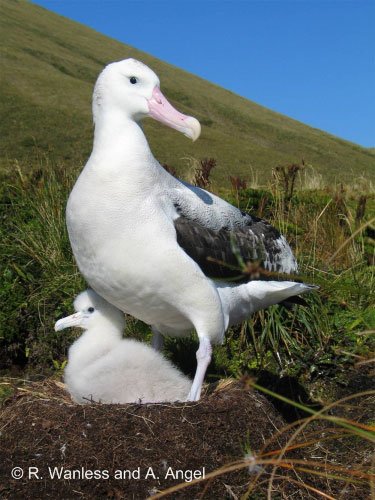 The Critically Endangered Tristan Albatross of Gough Island
Photograph courtesy of Andrea Angelc and Ross Wanless
It has been both exciting and fulfilling for ALN to report on ongoing and planned alien eradication programmes on sub-Antarctic islands.  In the south Pacific it seems increasingly likely that Australia's Macquarie Island Pest Eradication Project (MIPEP) will succeed in ridding the island of its introduced rabbits and rodents.  In the South Atlantic on South Georgia (Islas Georgia del Sur)** what is currently the World's single largest island eradication exercise remains well on track in its efforts to remove rats by the end of 2014 (click here).  In the southern Indian Ocean the French have been eradicating some of the larger species of introduced mammals on their sub-Antarctic islands.  ACAP Latest News has also reported on the ambitious Million Dollar Mouse campaign to involve the public in financing the removal of House Mice from New Zealand's Antipodes Island.  Lastly, in the northern hemisphere Hawaii's Laysan Albatrosses P. immutabilis are doing well this season behind their new predator-proof fence at Ka'ena Point.
Creation of new and expansion of existing Marine Protected Areas within the at-sea ranges of ACAP-listed seabirds has also been in the news.
ACAP held its Fourth Session of the Meeting of Parties (MoP4) in Peru in April, adding the Critically Endangered Balearic Shearwater Puffinus mauretanicus of the Mediterranean to the Agreement.  In time more shearwater species may be listed: Chile has been holding meetings during 2012 towards nominating its endemic and Vulnerable Pink-footed Shearwater P. creatopus.
ACAP personnel have been busy in 2012.  In addition to holding MoP4 and attending tRFMO meetings, there was a good attendance at the Fifth International Albatross and Petrel Conference in Wellington, New Zealand in August with a number of papers and posters presented by members of the ACAP Secretariat and by its Chief Officers.  ACAP's Information Officer got to travel to the Southern Ocean (where he continued to write news stories on ship and island so as not to break his streak) and to Hawaii to attend the Pacific Seabird Group's 39th Annual Meeting - where he received an award!
As well as the regular reporting of albatross and petrel articles published in scientific journals, ACAP Latest News in 2012 has continued to review new books on  procellariiform seabirds and bibliographies of their researchers, including those written for children and reviewed by young Molly Ryan.  The roles of albatrosses and petrels in film, art, music and literature have continued to be explored in an occasional series of stories.
In an effort to bring ALN to a wider audience directed advertising has increased the numbers of followers on ACAP's Facebook Page to just below 700 - a more than doubling over the course of the year.  A bonus in following ALN via Facebook is the postings of links to news items (including video clips and breaking news from on-line media) that do not make the web site, as well as the inspirational "Today's Photograph" series that comes courtesy of seabird enthusiasts from around the World.
With my thanks to the ACAP News Correspondents for their valued support and best wishes to all ALN readers for 2013 - keep the news coming!
John Cooper, ACAP Information Officer, 31 December 2012
*A continuous series of like events, originally used in a sporting context.
**A dispute exists between the Governments of Argentina and the United Kingdom of Great Britain and Northern Ireland concerning sovereignty over the Falkland Islands (Islas Malvinas), South Georgia and the South Sandwich Islands (Islas Georgias del Sur y Islas Sandwich del Sur) and the surrounding maritime areas.