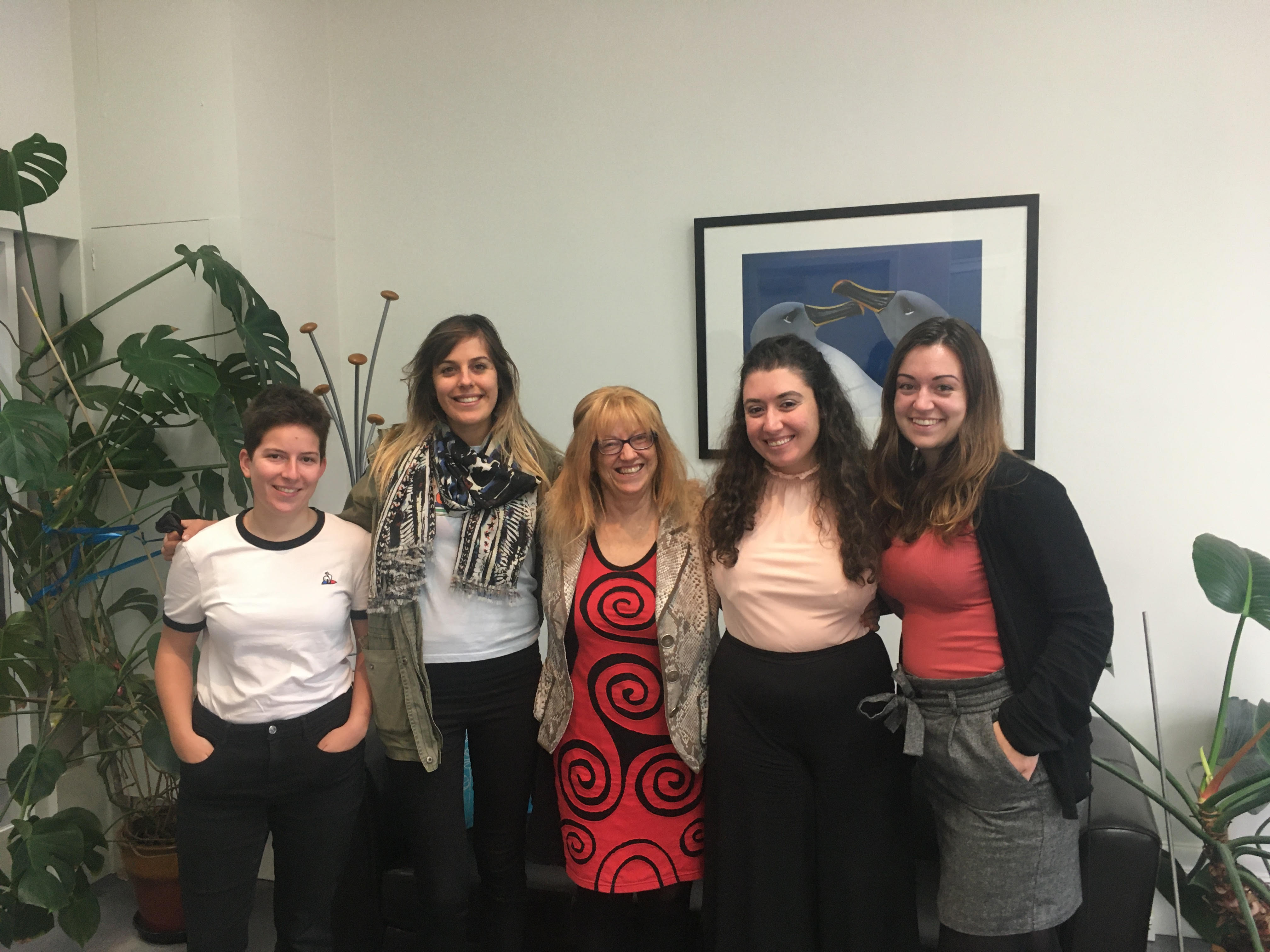 From left: Jade Peyro, Candelaria Brun, Christine Bogle, ACAP Executive Secretary, Ana Cabaleiro and Juliette Ruytoor in the ACAP offices in Hobart
ACAP's three official working languages are English, French and Spanish. Since 2013 the ACAP Secretariat has offered an internship programme for translation students studying at Australian universities in February of each year. The Master's students gain practical experience to improve their translation skills, as well as acquiring a better understanding of the contexts in which they are likely to use these skills during their professional careers.
As in previous years, the 2020 cohort of language students came from the School of Languages, Literatures, Cultures and Linguistics, Monash University, Melbourne (Jade Peyro – French and Juliette Ruytoor – French and the School of Humanities and Languages, University of New South Wales, Sydney (Ana Cabaleiro Barciela – French and Candelaria Brun – Spanish)
The four interns spent a working week with the Secretariat in its Hobart office in Tasmania over 3-7 February. This time they mainly worked on translating one-page summary texts being written for each of the 22 ACAP-listed albatrosses by ACAP's Information Officer. Once completed the summaries will be illustrated and placed in a new section on this website especially for World Albatross Day, which will be inaugurated on 19 June this year. The summaries are aimed at school children and their teachers (but also at the general public) who may be looking for some basic albatross facts to help them with whatever they may decide to do (or make) to mark the day.
With the help of Projeto Albatroz, a Brazilian NGO that has worked with ACAP for many years, it is intended to have the summaries translated into Portuguese. Although Portuguese is not an official ACAP language it is considered worthwhile for ACAP to attempt to communicate in this language when it can, noting of course that Brazil is a long-standing Party to ACAP. Additionally, the ACAP-listed and Critically Endangered Balearic Shearwater Puffinus mauretanicus is a victim of fisheries in Portugal's territorial/EEZ waters and the Endangered Atlantic Yellow-nosed Albatross Thalassarche chlororhynchos enters the Benguela Current off the southern part of Portuguese-speaking Angola where it is at risk.
The interns also provided translations of ACAP internal reports from meetings attended in 2019 and updates to ACAP's eradication guidelines. ACAP thanks them all!
Read up on previous years' interns here.
John Cooper, ACAP Information Officer, 18 February 2020