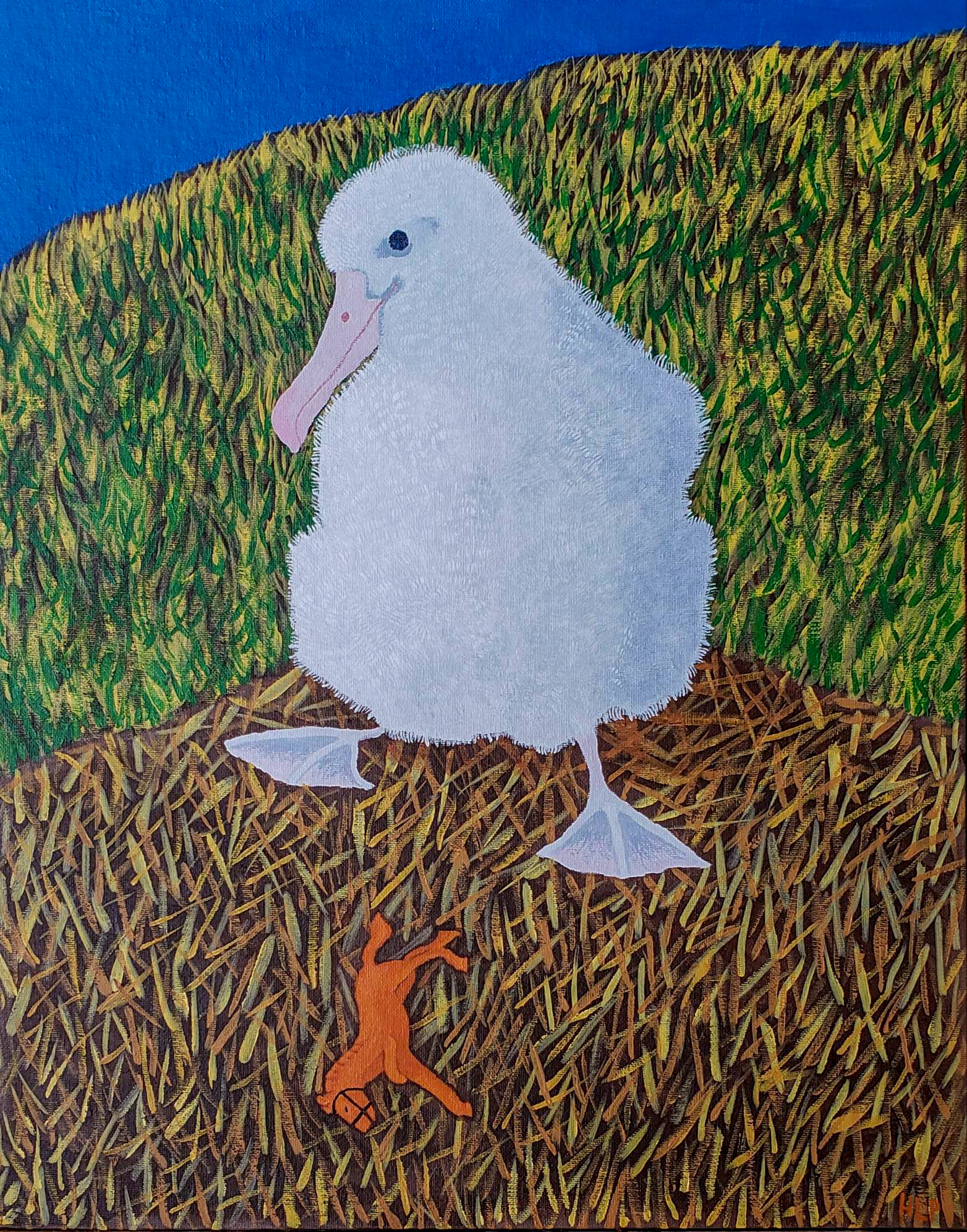 "Trojan Horse", acrylic on canvas board by ABUN artist Holly Parsons, after a photograph by Theo Thompson
Holly Parsons, who lives in Boulder, Colorado, USA, has written to ACAP Latest News about her painting of a Northern Royal Albatross Diomedea sanfordi chick (globally Endangered and nationally Naturally Uncommon) with a plastic toy on its nest that she has entitled "Trojan Horse".  She says " A friend of mine came up with the title and I liked it for its depth of meaning, with the horse looking so innocent, yet it's deadly to the birds".  She goes on to write that "I haven't been painting very long. I had a brain injury while snowboarding a decade ago and the urge to create art began only then. I lost the ability to do some things, but gained in other areas, so it's all good!"  Her welcome painting is a consequence of the fourth collaboration between ACAP and ABUN (Artists and Biologists Unite for Nature) in support of this year's World Albatross Day with its theme of "Plastic Pollution" on 19 June.
"Growing Tiaki: Slideshow of the 2021 Royal Albatross Cam Chick" by Holly Parsons
Holly also writes that she makes Youtube videos about birds, such as the one above, learning video editing "just to keep my brain sharp.  I just noticed it has 12K views now, that's great!"  Holly is a friend of albatrosses in other ways as well. She administers Albatross Lovers on Facebook, a private group with over 1500 members. The group is "dedicated to all species of the iconic albatross seabird, as well as the related conservation efforts. We encourage the sharing of albatross depicted in both art and science to celebrate their beauty and learn about their plight." Indeed, posts to ACAP's Facebook Page are regularly shared by Holly to Albatross Lovers, thereby helping enhance awareness of the need for albatross and petrel conservation.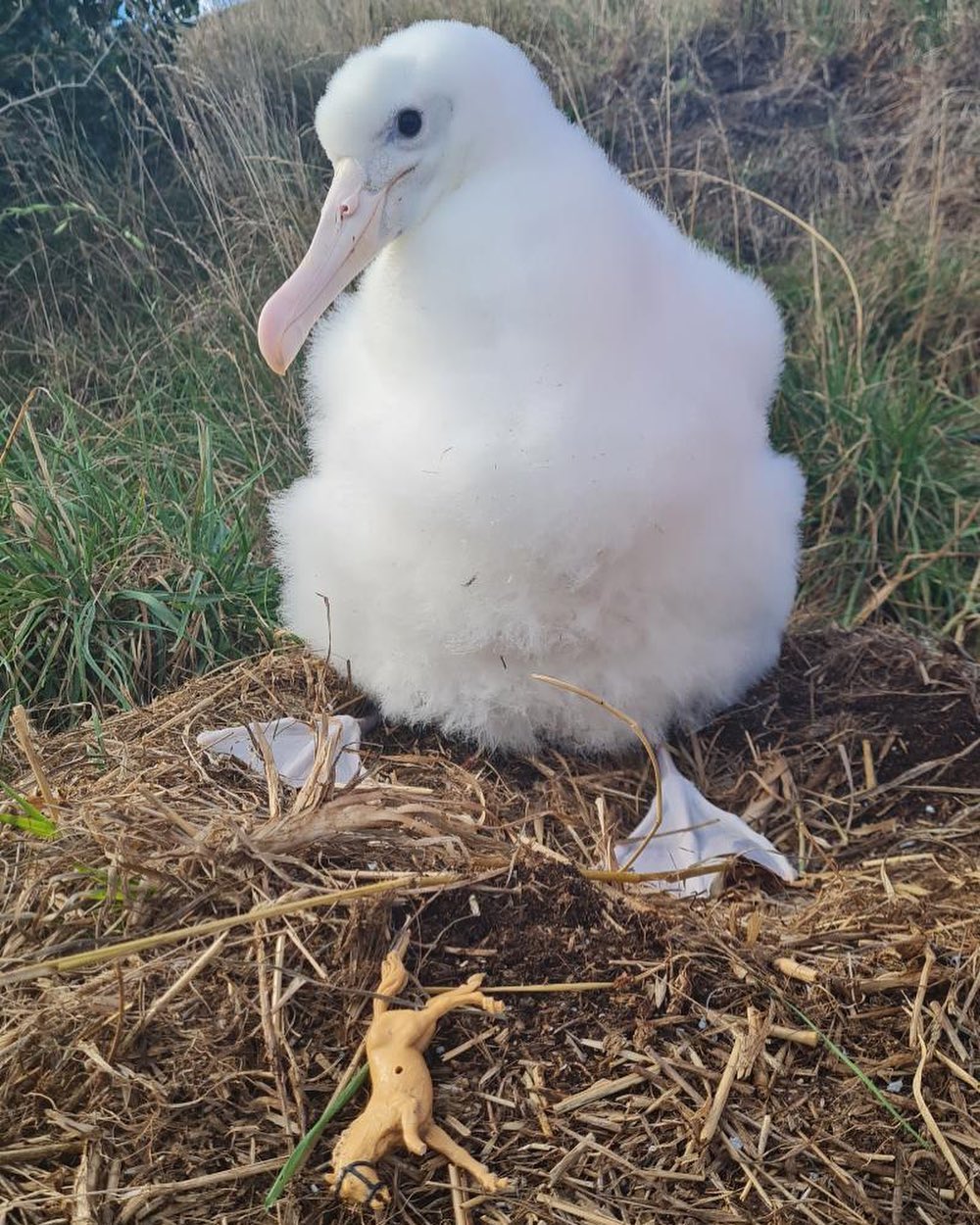 The inspiration for Holly Parson's painting. A Northern Royal Albatross chick with the plastic toy on its nest, photograph by Theo Thompson, a Department of Conservation Ranger, who works part time with the albatrosses at Pukekura/Taiaroa Head
You can read about the original observation (entitled by ACAP Latest News "Not My Little Pony", referring to the popular child's toy of the 1980s) made at the mainland colony at Pukekura/Taiaroa Head on New Zealand's South Island here. Previous plastic items found associated with Taiaroa's royal albatrosses have included bottle caps, squid lures, fishing floats, a container tab and the handle of an infant formula scoop.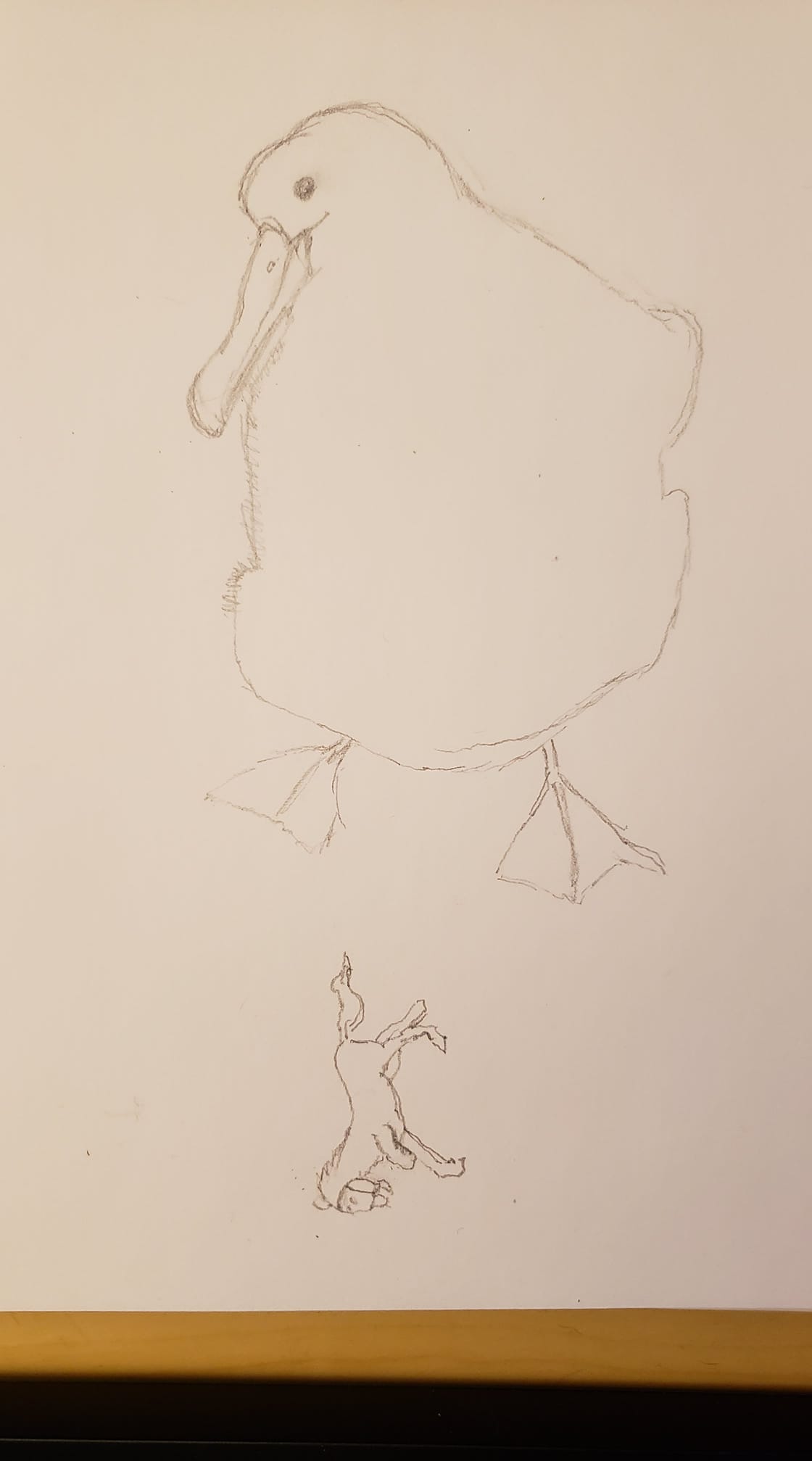 We do not often get to see a work in progress. Holly Parsons' "Trojan Horse" started as a pencil sketch
John Cooper, Emeritus Information Officer, Agreement on the Conservation of Albatrosses and Petrels,11 April 2023