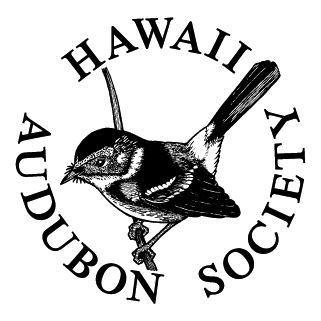 A number of environmental NGOs based in the USA's Hawaiian Islands actively work towards improving the conservation status of the islands' breeding Black-footed Phoebastria nigripes and Laysan P. immutabilis Albatrosses. Two of these, Friends of Hawaiian Islands National Wildlife Refuge (FoHI) and Friends of Midway Atoll National Wildlife Refuge (FOMA) direct their conservation efforts to the North-western Hawaiian Islands, where the vast majority of the Hawaiian albatrosses breed. Both FoHI and FOMA have offered their support to the inaugural World Albatross Day on 19 June this year.
ACAP Latest News reached out to Wendy Johnson, Executive Director of the Hawaii Audubon Society (HAS) to gain her NGO's support for World Albatross Day 2020. Established in 1939, the Hawaii Audubon Society is a non-profit membership organization that fosters community values to protect and restore native wildlife and ecosystems and conserve natural resources through education, science and advocacy in Hawaii and the Pacific. The society publishes a journal, 'Elepaio, six times a year containing peer-reviewed scientific articles and updates on environmental issues. From 2007 the Hawaii Audubon Society has actively managed the small Freeman Seabird Preserve on Oahu, home to a growing breeding colony of Wedge-tailed Shearwaters or 'uau kani Ardenna pacifica.
Wendy Johnson requested HAS Board Member Susan Scott to respond with the NGO's support for WAD2020. Susan Scott has written to ACAP Latest News on behalf of HAS: "Hawaii's albatross populations have suffered staggering losses over the centuries, yet our three Northern Hemisphere species continue to nest in the Hawaiian Archipelago. World Albatross Day is a fine way to share with the world the marvel of these magnificent birds' continued survival."
Susan continues "I work as a volunteer for the U.S. Fish and Wildlife Service, most recently counting Laysan and Black-footed Albatrosses at Midway Atoll. The count ending in January 2020 shows the two species numbering within their normal ranges".
View "The Miracle of Midway: a Million Albatrosses and Counting" - an illustrated lecture by Susan Scott on behalf of the Hawaiian Audubon Society.
Susan Scott with a trusting Laysan Albatross on Midway Atoll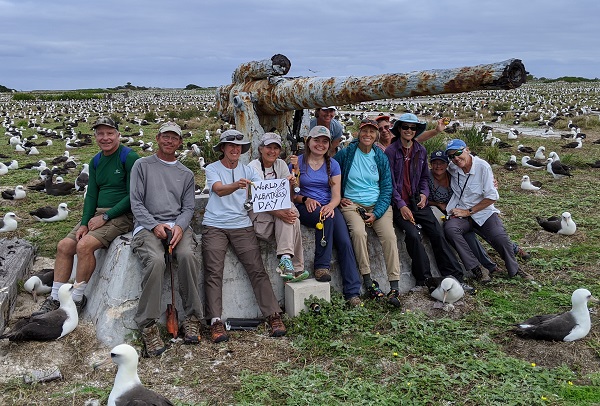 The 2019/20 season all-volunteer albatross count team on Midway Atoll's Eastern Island. Artist Caren Loebel-Fried holds the World Albatross Day sign she made for ACAP Latest News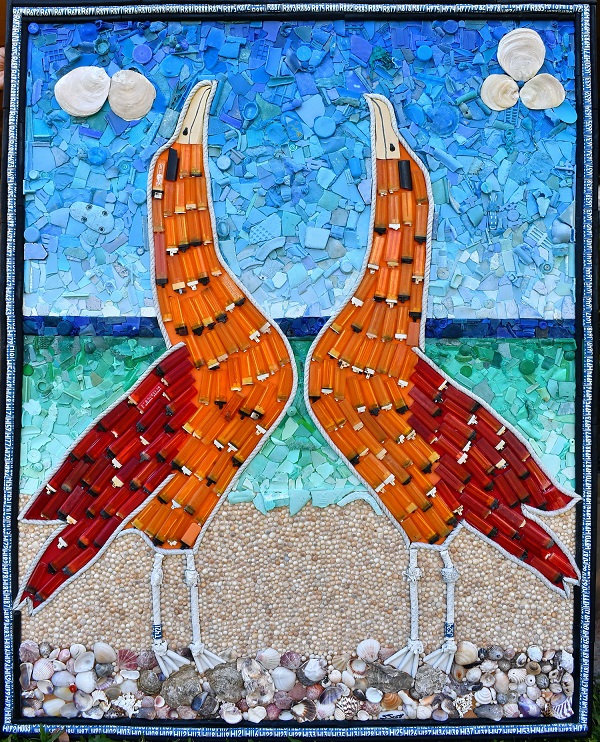 Susan Scott describes her own artwork as "made from cigarette lighters collected by Laysan Albatrosses at sea and regurgitated by their chicks.
The piece now hangs at the University of Hawaii's East-West Center dormitory housing international students"
With thanks to Wendy Johnson and Susan Scott, Hawaii Audubon Society.
John Cooper, ACAP Information Officer, 02 May 2020