"The best laid schemes o' mice an' men / Gang aft agley"' From To a Mouse by Robert Burns, 1785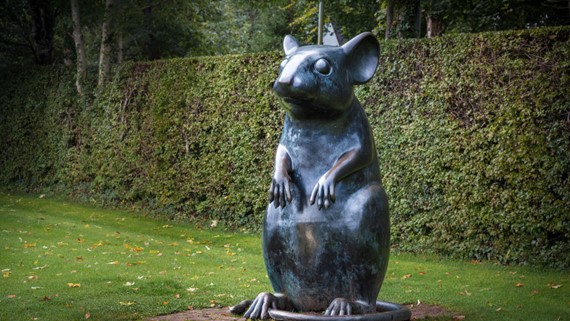 "Monument to a Mouse" at the Robert Burns Birthplace Museum, bronze statue by Kenny Hunter, 2010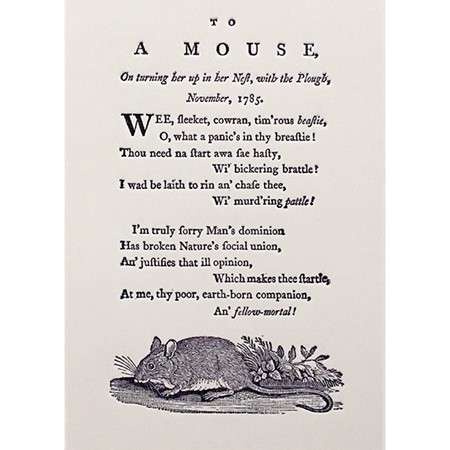 The best-laid schemes of mice and men go oft awry, wrote poet Robbie Burns in his Scottish dialect near 230 years ago. The "Wee, sleeket, cowran, tim'rous beastie" his plough turned up was likely a Wood or Field Mouse Apodemus sylvaticus rather than the more ubiquitous House Mouse Mus musculus. However, his brief description of a cowering and timid animal running away in panic could well fit the public perception of both species.
In some situations, however, House Mice seem anything but "tim'rous". Introduced House Mice were first recorded attacking and killing albatross chicks far larger than themselves on the United Kingdom's Gough Island in the South Atlantic in 2001 (click here). Since then, similar attacks have been observed on South Africa's Marion Island in the southern Indian Ocean and across the equator on Hawaii's Midway Atoll in the North Pacific. And not just chicks, evidence of mice preying upon adult albatrosses comes from all three islands. On Gough and Marion the smaller burrowing petrels have not been spared, leading to zero breeding success for at least one species on Gough in some seasons (click here).
Burns felt empathy for his mouse, but on seabird islands there is no sympathy for introduced rodents of any species. Following many years of the successful eradication of rats on Southern Ocean islands by the aerial dispersion of poison-laced cereal bait, attention in the last decade has turned to targeting the mice directly. Initially, mice were not thought to be a critical alien mammal to eliminate. Nevertheless, although not the primary target, House Mice are now gone from New Zealand's Enderby Island and Australia's Macquarie Island. Less success for France's St Paul Island however, the Black Rats Rattus rattus and European Rabbits Oryctolagus cuniculus are no more following a bait drop and a follow up, but the mice remain (click here).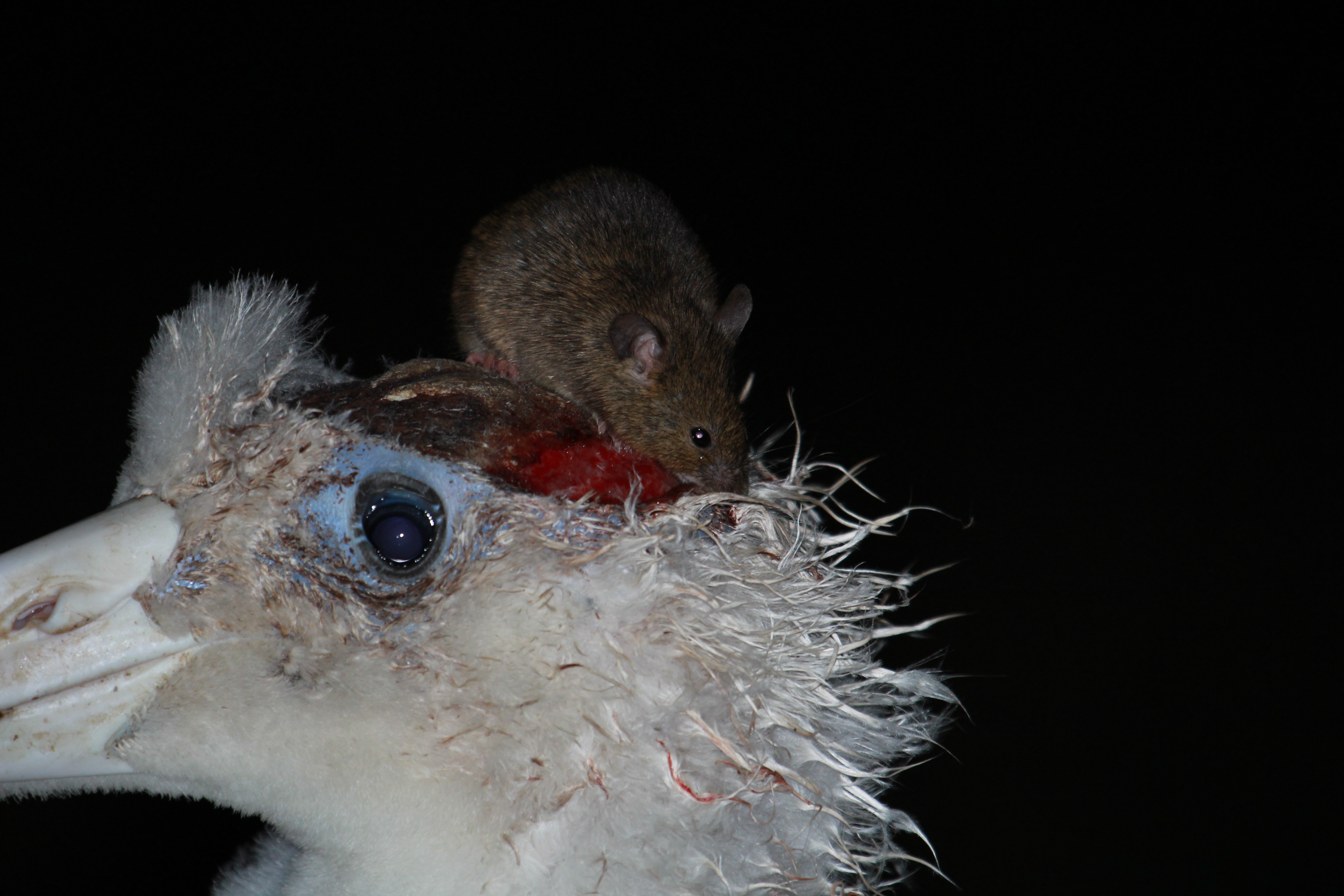 A House Mouse feeds on the exposed scalp of a Vulnerable Wandering Albatross Diomedea exulans chick on Marion Island at night - the chick will not survive, photograph by Stefan Schoombie
In the last decade, more directed efforts against House Mice on southern islands have been made, with so far mixed success. Thankfully, they have been successfully eradicated (along with rats) on South Georgia (Islas Georgias del Sur)* by the South Georgia Habitat Restoration Project and on New Zealand's Antipodes Island by the Million Dollar Mouse Project. Sadly, the Gough eradication attempt in 2021 failed, as reported by the Gough Island Restoration Programme, and mice are still present, with attacks continuing on the island's seabirds, although they received a temporary respite with markedly improved breeding success for at least one season after the eradication attempt (click here). Purported reasons for failure have yet to be made public, and it seems likely it will be some years yet before a second eradication attempt is made.
The Midway Seabird Protection Project's bait drop is apparently happening right (or about) now, but it seems the project is keeping its cards close to its chest, as there has been no public information released for quite some time (but see here). Keeping such contentious activities as broadcasting poison bait out of the public eye may be a good strategy for some countries, given the for and against passions that can arise. The USA, for example, has yet to undertake an operation to rid the Farallon Islands of its House Mice after many years, despite what must be by now mountains of paperwork and many meetings (click here).
It is not that easy for this admittedly monolingual correspondent to find out exactly what is happening to rid the French austral islands of their remaining introduced mammals. However, .it is intended that Amsterdam will be "deratted" (including of its House Mice) in winter 2024, according to the projet RECI (Restauration des écosystèmes insulaires de l'océan Indien). It seems there are no immediate plans to remove introduced mammals from the other French islands in the Southern Ocean, the Crozets and Kerguelen, or St Paul's mice.
The route being taken by the Mouse-Free Marion (MFM) Project is an open one.  An active news section with weekly posts on its website, and its Facebook and Instagram accounts in near-daily use, allow interested readers to keep up to date with progress toward an intended eradication attempt in 2025. This level of transparency can result in criticism being aired via social media. The project attempts to address such concerns by reply via its website, as shown by a recent post explaining why it does not intend to control mouse numbers to save a few individual birds prior to the bait drop (click here). In addition, several members of the MFM Project Team are particularly active in giving talks and lectures on the planned eradication (click here for an example); another being today's online lecture by the Project Leader, as illustrated below.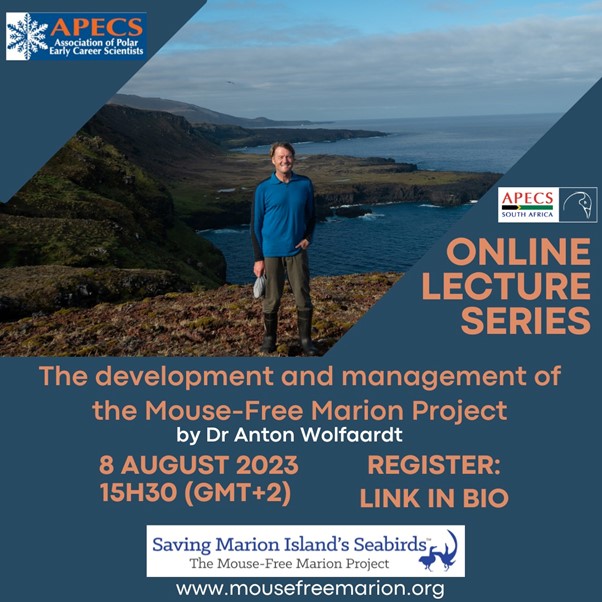 In this presentation, the Mouse-Free Marion Project Manager, Dr Anton Wolfaardt, provides an overview of the project, focusing on the planning and management involved in such an endeavour
Over in the Falkland Islands/Islas Malvinas*, the New Island Restoration Project is working towards eliminating four species of introduced mammals on New Island., including House Mice, with information being released from time to time on its Facebook page, most recently on bait-weathering trials (see below). Steeple Jason, another important seabird island in the Falkland Islands/Islas Malvinas*, has a House Mouse population but there are no current plans to eradicate it (click here).
An eradication that includes House Mice as a target (along with feral cats and pigs) is intended for the main Auckland Island. For it seems primarily financial reasons, planning for this expensive operation by New Zealand's Department of Conservation was put on hold in 2020, with no recent public statement as to when it might go ahead.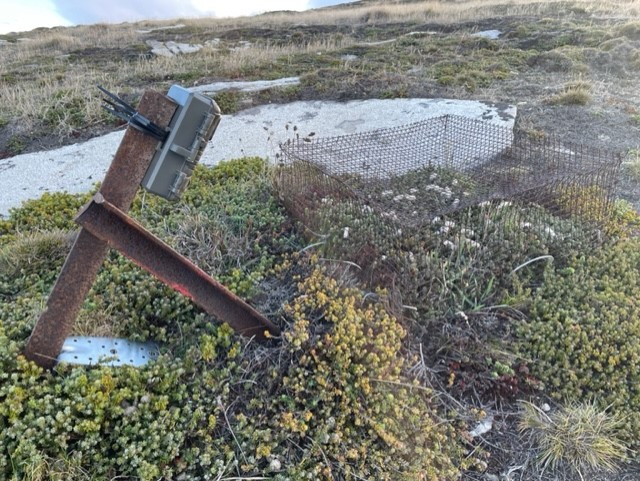 "One of our trials uses a trail camera to track how the rodent bait fares during winter conditions. The bait is under a basket to keep the critters away, so we can see how it weathers over time" - New Island Restoration Project
Each eradication project needs to decide for itself quite how open with the public it should be, based on reasons that will vary from country to country. In the end, it will be their success or not that counts. Those of us committed to the conservation of seabirds hope that all the islands mentioned above will remain or will soon be free of their introduced mammals, including the "killer" mice of Gough, Marion and Midway – and that none of the eradications described above that are underway or planned "gang agley".
John Cooper, Emeritus Information Officer, Agreement on the Conservation of Albatrosses and Petrels, 08 August 2023
*A dispute exists between the Governments of Argentina and the United Kingdom of Great Britain and Northern Ireland concerning sovereignty over the Falkland Islands (Islas Malvinas), South Georgia and the South Sandwich Islands (Islas Georgias del Sur y Islas Sandwich del Sur) and the surrounding maritime areas.