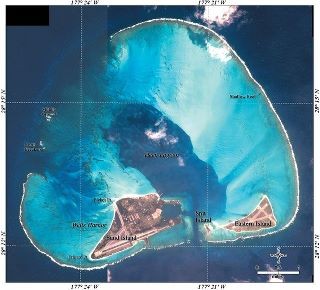 A satellite view of Midway Atoll showing its fringing reef and Sand (the larger) and Eastern Islands
Photograph from WorldView-2, DigitalGlobe
Midway Atoll is one the USA's North-western Hawaiian Islands. Made a National Wildlife Refuge in 1988 it falls within the Papahanaumokuakea Marine National Monument, a large Marine Protected Area declared in 2006. In 2010 Papahanaumokuakea became one of only 28 mixed UNESCO World Heritage Sites (cultural and natural) in the World. Midway was designated in 2000 as The Battle of Midway National Memorial, with granite markers dedicating the most decisive naval battle of World War II. Three ACAP-listed species, all albatrosses have been recorded breeding on Midway, two regularly in large numbers.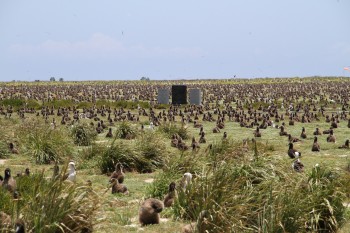 The world's largest colony of Near Threatened Laysan Albatrosses Phoebastria immutabilis occurs on Midway Atoll, breeding on the two main islands of Sand and Eastern: 397 000 pairs in 2009.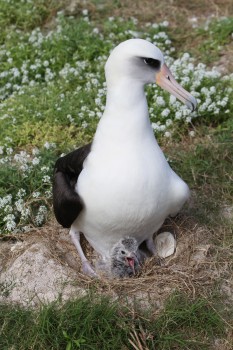 A one-day old Laysan Albatross chick yawns. The chick will be brooded by its parents for about three weeks, when it is finally able to regulate its body temperature. As the chick grows, both parents will need to forage to bring enough food for the chick to survive.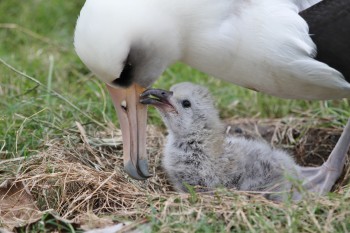 A Laysan Albatross chick bites at the bill of its parent to initiate feeding. At this early age, the parent will feed only oil to the chick, and as it gets larger, the chick will be able to swallow larger fish or squid.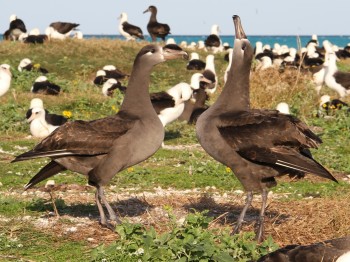 Two Vulnerable Black-footed Albatrosses P. nigripes dance among the Laysan Albatrosses. The Midway Atoll National Wildlife Refuge has the World's largest Black-footed Albatross colony, with over 27 000 breeding pairs.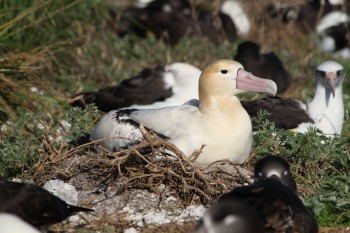 Midway Atoll National Wildlife Refuge is also home to the only documented Vulnerable Short-tailed Albatross P. albatrus pair nesting outside of Japan. The adult male has built a nest in anticipation of the return of its mate.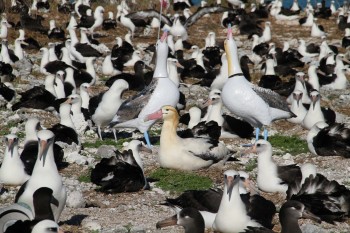 This Short-tailed Albatross was first seen on Eastern in 1999. It was banded as a chick on Japan's Torishima Island in 1987. Decoys (shown here) and a solar calling station were placed in the area in 2000 and finally in 2008 a juvenile female (banded in 2004 as a chick on Torishima) was seen dancing with the male and preening. After two years of displaying and nest-building behaviour, an egg was laid in 2010 and hatched in January 2011. The chick successfully fledged in June of 2011. The pair raised a second chick that fledged in 2012; however, no egg was laid the next season.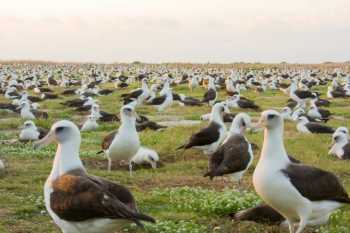 Photograph by Lindsay Young
Adult albatrosses return to Midway Atoll National Wildlife Refuge in late October/early November. The island population drops quickly once the eggs are laid, since one of the mates will always be out foraging.
Click here to access the ACAP Species Assessments for all three albatrosses. Threats that face the albatrosses of Midway include flooding from storms and tsunamis exacerbated by predicted sea-level rise, pollution (especially from paint chips containing lead on land and from ingestion of floating plastic items mistaken for prey items at sea), and longline fishery mortality.
All photographs unless stated by Pete Leary, U.S. Fish & Wildlife Service.
Selected References:
Arata, J.A., Sievert, P.R. & Naughton, M.B. 2009. Status Assessment of Laysan and Black-footed Albatrosses, North Pacific Ocean, 1923-2000. U.S. Geological Survey Scientific Investigations Report 2009-5131. Reston: U.S. Geological Survey.
Auman, H.J., Ludwig, J.P., Giesy, J.P. & Colborn, T. 1998. Plastic ingestion by Laysan Albatross chicks on Sand Island, Midway Atoll, in 1994 and 1995. In: Robertson, G. & Gales, R. (Eds). Albatross Biology and Conservation. Chipping Norton: Surrey Beatty & Sons. pp. 239-244.
Caccamise, S.A.L., Wang, J., Wu, L., Woodward, L.A. & Li, Q.X. 2012. Accumulation and toxicity assessment of polychlorinated biphenyls in black-footed albatross (Diomedea nigripes) from Midway Atoll, North Pacific Ocean. Ecological Indicators 20: 75-81.
Cooper, J. Auman, H.J. & Klavitter, J. 2004. Do the albatrosses of Midway Atoll select cigarette lighters by color? Pacific Seabirds 31: 2-4.
Cousins, K. & Cooper, J. 2000. The Population Biology of the Black-footed Albatross in Relation to Mortality caused by Longline Fishing. Honolulu: Western Pacific Regional Fishery Management Council.
Jones, P.D., Hannah, D.J., Buckland, S.J., Day, P.J., Lethem, S.V., Porter, L.J., Auman, H.J., Sanderson, J.T., Summer, C., Ludwig, J.P., Colborn, T.L. & Giesy, J.P. 1996. Persistent synthetic chlorinated hydrocarbons in albatross tissue samples from Midway Atoll. Environmental Toxicology and Chemistry 15: 1793-1800.
Naughton, M.B., Romano, M.D. & Zimmerman, T.S. 2007. A Conservation Action Plan for Black-footed Albatross (Phoebastria nigripes) and Laysan Albatross (P. immutabilis). Version 1.0.
Storlazzi, C.D., Berkowitz, P., Reynolds, M.H. & Logan, J.B. 2013. Forecasting the Impact of Storm Waves and Sea-level Rise on Midway Atoll and Laysan Island within the Papahānaumokuākea Marine National Monument - a Comparison of Passive versus Dynamic Inundation Models. U.S. Geological Survey Open-File Report 2013-1069. 78 pp.
Verán, S., Gimenez, O., Flint, E., Kendall, W.L., Doherty Jr, P.F. & Lebreton, J.-D. 2007. Quantifying the impact of longline fisheries on adult survival in the Back-footed Albatross. Journal of Applied Ecology 44: 942-953.
Pete Leary, Midway Atoll National Wildlife Refuge & John Cooper, ACAP Information Officer, 07 July 2013