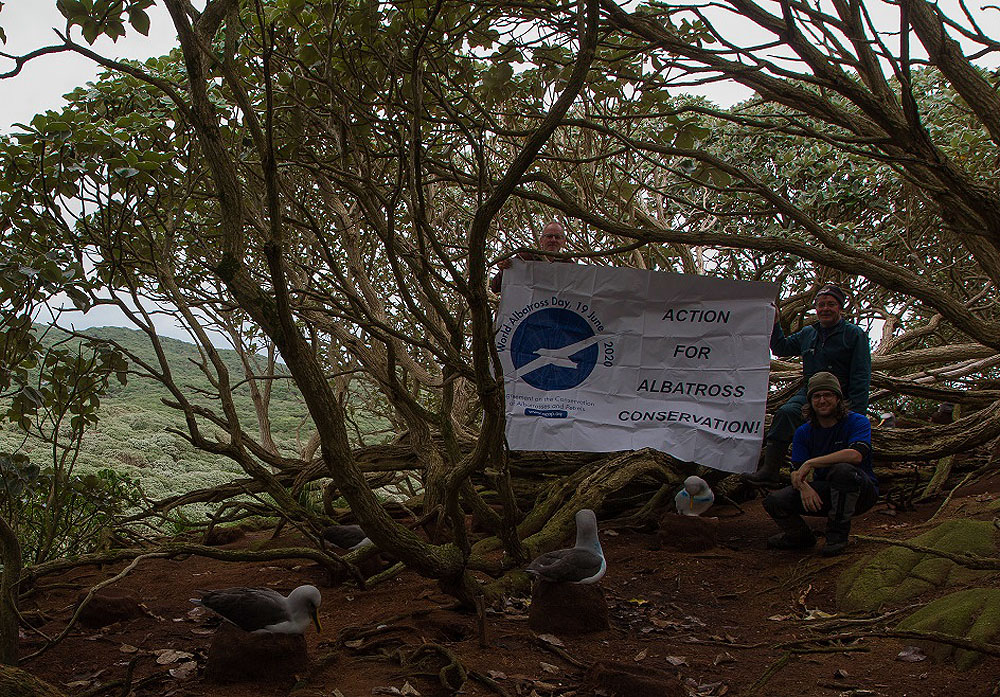 A 'WAD2020' banner on The Snares with Buller's Albatrosses. From left: David Thompson, Paul Sagar and David Sagar (in front)
The now well-travelled World Albatross Day banner made by Graham Parker and Kalinka Rexer-Huber of the environmental consultancy Parker Conservation made it to New Zealand's sub-Antarctic Snares Islands last month.
Following the banner's return with Graham and Kalinka from its successful outing to the Auckland Islands, David Sagar (DOC), Paul Sagar (NIWA) and David Thompson (NIWA) displayed it at one of the long-established study colonies of globally Near Threatened and nationally Naturally Uncommon Southern Buller's Albatrosses Thalassarche b. bulleri on North East Island in the Snares group.
'WAD2020' banners have now been displayed on most of New Zealand's sub-Antarctic islands, as well as on Three Kings Islands situated north of New Zealand where the Northern Buller's Albatross T. b. platei has a small breeding population (and where the same banner made a quick visit in February).
Paul Sagar writes to ACAP Latest News: "In addition to displaying the banner, a highlight of the trip was finding a 48-year old Southern Buller's Albatross that had been banded as a chick in 1972 by Don Horning. The bird was occupying an empty nest, the same one that it has occupied for the last 25 or so years that I have been recapturing it. It was last on an egg in March 2019. The bird was originally banded on a nest in the same area where it now itself breeds. Measurements of it that I took in the 1990s indicate that it is a female."
An even older Southern Buller's recaptured by Paul on The Snares back in 1993 was estimated as 57 years old (click here).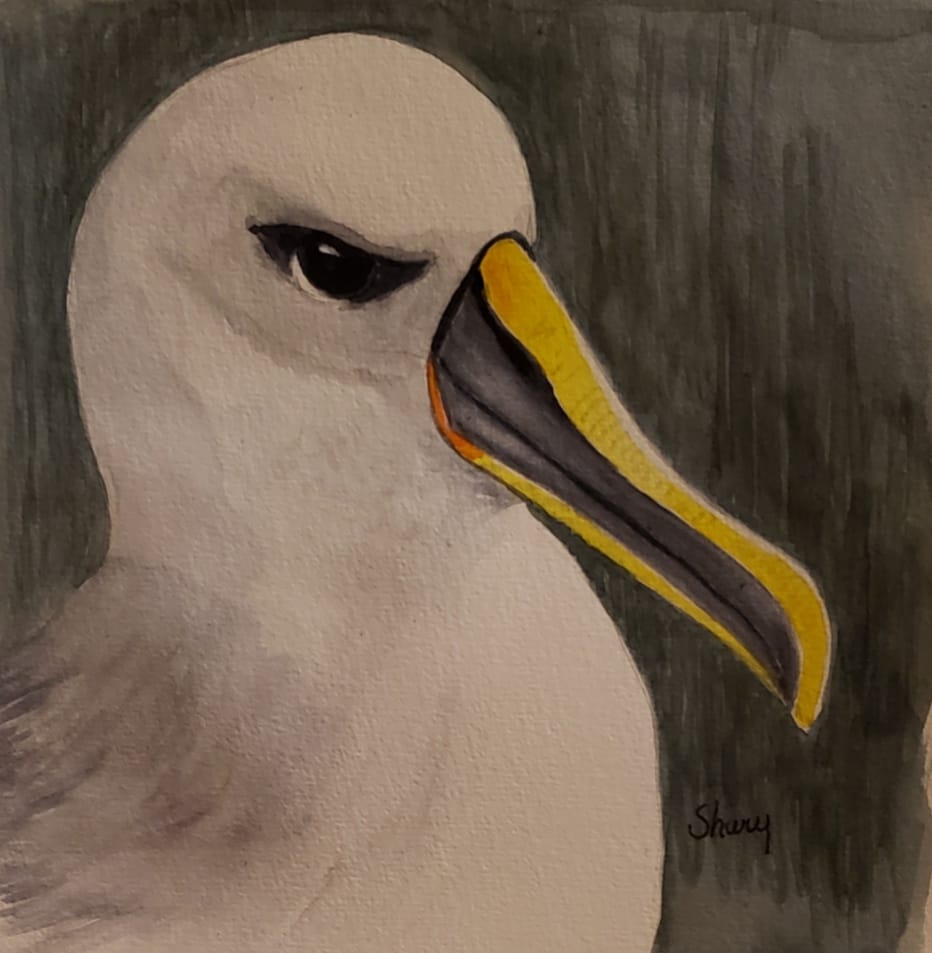 Buller's Albatross, artwork for Artists & Biologists Unite for Nature by Shary Page Weckwerth from a photograph by Paul Sagar
Paul has also offered his personal support for WAD2020: "Albatrosses nest on some of the most remote islands of the world and travel the High Seas far from land. Yet they still suffer from the effects of a range of human activities that threaten their existence. A World Albatross Day is an excellent way to raise awareness of the plight of these iconic seabirds." .
With thanks to Shary Page Weckwerth (ABUN wildlife artist), Graham Parker (Parker Conservation) and Paul Sagar ( retired, Marine Ecology Group, National Institute of Water and Atmospheric Research; NIWA).
John Cooper, ACAP Information Officer, 06 April 2020