Established in 1923, and now with 80 000 members, Forest & Bird is considered New Zealand's leading independent conservation organisation; it is also the national partner of BirdLife International. ACAP Latest News got in touch to learn more.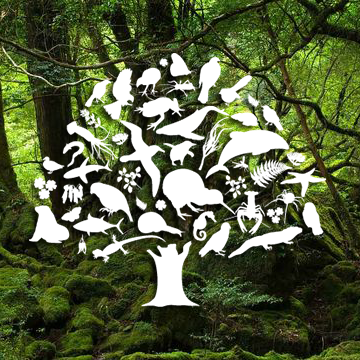 In reply, Sue Maturin, Forest & Bird's Southern Regional Conservation Manager, writes that she lives in Dunedin, just an hour from Taiaroa Head, the only mainland breeding colony of the globally Endangered and nationally Naturally Uncommon Northern Royal Albatross Diomedea sanfordi – the world's largest seabird.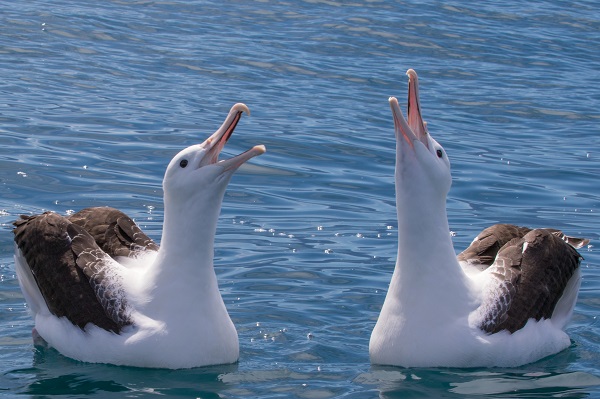 Two Northern Royal Albatrosses interact on the sea surface, photograph by David Brooks
"Sometimes when we are kayaking at sea just beyond their clifftop colony a pair of these magnificent creatures will land close to our small kayaks, and if we are lucky, they will cackle to each other. My heart soars when I watch these graceful giants elegantly skimming the waves, I marvel that their chicks I see on the hill will probably travel nearly 200 000 km before I am likely to see them again."
Known as Toroa by local Māori, the Northern Royal Albatross is particularly at risk from habitat loss through storms and climate change. Since the mid-1970s, both the Taiaroa Head and Chatham Islands colonies have experienced a warming and drying of their habitats. Non-breeding Toroa are also caught by longline fisheries in the Humboldt Current and on the Patagonian Shelf off the Pacific and Atlantic coasts of South America.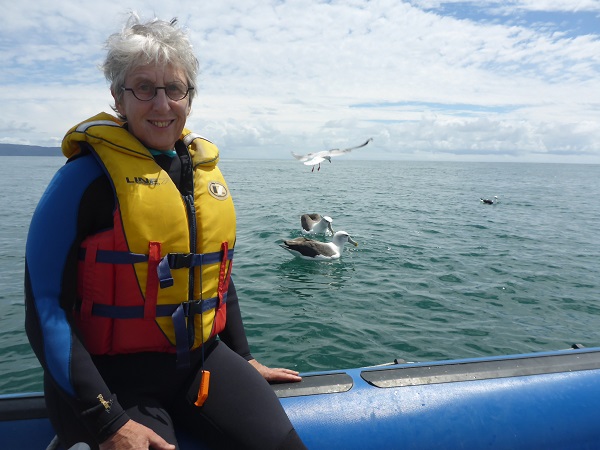 Forest & Bird's Sue Maturin with White-capped Albatrosses Thalassarche steadi off New Zealand's west coast
Twelve species of albatrosses breed within New Zealand and its offshore islands– more than anywhere else on Earth. Several are rare and are at risk of extinction from decreasing populations, such as that of the nominate subspecies of the globally Endangered and Nationally Critical Antipodean Albatross Diomedea a. antipodensis, which only breeds on the sub-Antarctic's Antipodes Island.
"Out of the 12 albatross species that breed in New Zealand, at least nine are at risk from commercial fishing, with four species in serious trouble. It's devastating to think of these ocean wanderers being so unnecessarily caught on a hook or tangled in nets and fishing gear" says Sue. Click here to learn more about New Zealand's draft National Plan of Action – Seabirds that aims to reduce fishery deaths, released for consultation this month.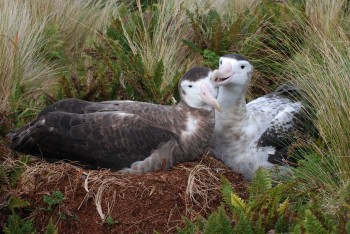 A pair of breeding Antipodean Albatrosses on Antipodes Island, photograph by Erica Sommer
"With New Zealand being the self-proclaimed seabird capital of the world, Forest & Bird is looking forward to celebrating World Albatross Day on 19 June 2020. As well as showcasing these amazing seabirds, it will also be an opportunity to draw attention to their plight and urge countries around the world to adopt an aspirational goal of zero bycatch deaths."
Sue ends: "Forest & Bird will be marking World Albatross Day with a series of stories celebrating these magnificent seabirds, the risks they face, and how it and in partnership with international bodies such as ACAP and BirdLife International, are working to save them".
ACAP Latest News will report on Forest & Bird's World Albatross Day activities up to the day on 19 June.
With thanks to Sue Maturin and Caroline Wood.
John Cooper, ACAP Information Officer, 15 January 2020