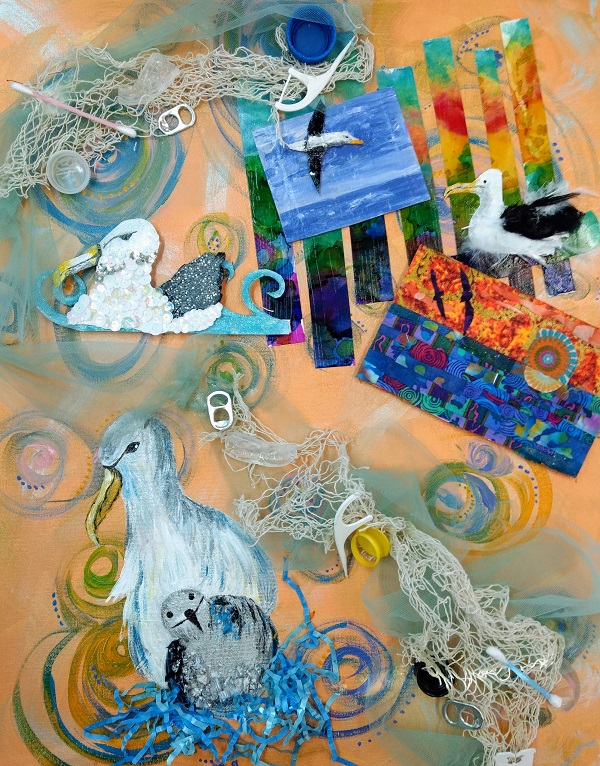 'PLIGHT of the Albatross' by Mary Ingrum, final composition, mixed media, including trash
For the first two months of the year ACAP has collaborated with ABUN (Artists & Biologists Unite for Nature) on its 30th Project in support of World Albatross Day that seeks to increase awareness of the conservation crisis that continues to be faced by the world's 22 species of albatrosses. The collaboration has been more successful than was ever expected with many artists creating exciting artwork for ACAP's use. One of the ABUN artists has created a compelling work out of "bits and pieces" that addresses the plight faced by albatrosses in an unnatural and polluted world. ACAP Latest News reached out its creator, Mary Ingrum, to find out what motivates her artistically. She has written back about herself.
"My name is Mary B. Ingrum and I am from Tennessee, USA. My inner artist emerged around 2012 when my muse, my sister Ellyn, brought watercolours with her on a visit to Tennessee. Now I'm hooked on watercolours, acrylics, collage, mixed media. I love them all. If you were to pin me down for a quote I would tell you "each of my pieces has my stink on it". I believe that when you see my work you will know it's mine, because they are uniquely mine.
Artists and Biologists Unite for Nature adopted me in 2014. I went to high school with Kitty Harvill, ABUN's founder; we caught up on Facebook. Now here we are creating together, with all our ABUN family for a cause, that of threatened species.
One of our most recent challenges and for our largest project so far was to paint the beautiful photographs of 22 species that came from ACAP. I could only illustrate five of them, so I wanted each to have its own special touch. I then added these five individual artworks to a single 16 x 20-inch canvas on which I had painted a backdrop of swirling shapes. 'PLIGHT of the Albatross' was created with sequins, glitter, acrylics, Mod Podge craft glue, gift bag confetti, fabric scraps from a quilt I'm making, tulle, Halloween netting, cereal boxes, alcohol ink, YUPO paper and trash.
I am an artistic encourager, what I mean by this is that I like to believe that everyone has an artist inside them waiting to be tapped into, recognized and accepted. Embracing my inner artist is what most makes my soul sing."
With thanks to Mary Ingrum.
John Cooper, ACAP Information Officer, 12 March 2020
Here are the five individual art pieces along with the photographs that inspired them. Chatham Albatross and chick by Lorna Deppe; flying Northern Royal Albatross and sunset scene by Dimas Gianuca; Shy and Southern Royal Albatross on the sea by Laurie Smaglick Johnson - with thanks.