Each year World Albatross Day intends to honour those involved with research and conservation of procellariform seabirds who have sadly passed away in the previous 12 months.
For the inaugural World Albatross Day on 19 June next year the memorial roll will list all those who have worked with albatrosses and petrels and who have died in the last three decades since the first discussions were held in 1991 at a meeting of the Convention on Migratory Species that eventually led to the Agreement being signed in 2001 on 19 June in Canberra, Australia.
A certainly incomplete list includes seabird researchers Peter Prince (d. 1998), Gerry Clark (d. 1999), Luis Monteiro (d. 1999), Ronald Lockley (d. 2000), Alec Zino (d. 2004), Irynej Skira (d. 2005), Larry Spear (d. 2006), Karl Kenyon (d. 2007), Jim Enticott (d. 2008), John Warham (d. 2010), Mike Imber (d. 2011), Lance Tickell (d. 2014), Norbert Klages (d. 2017), Chandler Robbins (d. 2017) and Joe Sultana (d. 2018).
A commercial fisher renowned for supporting seabird bycatch research in Brazil, Celso Rocha de Oliveira, who passed away this year should also be added to the memorial roll, as should Hamish Saunders who was swept off Australia's Pedra Branca in a storm and drowned in 2003 while helping monitor Near Threatened Shy Albatrosses Thalassarche cauta. A Trust has been established in his name.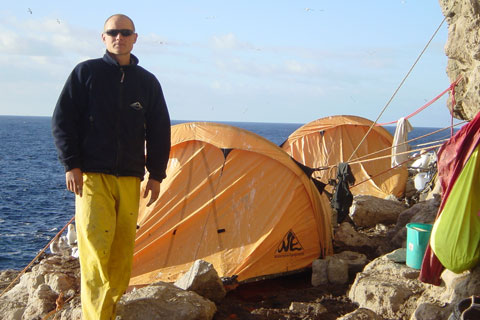 Research Assistant Hamish Saunders at the camping site on Pedra Branca before the storm hit from which he drowned
ACAP's This email address is being protected from spambots. You need JavaScript enabled to view it. will be pleased to hear of others to add to the above list, along with a few details of their work and passing; with links to obituaries if such exist. It has been a privilege to have known many of those listed here, co-authoring scientific papers with several of them. Vale all.
With thanks to Rosemary Gales and Pete McClelland.
Reference:
Cooper, J., Baker, G.B., Double, M.C., Gales, R., Papworth, W,, Tasker, M.L. & Waugh, S.M. 2006. The Agreement on the Conservation of Albatrosses and Petrels: rationale, history, progress and the way forward. Marine Ornithology 34: 1-5. http://www.marineornithology.org/content/get.cgi?rn=676.
John Cooper, ACAP Information Officer, 19 August 2019