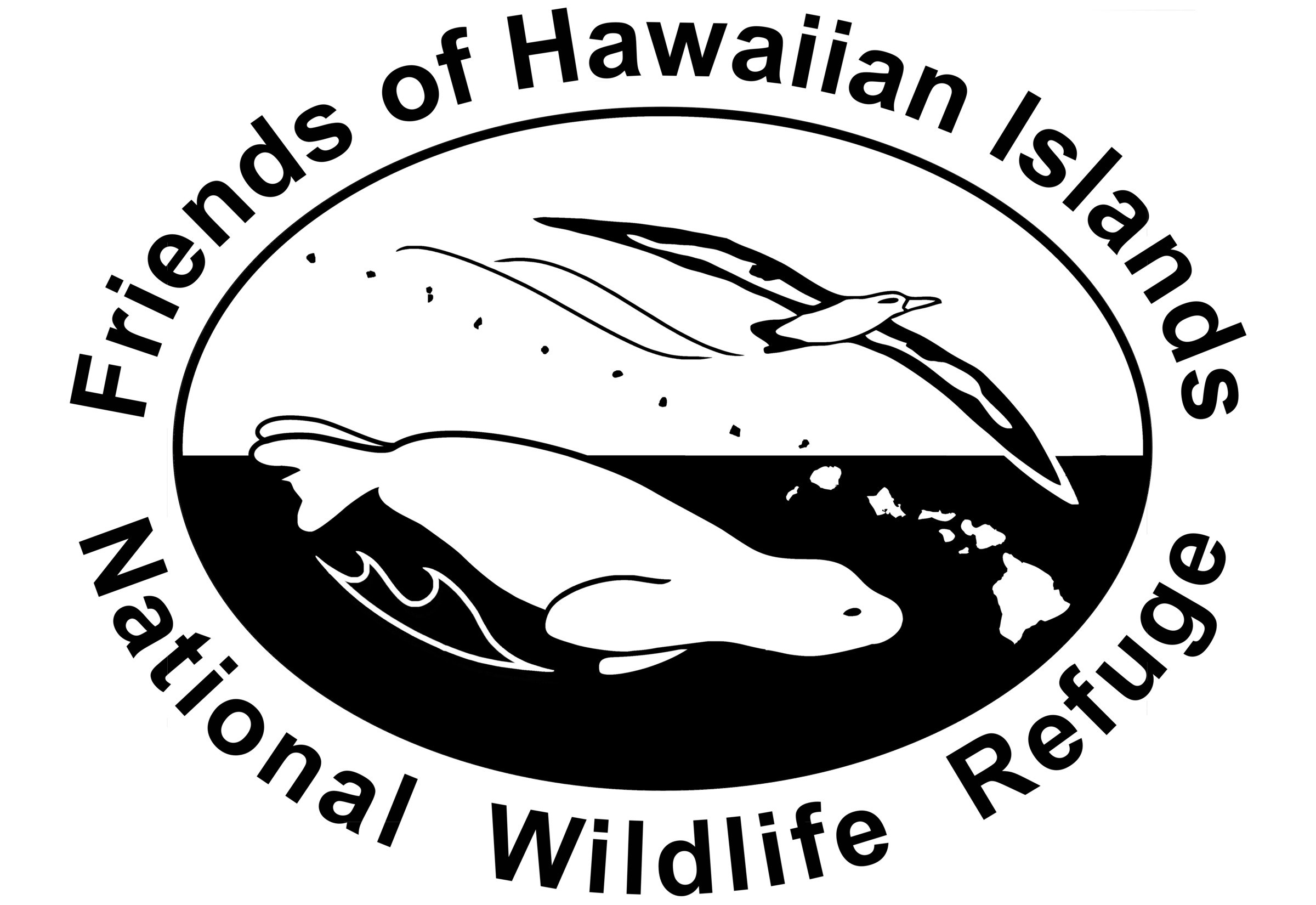 Friends of Hawaiian Islands National Wildlife Refuge (FoHI) is a non-profit organization dedicated to connecting you with the nature and culture of the USA's Northwestern Hawaiian Islands through education and outreach. We represent the Hawaiian Islands National Wildlife Refuge (HINWR) part of the Papahānaumokuākea Marine National Monument (which also includes Kure and Midway Atolls). FoHI is a non-profit partner of the U.S. Fish and Wildlife Service, supporting their projects through fundraising and advocacy.
The HINWR encompasses Nihoa Island through to Pearl and Hermes Atoll. Land and seascapes include sheer rocky cliffs emerging from the sea, sandy islands and atolls, and broad shallow reefs with no emergent land. The HINWR was established by President Theodore Roosevelt in 1909 to provide legal protection for the seabirds living on these remote islands and atolls that were once slaughtered for their plumage and eggs. Currently, the eight islands and atolls within the Refuge support predator-free nesting grounds for Laysan (Mōlī) and Black-footed (Ka'upu) Albatrosses.
Albatrosses are not only ecologically significant to the atolls by depositing guano essential for native vegetation to thrive, but they are also culturally significant. Albatrosses return to land in November during the Makahiki season, which celebrates hard work in producing food during the previous months. This celebration is dedicated to the Hawaiian god Lono, whose earthly manifestation is believed to be an albatross. Further, the Hawaiian name for Laysan Albatross, Mōlī, refers to tattooing implements made from their bones.
The Papahānaumokuākea Marine National Monument supports the majority of the world's Mōlī and Ka'upu populations. Whereas islands in HINWR are predator (and most of the time, human) free, threats to albatrosses in the refuge include invasive plant species and climate-change induced habitat loss. FoHI supports quarantine protocols to prevent invasive species introductions to these fragile islands, and translocation projects by Pacific Rim Conservation, including relocating albatross and petrel chicks from the Refuge to predator-proof areas on high islands in the main Hawaiian Islands.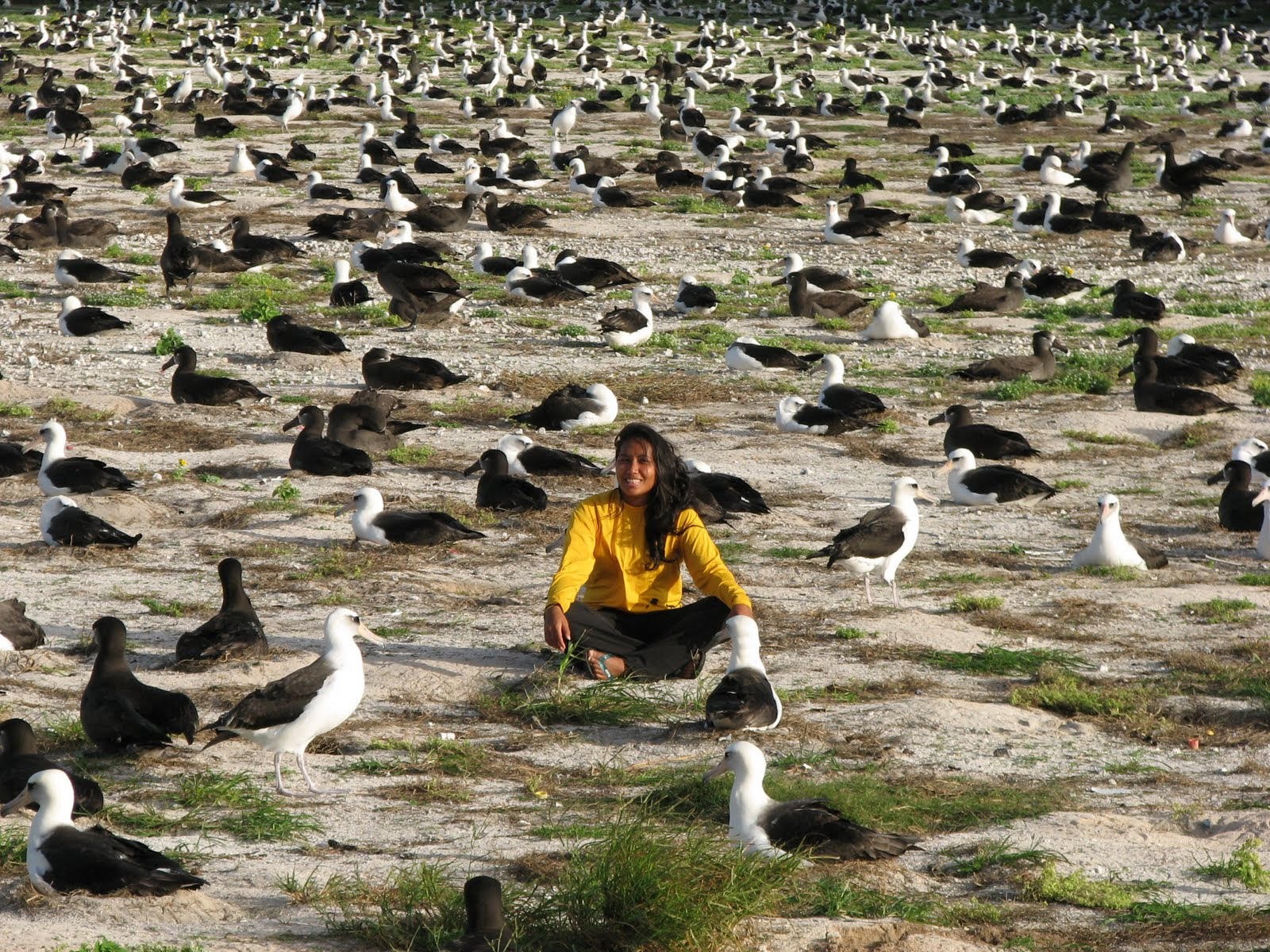 Nicole Galase tries to blend into the albatross colony on Midway Atoll
Several of the FoHI Board members have been fortunate to spend time living among the albatrosses in the HINWR. FoHI Chair Nicole Galase: "Albatross are great reminders that everything is interconnected. Seabirds are important for many reasons, one of which is the great job they do to cycle nutrients from the ocean to the land."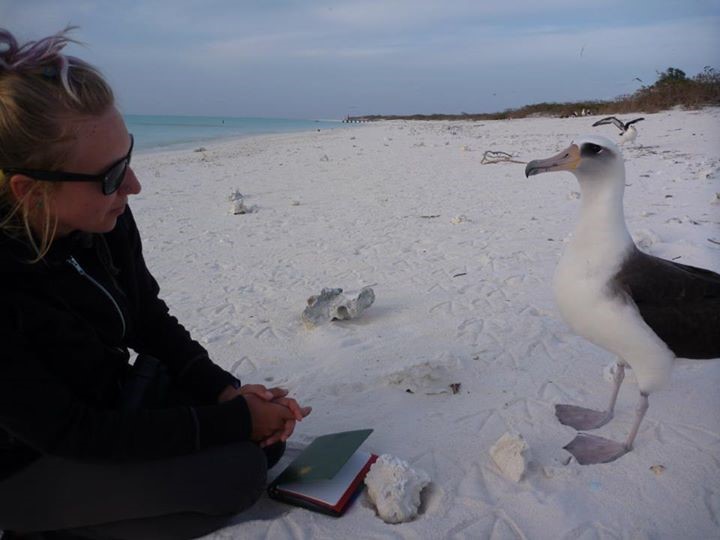 Ilana Nimz in a therapy session with a Laysan Albatross on Kure Atoll
FoHI Vice Chair Ilana Nimz: "My friend once stated 'albatrosses are the most bird,' which I feel is such a humorous, sincere, and perfect description of these animals. Albatrosses have evolved to withstand extremes, and I am optimistic about their persistence into an uncertain future. Getting people to care about them is step one, and I appreciate that World Albatross Day will spotlight their magnificence on a global stage."
Ilana Nimz, Vice Chair, Friends of Hawaiian Islands National Wildlife Refuge, 29 March 2020