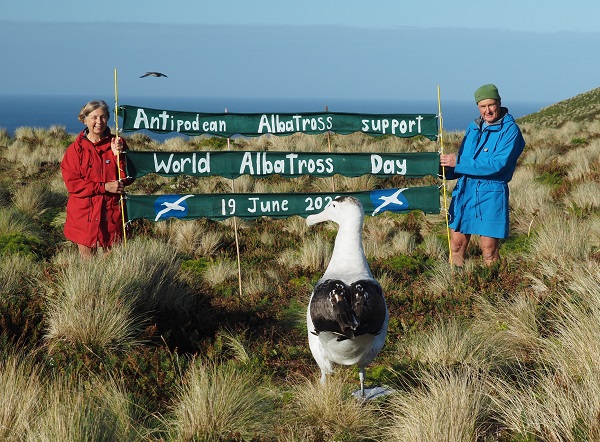 Kath Walker (left) and Graeme Elliott with their World Albatross Day banner behind an adult non-breeding male Antipodean Albatross - who walked into the frame
Five sub-Antarctic island groups south of New Zealand form a single World Heritage Site, proclaimed in 1998. With a recent expedition to Antipodes Island they are now linked by having a World Albatross Day banner displayed on all five of them this austral summer.
Previously 'WAD2020' banners have been taken to and photographed with albatrosses on the Auckland, Bounty, Campbell and Snares Islands.
On their visit to the Antipodes, cut short by COVID-19 travel restrictions, Graeme Elliott and Kath Walker, scientists with the New Zealand Department of Conservation (DOC), took along a home-made banner to be photographed with a globally Endangered and Nationally Critical Antipodean Albatross Diomedea antipodensis. Although their originally planned six-week trip was cut down to nine working days ashore, it was still possible for them to fit GPS satellite transmitters to 40 Antipodean Albatrosses, mostly young female pre-breeders. "We actually had another 20 satellite tags but they had been intended from the start (and programmed accordingly) for a long-term deployment on fledglings. Due to our very late arrival on the island, all the chicks had long since fledged, so we held onto those in the hope we can deploy them on the 2020 season chicks instead." Tracking maps are already being generated showing the birds moving up to 6000 km (click here).
Following their shortened expedition, Kath Walker and Graeme Elliott have written to ACAP Latest News: "Those quintessential Southern Ocean birds – albatrosses - need our help. By directing and focusing effort, World Albatross Day is an invaluable initiative"
Antipodes Island is now mouse free following a successful eradication project in 2016 led by DOC. Heartening then to hear from Kath Walker that on the island "endemic flies and moths [have] exploded in numbers … and we still hope will increase megaherb numbers due to improved pollination".
The Antipodean Albatross is listed on Appendices I and II of the Convention for Migratory Species. The Antipodes Island nominate population has been recognised since 2017 as a population of conservation concern by ACAP.
Read more about the tracking work with Antipodean Albatrosses here.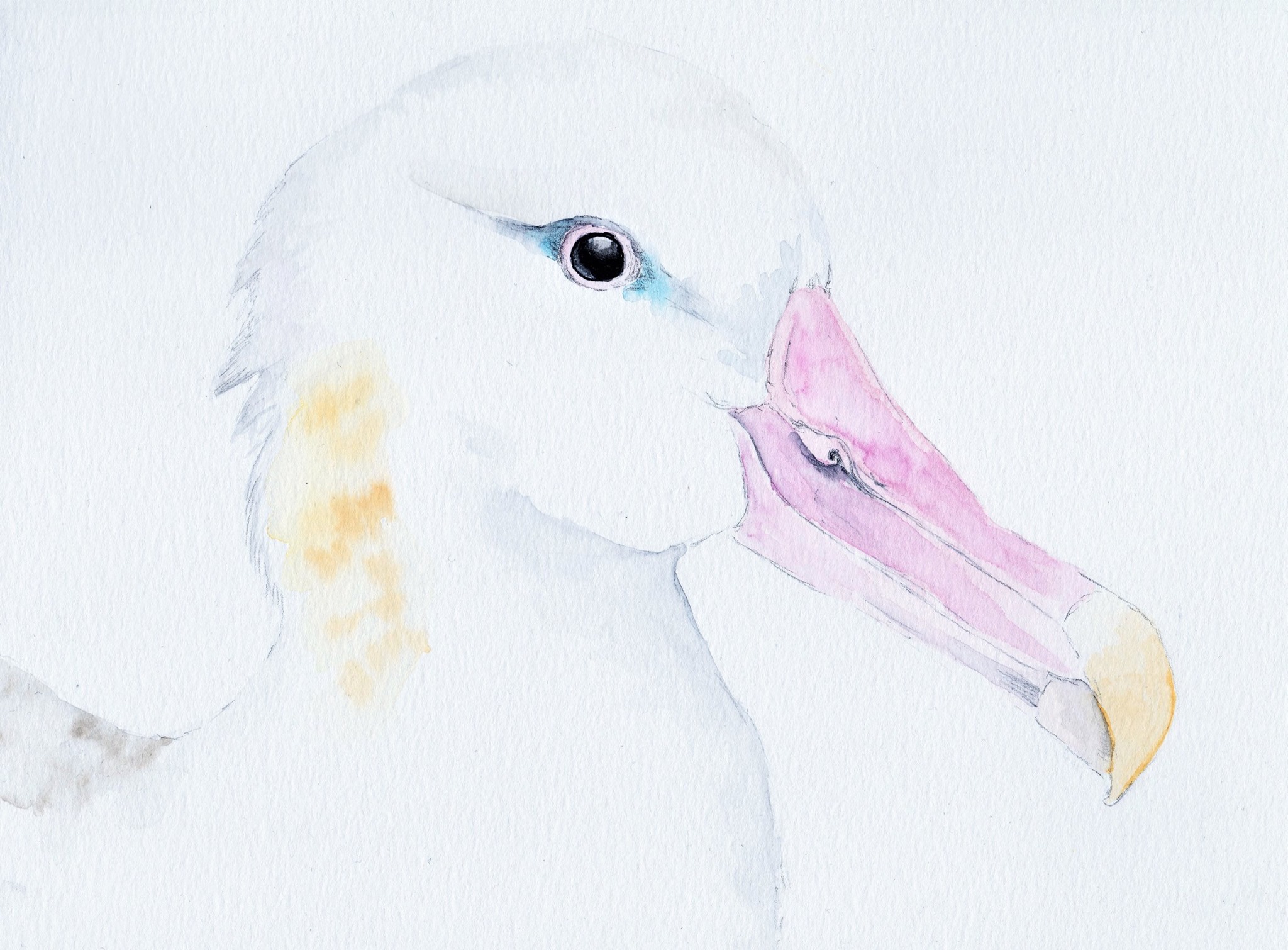 Antipodean Albatross by ABUN artist Lea Finke, from a photograph by Kirk Zufelt
John Cooper, ACAP Information Officer, 16 April 2020