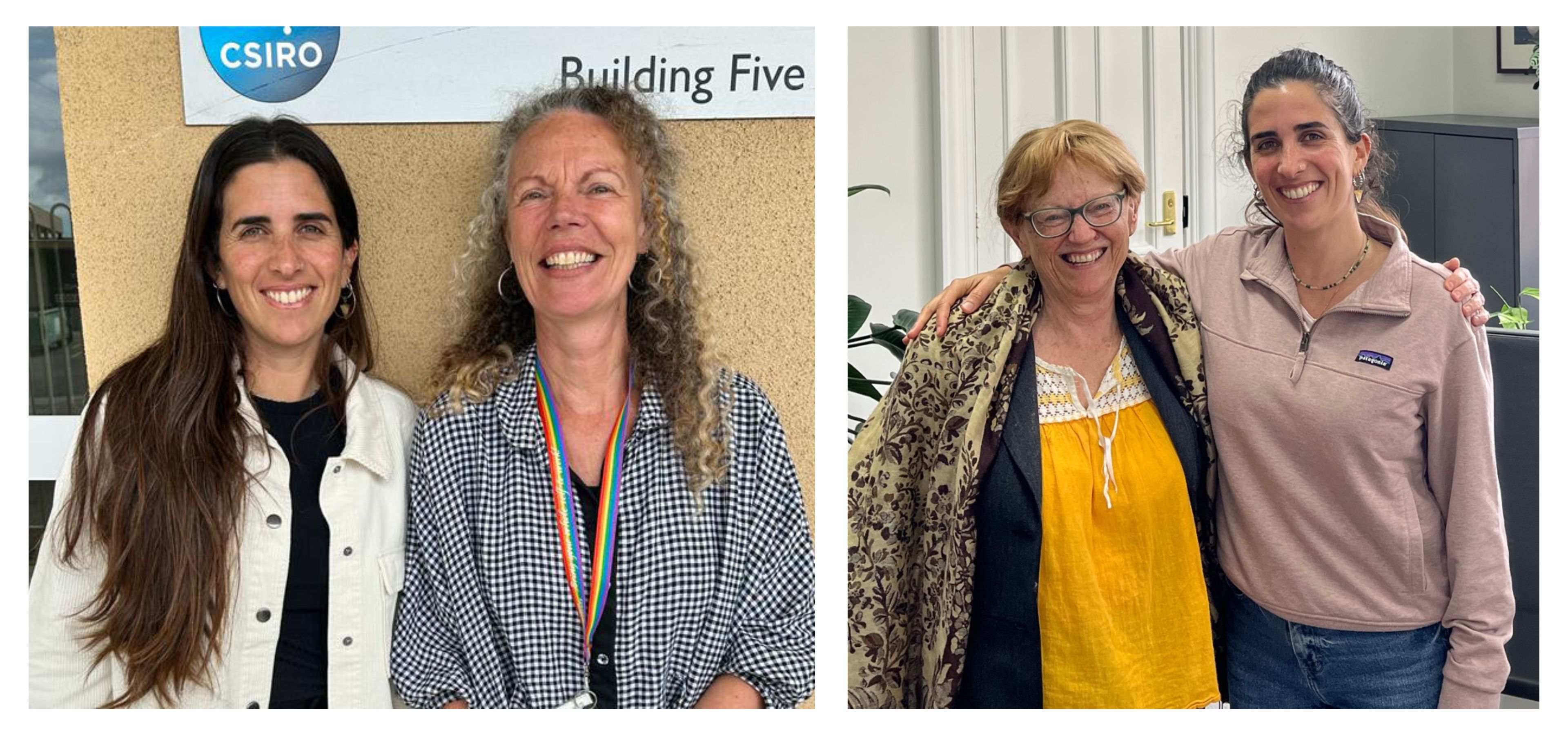 (Photos left - right) Agustina with Dr Ingrid van Putten from the CSIRO and with Dr Christine Bogle on her visit to the ACAP Secretariat in Hobart
Argentinian PhD student, Agustina Iwan is nearing the completion of her ACAP Secondment in Australia. Agustina's project, titled, "Socio-ecological Approach to the Problem of Seabird Bycatch in Commercial Fisheries in Argentina", aims to shed light on the human element of seabird conservation, focussing specifically on the barriers and opportunities for fishers in implementing conservation measures to reduce the incidental death of seabirds in commercial fisheries. 
Commercial fisheries pose the biggest threat to seabirds, with hundreds of thousands of seabirds dying each year from interactions with fishing gear, especially during longline- and trawl-fishing operations. Whilst technical solutions to reduce seabird bycatch in fisheries exist, such as those contained in ACAP's Best Practice Advice, Agustina's research proposes that without understanding the perceptions, culture, and customs of individuals, impactful uptake of mitigation measures may remain elusive. 
During her five months in Australia Agustina has collaborated with researchers specialising in human behaviour and conservation management who have helped her apply qualitative analysis tools and approaches to the in-depth interviews she conducted with stakeholders in Argentine fisheries. 
Researchers at two host institutions have welcomed Agustina during her time in the country: Dr Brock Bergseth, DECRA Research Fellow at James Cook University's ARC Centre of Excellence for Coral Reef Studies and Dr Ingrid van Putten, Adjunct Senior Researcher at the Commonwealth Scientific and Industrial Research Organisation (CSIRO).  Agustina has also had the opportunity to work with researchers from the Centre for Marine Socio-ecology at the University of Tasmania.
Speaking about Agustina's time at James Cook University, Dr Brock Bergseth said: "Agustina was a very motivated, driven, and resourceful visitor and made the most of her time at James Cook University. During her visit, she made considerable progress in analysing her data, conceptualising and situating her research within the larger field, and in building her professional networks. Agustina was a very welcome addition to the lab group – we enjoyed hosting her and would happily welcome her back in the future."
At CSIRO in Tasmania, Agustina was able to share her knowledge of Argentine fisheries with Dr Ingrid Van Putten, who has a keen interest in behavioural factors in conservation management. In commenting about Agustina's secondment, she acknowledged the differences in the fisheries of Australia and Argentina, but pointed to the human element as being universal to both, saying: "the complexity of fisheries and conservation issues may vary between places around the world, but understanding human behaviour is essentially key everywhere. If we want the adoption of conservation measures, studies like the one Agustina is doing, are going to help tremendously. Agustina has managed to unpick and better understand the issues using sophisticated social science analysis tools. I am impressed with the work and hopefully work with her and her team in Argentina again in the future."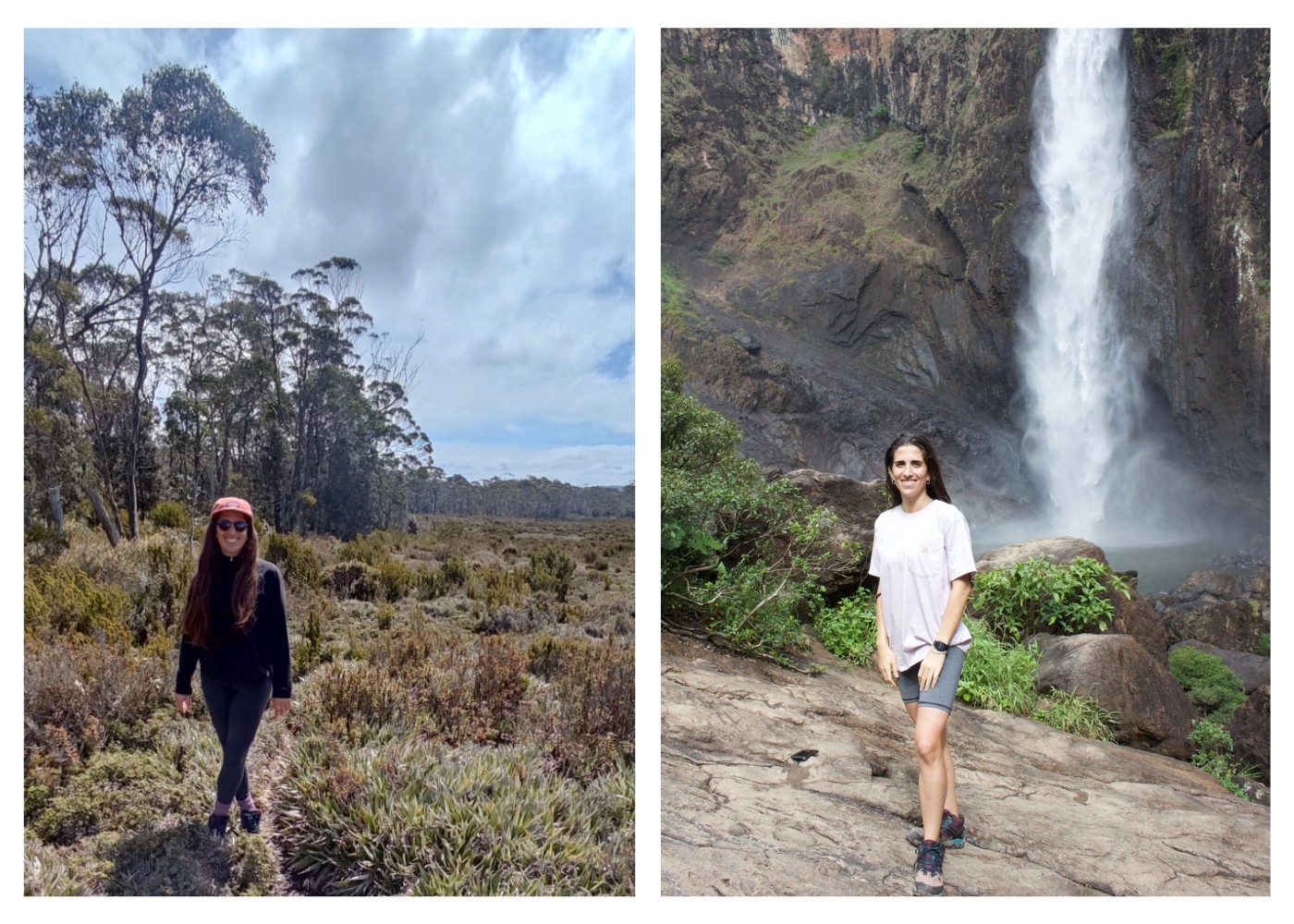 Seeing the sights! Agustina enjoying a walk in Mount Field National Park, Tasmania (left), and taking in Wallaman Falls, in the Girringun National Park, Queensland (right).
The project aligns closely with ACAP's objective to maintain a favourable conservation status for its listed species. By providing insights into the current situation in Argentinean fisheries, her research hopes to provide valuable insights and practical recommendations for industry stakeholders, government institutions, and other relevant parties. 
In expressing her excitement about the project, Agustina emphasised her eagerness to learn and contribute to global conservation efforts: "Working on aspects of marine conservation is stimulating to me because I think it's about contributing, even in a very small way, to inhabiting this planet in a more conscious way. Having had the opportunity to stay in Australia has been very enriching for my project and my doctorate, particularly working with Brock Bersgeth and Ingrid Van Putten. Both are professionals with a long history in marine social science and conservation issues and are also part of institutions and teams where interdisciplinary work is common practice. I have felt very well received and accompanied."
Agustina's project represents a vital step forward in addressing the complex issue of seabird bycatch in Argentine commercial fisheries. Her secondment not only contributes to the crucial field of seabird conservation but has also fostered cross-party collaboration, knowledge-sharing, and capacity-building within ACAP Parties. By combining scientific research with social sciences approaches, her project has the potential to drive positive change, promote sustainable practices, and enhance the conservation efforts of ACAP and its partners. 
08 November 2023