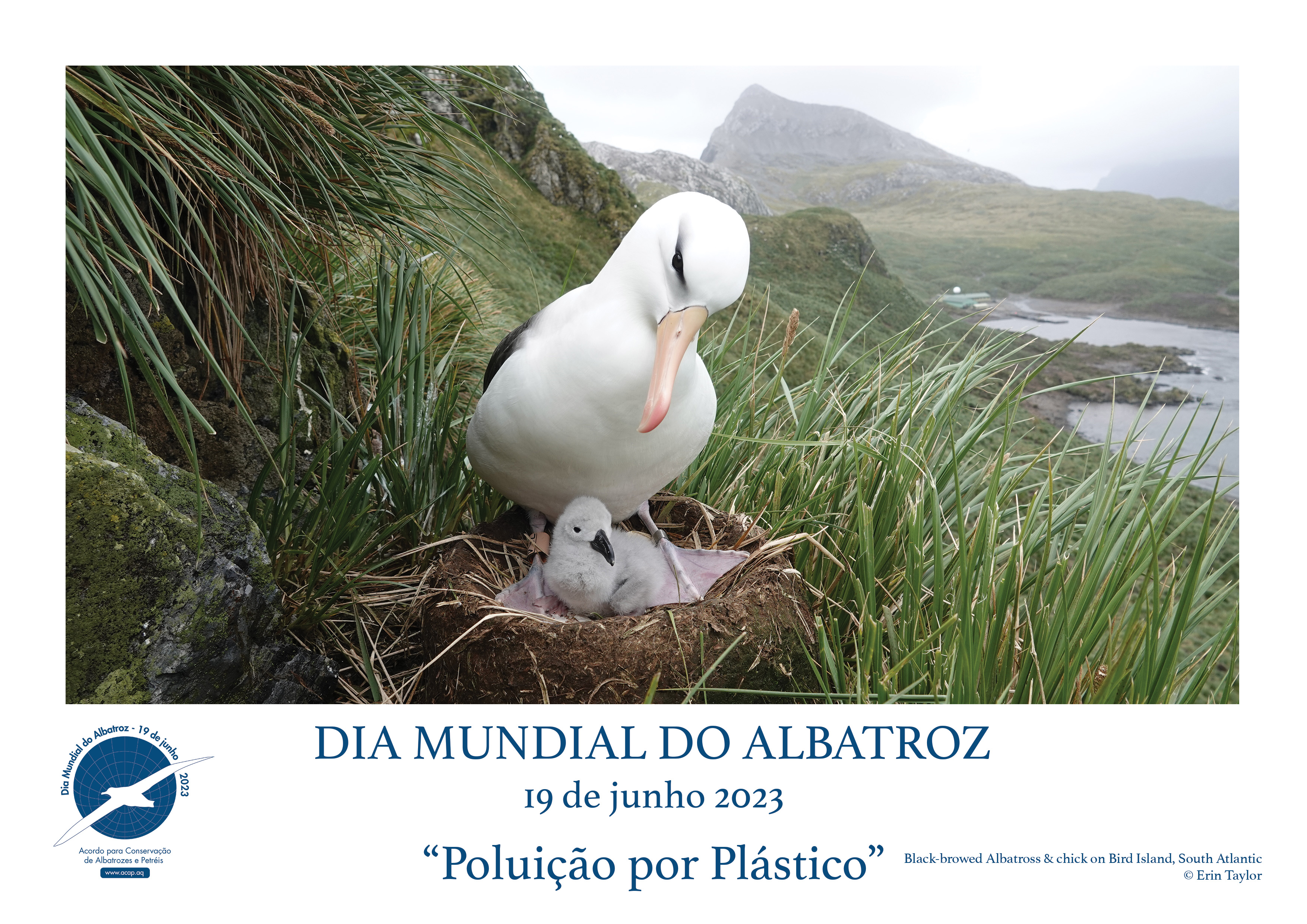 A colour-banded Black-browed Albatross stands over its chick on Bird Island in the South Atlantic. Photograph by Erin Taylor, poster design by Bree Forrer
The Albatross and Petrel Agreement has three official languages: English, French and Spanish. These are the native languages of 11 of the 13 Parties to the Agreement. The two exceptions are Brazil, with its home language of Portuguese, and Norway, where there are two official languages: Norwegian and Sámi. Both countries are non-breeding Parties (although Southern Giant Petrels Macronectes giganteus once bred on Norway's Bouvet Island in the Southern Ocean). Although none of the 31 ACAP-listed species visits the territorial waters or Exclusive Economic Zone of mainland Norway, at least 11 listed species have been recorded within the waters surrounding Brazil according to that Country's National Plan of Action – Seabirds. Six of these can be considered regular visitors in reasonable numbers as shown by distribution maps in the NPOA-Seabirds.
Today we are pleased to release the set of 12 photo posters for World Albatross Day on 19 June this year, already available in the official languages, in Portuguese (click here). It is intended over the next six weeks to produce a set of WAD2024 artwork posters, based on selected paintings made for ACAP's use by members of Artists and Biologists Unite for Nature (ABUN) as part of its Project #43 earlier this year. These will also be produced in Portuguese.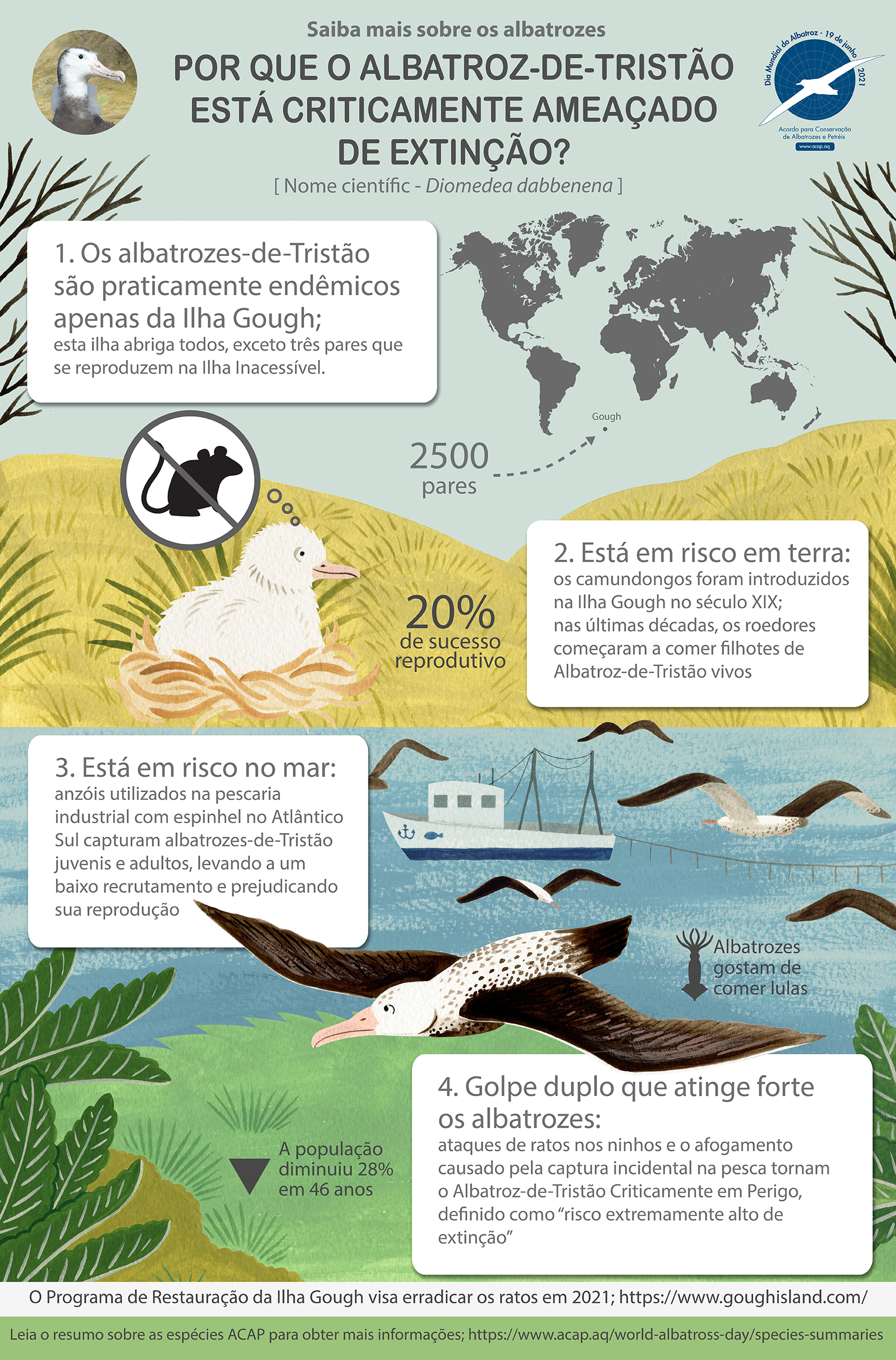 Infographic design by Namasri Niumim
In adition to the posters released today, ACAP has so far produced two of its ACAP Species Infographics in Portuguese, as well as in the three official ACAP languages. These are for the Black-browed Albatross Thalassarche melanophris and the Tristan Albatross Diomedea exulans. It is intended to produce Portuguese versions for the other four regular visitors to Brazil - the Atlantic Yellow-nosed Albatross T. chlororhynchos and the Southern Giant, Spectacled Procellaria conspicillata and White-chinned P. aequinoctialis Petrels. Sponsorships have been found for the three petrels, and it is planned to produce infographics for them during the second half of this year.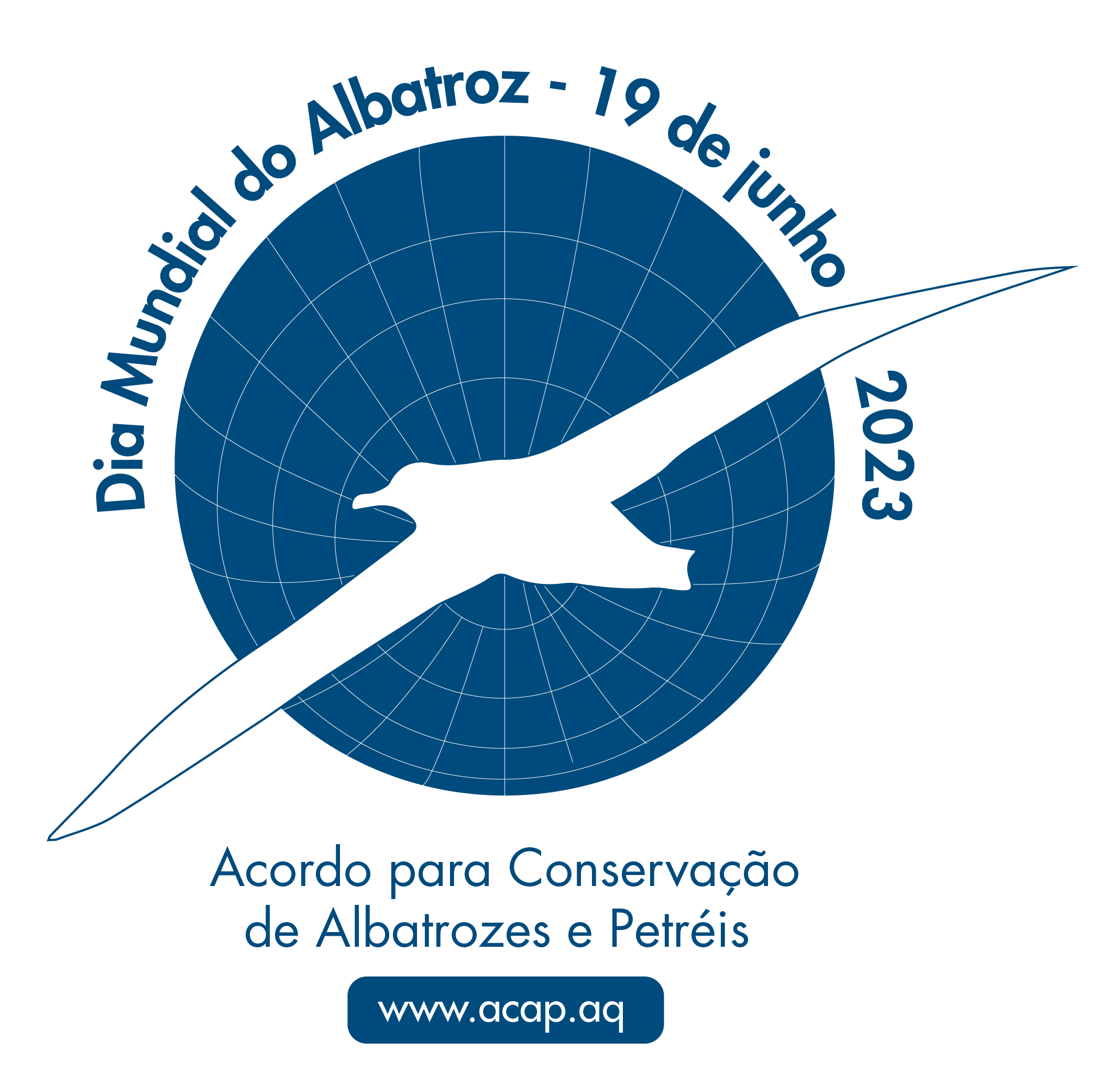 For the last four years, ACAP has also been making a Portuguese version of its World Albatross logo (click here for 2023). Further, it is hoped that the six regular Brazilian visitors named above can also have their texts in the ACAP Species Summary series translated into Portuguese this year, so watch this space for them.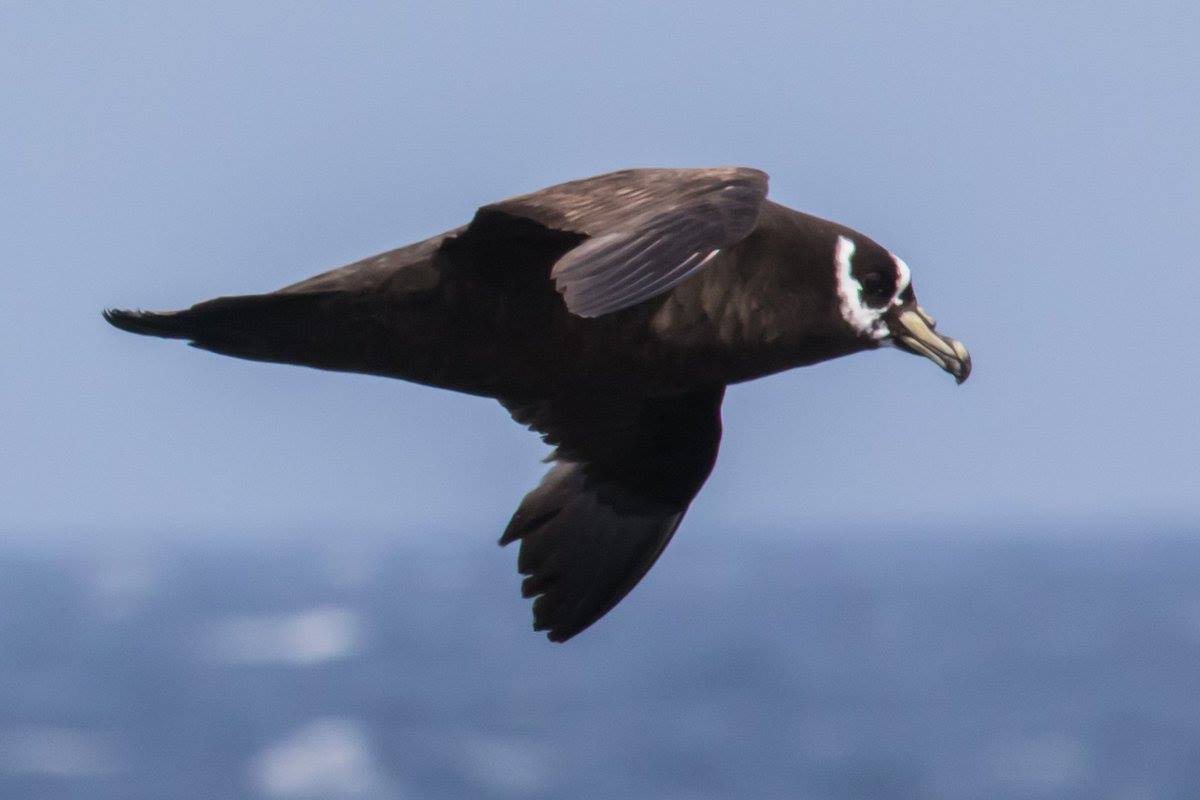 A Spectacled Petrel at sea off Brazil, photograph from Projeto Albatroz. The ACAP Species Summary for the 'Ringeye' is planned to be translated into Portuguese
Two other Portuguese-speaking countries are regularly visited by ACAP-listed species. These are Angola where is southern waters are known to be visited by a number of them, notably Atlantic Yellow-nosed Albatrosses and White-chinned Petrels (click here), both at risk to local fisheries, and Portugal where the Balearic Shearwater Puffinus mauretanicus is a regular non-breeding visitor to its coastal waters, where it is at risk to longline and net fisheries (click here). ACAP-listed species have also been recorded as vagrants within the southern waters off Portuguese-speaking Mozambique, including the Indian Yellow-nosed Albatross T. carteri and the White-chinned Petrel. Additionally, although it is well outside the normal ranges of all the ACAP-listed species, Cabo Verde off the west coast of Africa supports breeding petrels and shearwaters, actively conducting conservation research on them (click here).
It is hoped the ACAP products described above that are being produced in Portuguese can be used to increase awareness of the conservation plight being faced by albatrosses and petrels, and aid Brazil and other Portuguese-speaking nations in celebrating World Albatross Day come 19 June.
With grateful thanks for translations provided by Brazilian Patricia Serafini, Co-convenor of ACAP's Population and Conservation Status Working Group.
Reference:
Neves, T., Olmos, F., Peppes, F. & Mohr, L.V. 2006. National Plan of Action for the Conservation of Albatrosses and Petrels (NPOA-Seabirds Brazil). Threatened Species Series No. 2. Brasilia: Brazilian Institute of Environment and Natural Renewable Resources. 122 pp.
John Cooper, Emeritus Information Officer, Agreement on the Conservation of Albatrosses and Petrels, 27 April 2023