The locality in the Falkland Islands (Islas Malvinas)* with the greatest number of breeding ACAP-listed Southern Giant Petrels Macronectes giganteus is Sandy Cay in the Elephant Cays group off the south-west coast of East Falkland. A total of 10 936 breeding pairs was counted on aerial photographs taken on 08 December 2004 and 7474 chicks on photos taken on 14 January 2005, giving an estimated breeding success of 68%. The entire colony, the World's largest for the species, was in one area and was relatively compact. Breeding of about 1000 pairs of Southern Giant Petrels in the Elephant Cays was recorded in 1986/87, with "hundreds" prior to the 1960s.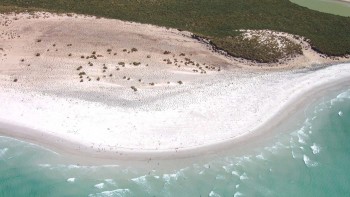 Aerial view of the Southern Giant Petrel colony on Sandy Cay, photograph from Reid & Huin [2005]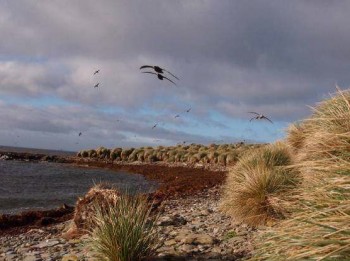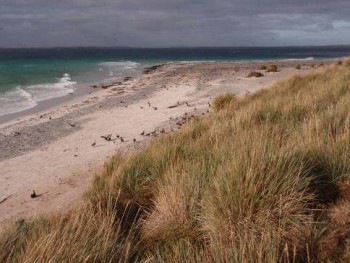 Views of Sandy Cay showing tussock and beaches, photographs by Ken Passmore
Sandy Cay is an 84-ha island with a 4-km coastline largely surrounded by kelp beds. It is low-lying, flat-topped and roughly oval-shaped, made up of dense and ungrazed Tussac Grass Parodiochloa flabellata, grass meadows and boulder and sandy beaches and dunes, with three fresh-water bodies. The single giant petrel colony is situated in the north of a 700-m long sandy beach in the north-east of the cay.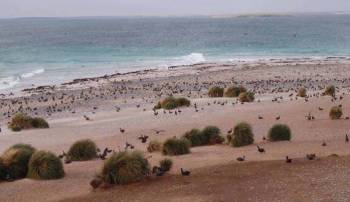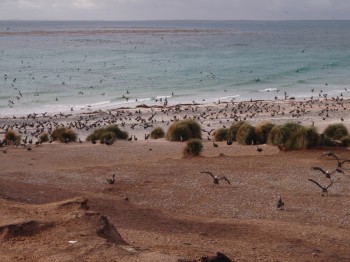 The Southern Giant Petrel breeing colony on Sandy Cay, photographs by Ken Passmore
The island is privately owned and operated as a wildlife sanctuary or nature reserve with landings very rarely allowed. It forms part of BirdLife International's Important Bird Area for the Elephant Cays (FK05). Sandy Cay has been stocked with cattle in the past, but now appears to have no introduced mammals, including rodents, based on a ground visit on 28 April 2010. The collection of giant petrel eggs for human consumption by visiting vessels in the first half of the 20th Century has been reported, suggesting the colony is one of long standing.
With thanks to Ken Passmore, Sally Poncet, Tim Reid and Anton Wolfaardt for information and photographs.
Selected Literature:
[Falklands Conservation] 2006. Important Bird Areas of the Falkland Islands. London: Falklands Conservation. 160 pp.
Passmore, K. & Poncet, S. 2010. Assessment of the Presence of Rodents and Baseline Surveys on Elephant Cays, Stinker Island, Penn Island, Third Island and Fourth Island. [Stanley]: Beaver Island LandCare. 54 pp.
Patterson, D.L., Woehler, E.J., Croxall, J.P., Cooper, J., Poncet, S., Peter, H.-U., Hunter, S. & Fraser, M.W. 2008. Breeding distribution and population status of the Northern Giant Petrel Macronectes halli and Southern Giant Petrel M. giganteus. Marine Ornithology 36: 115-124 and appendix.
Reid, T. & Huin, N. [2005]. Census of the Southern Giant-Petrel Population of the Falkland Islands 2004/2005. [Stanley]: Falklands Conservation. 26 pp.
Reid, T. & Huin, N. 2008. Census of the Southern Giant Petrel population of the Falkland Islands 2004/2005. Bird Conservation International 18: 118-128.
Wolfaardt, A.[C.], Rendell, N. & Brickle, P. 2010. Falkland Islands Implementation Plan for the Agreement on the Conservation of Albatrosses and Petrels (ACAP): Review of Current Work and a Prioritised Work Programme for the Future. Stanley: Falkland Islands Government. 57 pp.
Woods, R.W & Woods, A, 1997. Atlas of the Breeding Birds of the Falkland Islands. Oswestry; Anthony Nelson. 190 pp.
Woods, R., Ingham, R. & Brown, A. 2006. Falkland Islands. In: Sanders, S. (Ed.). Important Bird Areas in the United Kingdom Overseas Territories. Sandy: Royal Society for the Protection of Birds. pp. 99-162.
John Cooper, ACAP Information Officer 22 April 2015
*A dispute exists between the Governments of Argentina and the United Kingdom of Great Britain and Northern Ireland concerning sovereignty over the Falkland Islands (Islas Malvinas), South Georgia and the South Sandwich Islands (Islas Georgias del Sur y Islas Sandwich del Sur) and the surrounding maritime areas.