The Bleaker Island Group lies close off the south-eastern coast of East Falkland (Islas Malvinas)*. The low-lying islands are privately owned; the long, narrow main island is run as a farm and is also visited by day and overnight tourists.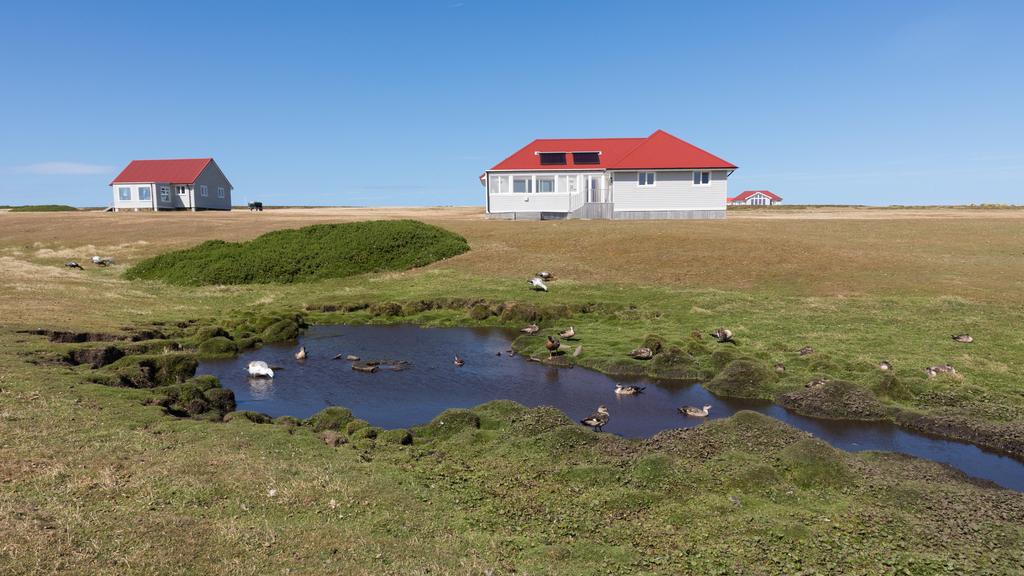 Accommodation at the settlement on Bleaker Island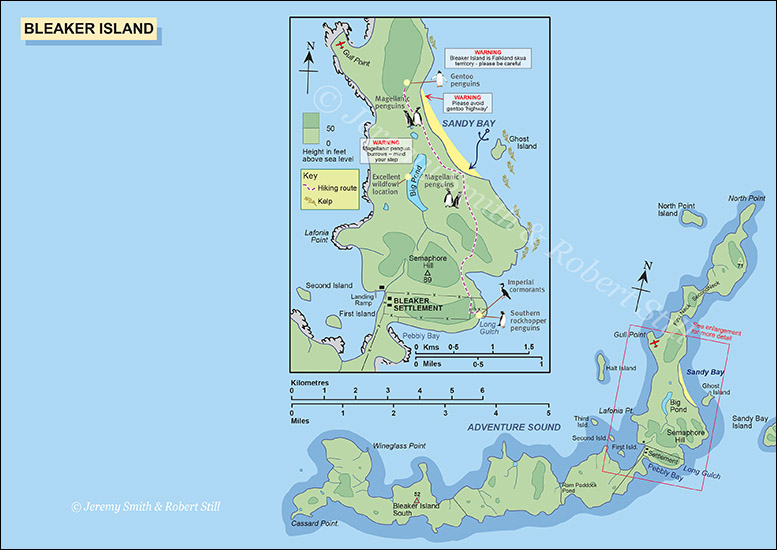 The breeding population of Southern Giant Petrels Macronectes giganteus based on near-annual chick counts received from the island's owner by Falklands Conservation increased irregularly from 150 in 2001/02 to a peak of over 300 in 2014/15, subsequently dropping annually to 206 in 2017/18. The most recent count, for the 2018/19 breeding season, was 265 chicks. Information from Nick Rendell, Bleaker Island Farm owner, follows: "The last two year's cohort[s] of chicks have been hit by untimely late summer storms. We observed notable numbers of dead SGP chicks in late summer 2017 and 2018 after unusually strong storm events".
"The distribution of breeding pairs is right along the western coast of Bleaker Island from the very north end to the very south end. There are several notable clusters of up to 40 breeding pairs – particularly in the south end camps. The SGP distribution seems to be expanding – with some small groups of breeding pairs found on the east coast of the north end now. They are slowly breeding closer to the settlement – for instance SGPs started breeding on Gull Point for the first time 2 seasons ago."
Sooty Shearwaters Ardenna grisea and Grey-backed Storm Petrels Garrodia nereis (suspected) also breed within the group, along with three penguin species and other birds.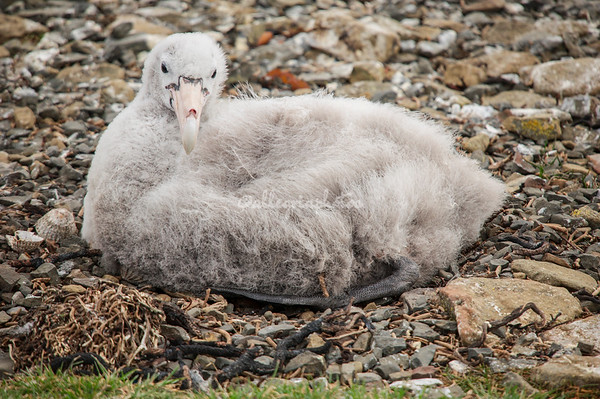 Southern Giant Petrel Chick on Bleaker Island
A ground-based operation that deployed some 7800 kg of cereal-based bait containing the poison Brodifacoum in May this year has hopefully cleared the island of the introduced Norway Rat Rattus norvegicus, the only pest mammal present. The bait was deployed on the main island (2070 ha), as well as by hand on four small surrounding islands known to be infested with rats (First, Second, Third and Ghost) totalling 11 ha. Three other small islands in the group were found to be rat free and so were not treated. To avoid any secondary poisoning by scavenging on dead or dying rats, the baiting exercise was conducted outside the Southern Giant Petrel's breeding season when fewer birds are present on the island.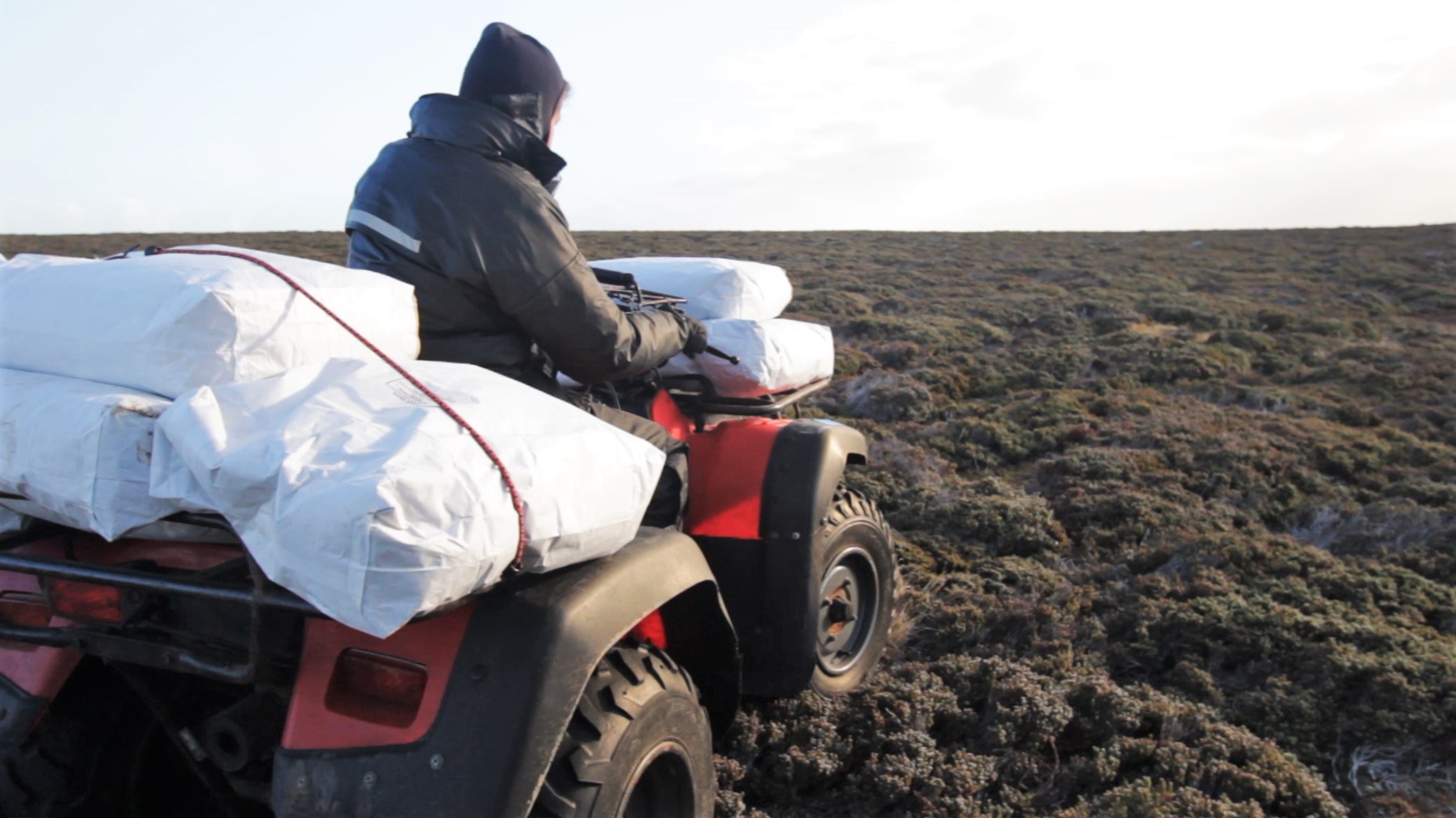 Sally Poncet drives out the bait, photograph by Traighana Smith
"Using poisoned bait to eradicate rats on an island with livestock (roughly 1000 sheep and 60 cattle) requires careful planning to ensure that the livestock does not have access to the bait. To this end, the island's 25 camps and paddocks were grouped together in five separate alternating blocks: two blocks made up of paddocks which would continue to be grazed after the bait was set, and three blocks comprising the paddocks that would remain ungrazed."
In the blocks to be grazed, bait was placed in 880 bait stations made of 500-mm lengths of plastic pipe to prevent livestock access. Ungrazed blocks were treated by hand broadcasting of bait.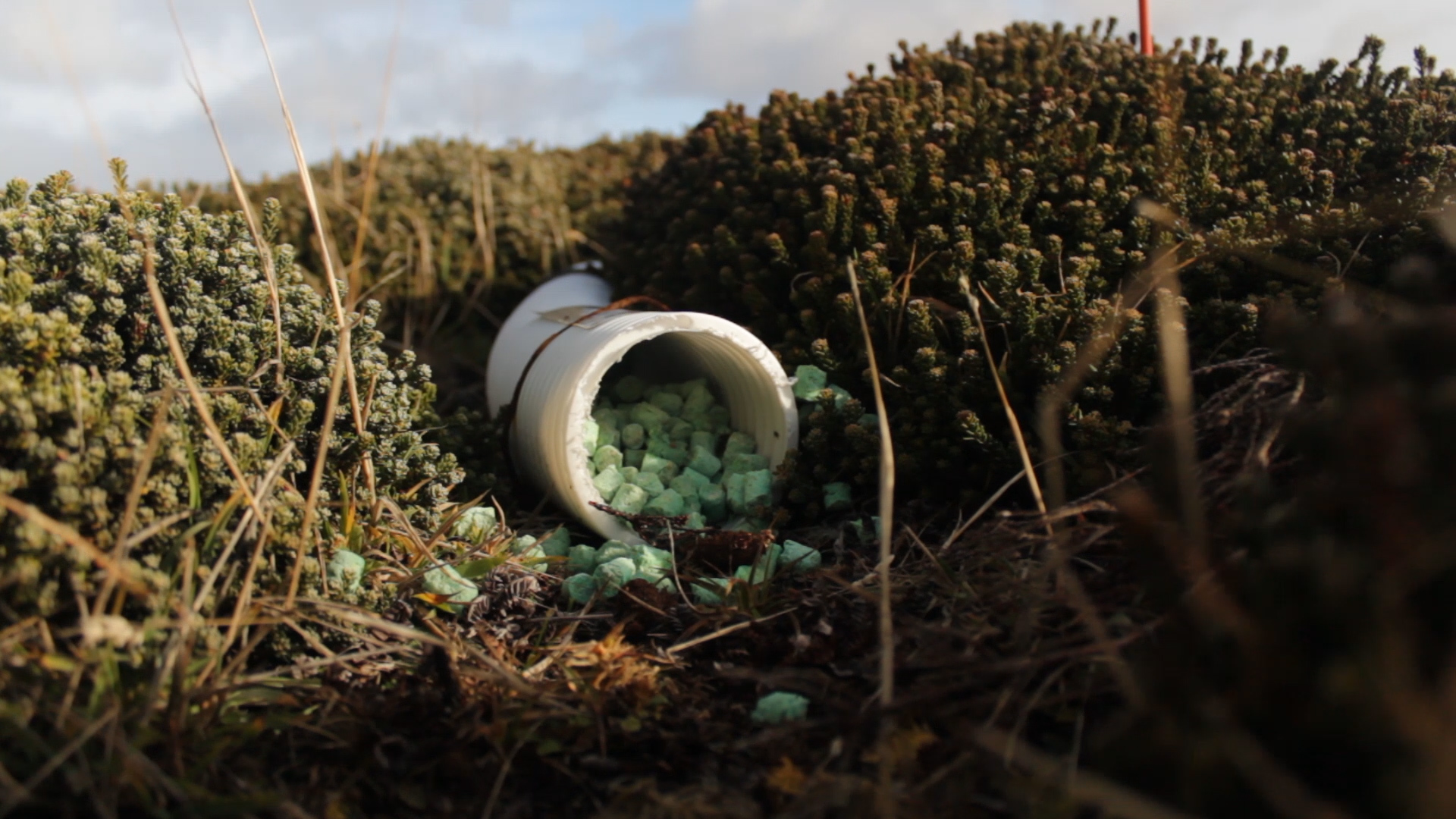 Plastic-pipe bait station, photograph by Traighana Smith
The outcome of the eradication effort will not become known until May 2021, when the final check for rat sign will take place. Up to the time of writing there have been no signs of rats. Nick writes: "We have chew sticks and monitoring stations out and have been checking coast closely and nothing yet. So looking good so far. We plan to get a detector dog out in October for an initial check which will be useful." A biosecurity plan to minimise the risk of re-invasion by rats has been formulated. The Bleaker Island rat eradication project followed on from a 2014 feasibility study. It was co-ordinated by Nick Rendell, Bleaker Island Farm and Sally Poncet, Island LandCare.
The Bleaker Island Group has been identified as an Important Bird Area due to its large colonies of cormorants by BirdLife International. The northern part of the main island was designated a National Nature Reserve in 1970.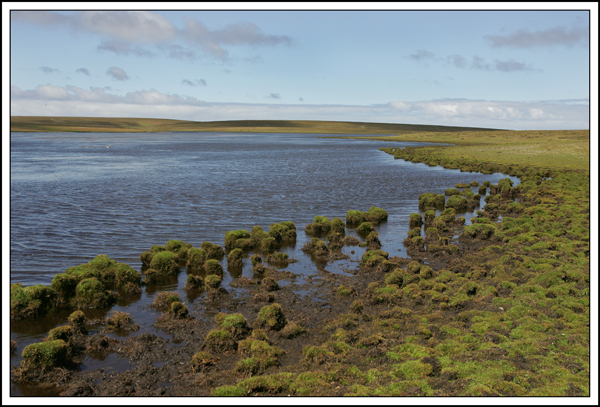 Big Pond, Bleaker Island
With thanks to Sally Poncet, Nick Rendell, Traighana Smith, Andrew Stanworth and Megan Tierney
References:
Anon. 2019. Wait begins as 7,800 kg of bait set in Bleaker rat eradication. Penguin News 28 June 2019. pp. 8-9.
BirdLife International 2019. Important Bird Areas factsheet: Bleaker Island Group.
Brown, D. & Poncet, S. 2004. Feasibility Study Report for the Potential Eradication of Norway Rats on Bleaker Island, Falkland Islands. Unpubl. Report. 81 pp.
Crofts, S. & Stanworth, A. 2018. Falkland Islands Seabird Monitoring Programme ‐ Annual Report 2017/2018 (SMP25). Stanley: Falklands Conservation. 44 pp.
Falkland Conservation 2006. Important Bird Areas of the Falkland Islands. Stanley: Falklands Conservation. 160 pp.
Patterson, D.L., Woehler, E.J., Croxall, J.P., Cooper, J., Poncet, S., Hunter, S. & Fraser, W.R. 2008. Breeding distribution and population status of the Northern Giant Petrel Macronectes halli and Southern Giant Petrel M. giganteus. Marine Ornithology 36: 115-124.
Poncet, S. & Passfield, K. 2012. Surveys of Islands in the Bleaker Island Group: First, Second, Third, Halt, North Point, Ghost and Sandy Bay Islands. Stanley: Beaver Island LandCare. 36 pp.
Reid, T.A. & Huin, N. 2008. Census of the Southern Giant Petrel population of the Falkland Islands 2004/2005. Bird Conservation International 18: 118-128.
Stanworth, A. & Crofts, S. 2017. Population Status and Trends of Southern Giant Petrels (Macronectes giganteus) in the Falkland Islands. Revised Version February 2017. Stanley: Falklands Conservation. 20 pp.
Summers, D. 2001. A Visitor's Guide to the Falkland Islands. London: Falklands Conservation. 109 pp.
John Cooper, ACAP Information Officer, 30 September 2019
*A dispute exists between the Governments of Argentina and the United Kingdom of Great Britain and Northern Ireland concerning sovereignty over the Falkland Islands (Islas Malvinas), South Georgia and the South Sandwich Islands (Islas Georgias del Sur y Islas Sandwich del Sur) and the surrounding maritime areas.