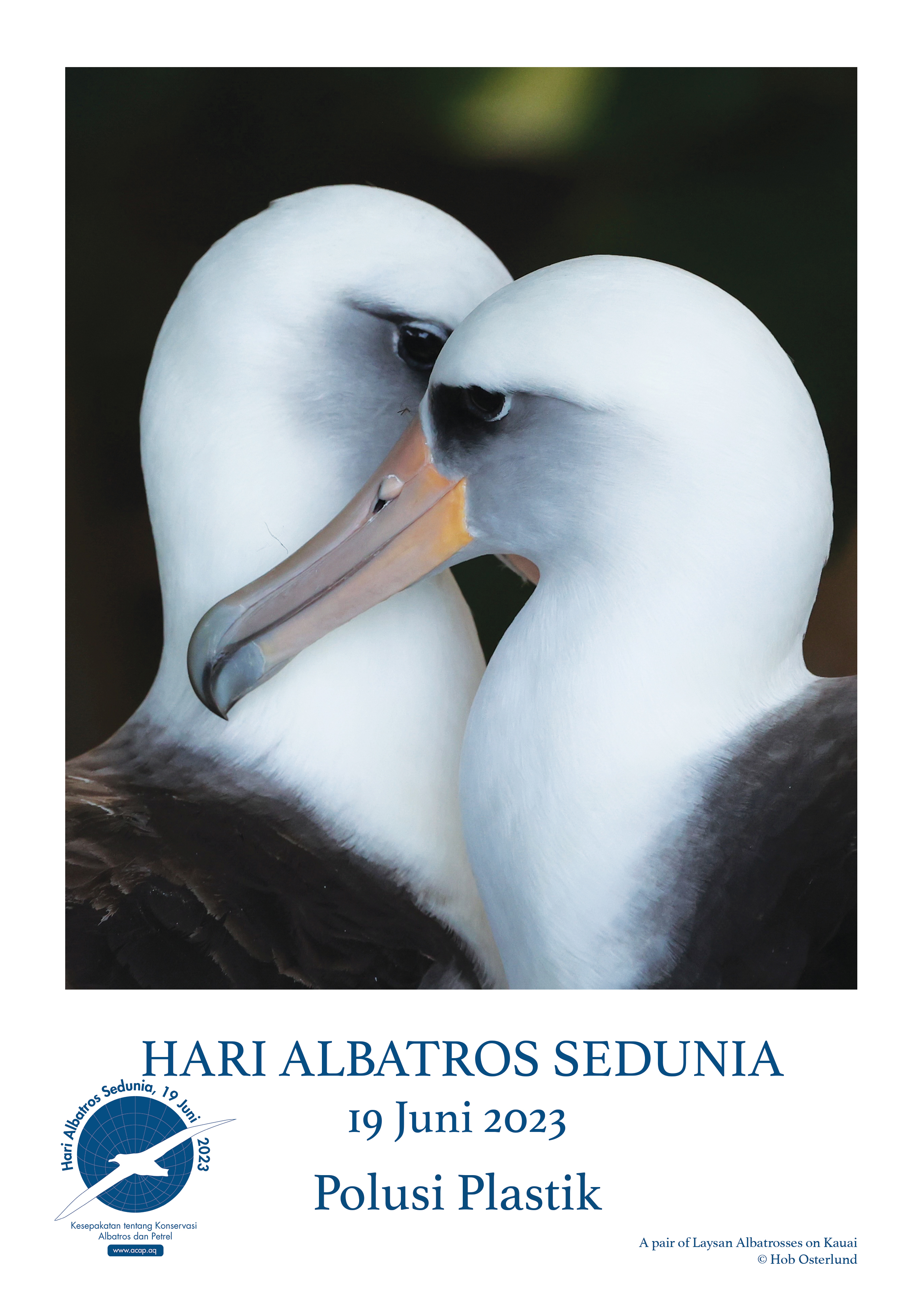 Layan Albatrosses, Kauai, photograph by Hob Osterlund, poster design by Bree Forrer
Continuing with its outreach to Asian high-seas fishing countries, the Albatross and Petrel Agreement is today releasing its set of 12 freely downloadable photo posters for this year's World Albatross Day with its theme of "Plastic Pollution" in the Indonesian language, known as Bahasa Indonesia. This latest release follows versions in Japanese and Korean. Previously, the poster set has been made available in ACAP's three official languages of English, French and Spanish, as well as in Portuguese. The 'WAD2023' logo is also available in Indonesian, and in the other six languages.
View and download the WAD2023 photo posters in Indonesian and in the other six languages here.  They are also available in individual language albums on the ACAP Facebook page.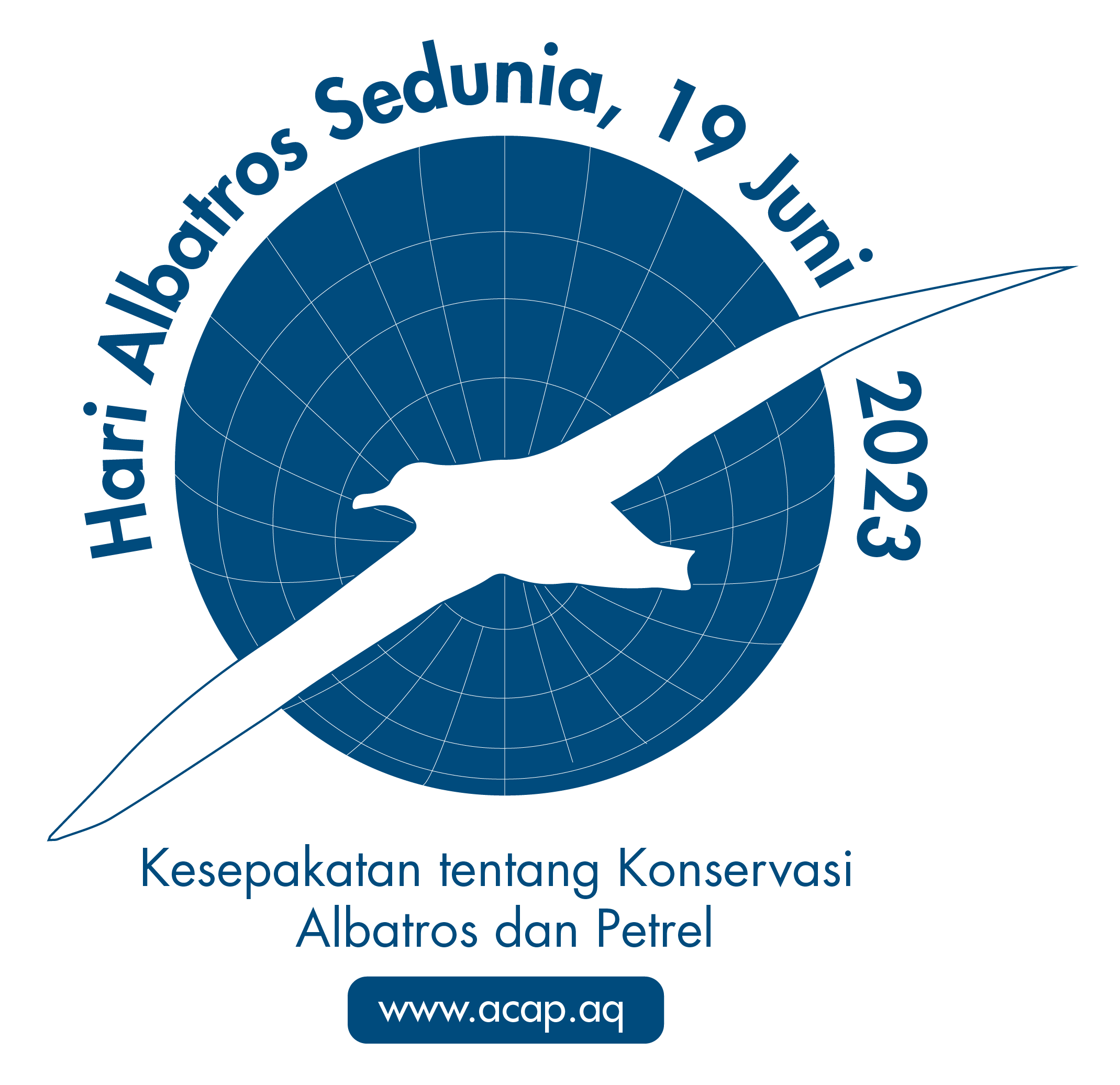 Indonesia is not a Party to the Agreement, nor has a breeding population of an ACAP-listed species. However, it is an ACAP range state* by way of undertaking fishing that interacts with ACAP-listed species, notably through its high-seas longline fisheries for tuna in the Indian and Pacific Oceans (click here). Indonesia is a member of the Commission for the Conservation of Southern Bluefin Tuna (CCSBT), the Indian Ocean Tuna Commission (IOTC) and the Western and Central Pacific Fisheries Commission (WCPFC). All these Regional Fisheries Management Organizations that manage high-seas tuna stocks (tRFMOs) have adopted seabird bycatch mitigation measures that apply to their member states.
ACAP has made its Seabird Bycatch Mitigation Fact Sheets available in Indonesian. An Indonesian version of the ACAP Seabird Bycatch ID Guide is also planned.
It is hoped the photo posters can be used within Indonesia to increase awareness of the conservation plight being faced by albatrosses and petrels and to aid the country in celebrating World Albatross Day on 19 June.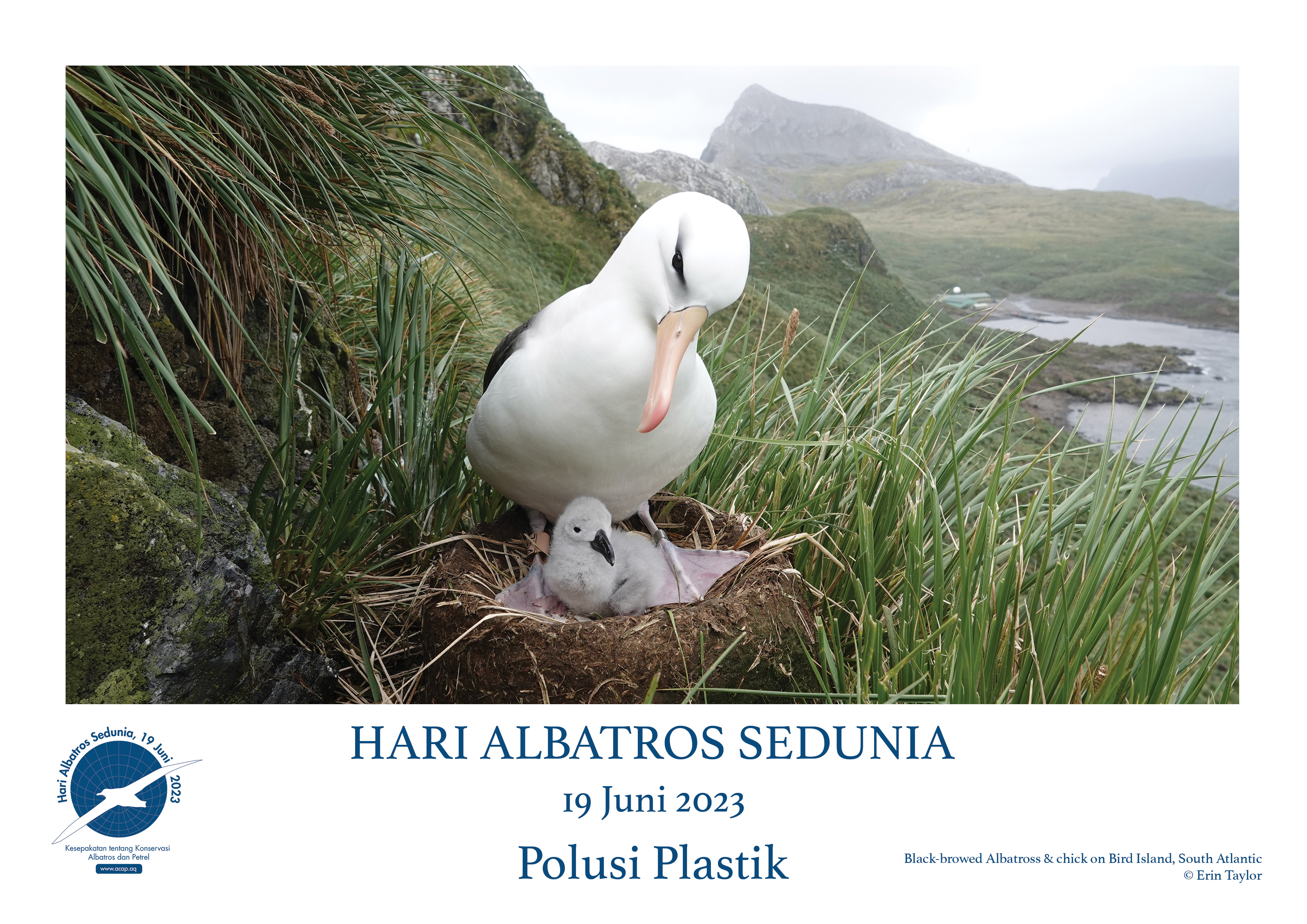 A colour-banded Black-browed Albatross stands over its chick on Bird Island in the South Atlantic, photograph by Erin Taylor, poster design by Bree Forrer
The photo poster set will be released in Simplified and Traditional Chinese in June, completing this year's outreach to Asia in support of World Albatross Day on the 19th.
With grateful thanks for help with translations from Fransisca Noni Tirtaningtyas, Burung Laut Indonesia (Seabirds Indonesia) and Vivian Fu, East Asian-Australasian Flyway and to photographers Hob Osterlund and Erin Taylor.
* "Range State" means any State that exercises jurisdiction over any part of the range of albatrosses or petrels, or a State, flag vessels of which are engaged outside its national jurisdictional limits in taking, or which have the potential to take, albatrosses and petrels" [from the Agreement text].
John Cooper, Emeritus Information Officer, Agreement on the Conservation of Albatrosses and Petrels, 25 May 2023