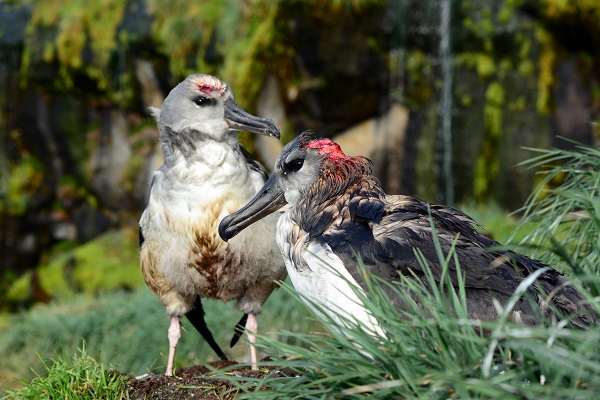 Scalped! Globally Endangered Grey-headed Albatrosses Thalassarche chrysostoma attacked at night by House Mice on Marion Island, photograph by Ben Dilley
The first World Albatross Day will be celebrated on 19 June 2020. Following discussion, and consideration of the main threats facing albatrosses identified in a recent review in the scientific journal Biological Conservation, the theme of eradicating introduced pests at breeding sites of albatrosses, petrels and shearwaters has been chosen to highlight a continuing, but addressable, problem facing ACAP-listed species, many of which are threatened with extinction unless actions are taken. Although not all 13 Parties to the Agreement support breeding populations of albatrosses, they are all range states with albatrosses visiting their waters. Those Parties without breeding populations (including some cooperating non-Party range states) will therefore have an interest in conservation efforts conducted at the breeding sites of species that regularly visit their territorial waters and Exclusive Economic Zones - where they will be susceptible to interactions with domestic fishing vessels.
In 2020 attempts are being made to eradicate introduced House Mice Mus musculus on the UK's Gough Island in the South Atlantic and on the USA's Midway Atoll in the North Pacific*. At both localities mice have been attacking and killing albatrosses, as has been regularly reported in ACAP Latest News. Planning and field work is continuing in 2020 towards eradicating mice on South Africa's Marion Island and on New Zealand's Auckland Island (along with its feral cats and pigs). These, and other pest eradication projects at breeding sites of ACAP-listed species, will be highlighted in the build up to World Albatross Day on 19 June 2020.
*Both now postponed due to COVID-19.
Scroll down here to access posts at ACAP Latest News on World Albatross Day 2020.
Reference:
Dias, M.P., Martin, R., Pearmain, E.J., Burfield, A.J., Small, C., Phillips, R.A., Yates, O., Lascelles, B., Garcia Borboroglu, P. & Croxall, J.P. 2019. Threats to seabirds: a global assessment. Biological Conservation doi.org/10.1016/j.biocon.2019.06.033.
ACAP Latest News posts on World Albatross Day 2020
06-04-20 New Zealand's World Albatross Day banner is photographed with Buller's Albatrosses on the Snares Islands
04-04-20 The Chinese Wild Bird Federation supports World Albatross Day 2020
01-04-20 'Flight of the Albatross'. A music video by Artists & Biologists Unite for Nature on behalf of World Albatross Day, 19 June 2020
31-03-20 Japan takes a World Albatross Day banner to the Short-tailed Albatross translocation site on Mukojima
30-03-20 Another BirdLife partner, this time Spain, lends its support to World Albatross Day
29-03-20 Friends of Hawaiian Islands National Wildlife Refuge is excited to celebrate the inaugural World Albatross Day!
26-03-20 Internationally renowned FitzPatrick Institute of African Ornithology lends its support to World Albatross Day
24-03-20 The World Albatross Day Banner at Sea Challenge reaches South Africa
19-03-20 The conservation team on Midway Atoll helps advertise World Albatross Day
18-03-20 "Silent Slaughter". The Chatham Albatross series for World Albatross Day by Eva-Cherie Artz
12-03-20 Mary Ingrum, mixed-media artist, creates "PLIGHT of the Albatross" for World Albatross Day
10-03-20 New Zealand's well-travelled World Albatross Day banner gets to the sub-Antarctic Auckland Islands
06-03-20 An exhibition marking World Albatross Day on 19 June is being constructed at the National Museum of Natural History, Mdina – Malta
01-03-20 Red de Observadores de Aves y Vida Silvestre de Chile, desert storm petrels and World Albatross Day
29-02-20 Australia's Southern Oceans Seabird Study Association joins a growing community of environmental organizations supporting World Albatross Day
28-02-20 The Portuguese Society for the Study of Birds, the Balearic Shearwater and World Albatross Day
21-02-20 The United Kingdom's Seabird Group will celebrate World Albatross Day with ACAP
18-02-20 University interns help the ACAP Secretariat with translations for yet another year; this time in support of World Albatross Day
17-02-20 The Friends of Midway Atoll National Wildlife Refuge gives its views on World Albatross Day 2020
11-02-20 BirdLife International's Chief Executive, Patricia Zurita supports World Albatross Day on the International Day of Women and Girls in Science
10-02-20 Mexico's Grupo de Ecología y Conservación de Islas supports World Albatross Day by helping conserve the most easterly-breeding Laysan Albatrosses
03-02-20 Bird Island in the South Atlantic gets its WAD2020 Banner out again for the summer
31-01-20 The United Kingdom's Royal Society for the Protection of Birds joins other BirdLife national partners in supporting World Albatross Day 2020
29-01-20 ACAP works towards increasing awareness of the inaugural World Albatross Day on 19 June
27-01-20 Crossing the Equator: the WAD2020 Banner Challenge reaches Midway Atoll
23-01-20 Oikonos talks to ACAP Latest News on its "Winged Ambassadors: Ocean Literacy Through the Eyes of Albatross" programme and World Albatross Day
21-01-20 BirdLife International's Albatross Task Force in Chile is fully onboard with World Albatross Day 2020
17-01-20 Three photographers donate use of their albatross images to support ACAP and World Albatross Day
15-01-20 New Zealand's Forest & Bird will be celebrating this year's inauguration of World Albatross Day
13-01-20 Island Conservation will support World Albatross Day by helping eradicate House Mice on Gough and Midway Islands this year
08-01-20 A WAD2020 banner gets to Grey-headed Albatross Ridge on Marion Island
06-01-20 Rising to the challenge: Steeple Jason in the South Atlantic gets a World Albatross Day banner
03-01-20 Artists & Biologists Unite for Nature and ACAP collaborate over this year's World Albatross Day
01-01-20 Gough Island's embattled birdlife and World Albatross Day, an albatross researcher speaks
30-12-19 Racing to save the Antipodean Albatross with Live Ocean
25-12-19 New Zealand's WAD2020 Banner gets to Campbell Island – but does not come back
23-12-19 Humane Society International Australia is a World Albatross Day supporter
20-12-19 New Zealand's Southern Seabird Solutions Trust writes about World Albatross Day, 2020
18-12-19 World Albatross Day and the Gough Island Restoration Programme
13-12-19 Brazil's Projeto Albatroz is helping promote World Albatross Day
11-12-19 France's BirdLife partner, LPO, with 55 000 members, writes about World Albatross Day
09-12-19 Award-winning illustrator, Owen Davey, creates a poster for World Albatross Day 2020
07-12-19 France completes the sub-Antarctic hat-trick: a World Albatross Day banner gets displayed on Kerguelen
06-12-19 Australia joins other national BirdLife partners in supporting World Albatross Day
30-11-19 World Albatross Day gains recognition from Peruvian NGO, ProDelphinus
25-11-19 The President and Chief Officers of the Scientific Committee on Antarctic Research share their thoughts on next year's inaugural World Albatross Day
22-11-19 A South Atlantic NGO lends its support to next year's World Albatross Day
20-11-19 The World Seabird Union joins other NGOs in lending its support to next year's World Albatross Day
18-11-19 World Albatross Day on the Bounty Islands: New Zealand joins the banner challenge
12-11-19 In their own words. ACAP's Working Group Convenors signal their support for next year's World Albatross Day
29-10-19 The Australasian Seabird Group lends its support to World Albatross Day's inauguration in 2020
25-10-19 BirdLife South Africa to celebrate World Albatross Day and its "Eradicating Island Pests" theme in 2020
19-10-19 Qual Albatroz! World Albatross Day cartoons are now available in all three ACAP languages
14-10-19 Possession and Marion: two more sub-Antarctic islands support next year's inaugural World Albatross Day with banners
11-10-19 World Albatross Day adopts an official logo
08-10-19 The American Bird Conservancy will support World Albatross Day activities next year
04-10-19 "Albatrosses are magnificent and unique birds". The Convention on Migratory Species' Acting Executive Secretary, Amy Fraenkel supports Word Albatross Day
01-10-19 In the service of conservation: support for World Albatross Day comes from five wildlife artists
19-09-19 World Albatross Day's theme for its inaugural year of Eradicating Island Pests receives support from international restoration experts
17-09-19 France's Amsterdam Island joins the Word Albatross Day 'Banner Challenge'
12-09-19 Four children's book authors support next year's World Albatross Day
09-09-19 Bird Island responds to the World Albatross Day banner challenge
19-08-19 Honouring past marine ornithologists on World Albatross Day on 19 June: a call for names
16-08-19 Marc Parchow's Qual Albatroz cartoons are helping raise awareness of next year's World Albatross Day
12-07-19 World Albatross Day issues a banner challenge
19-06-19 ACAP proposes a World Albatross Day to increase global awareness of the conservation crisis facing albatrosses and petrels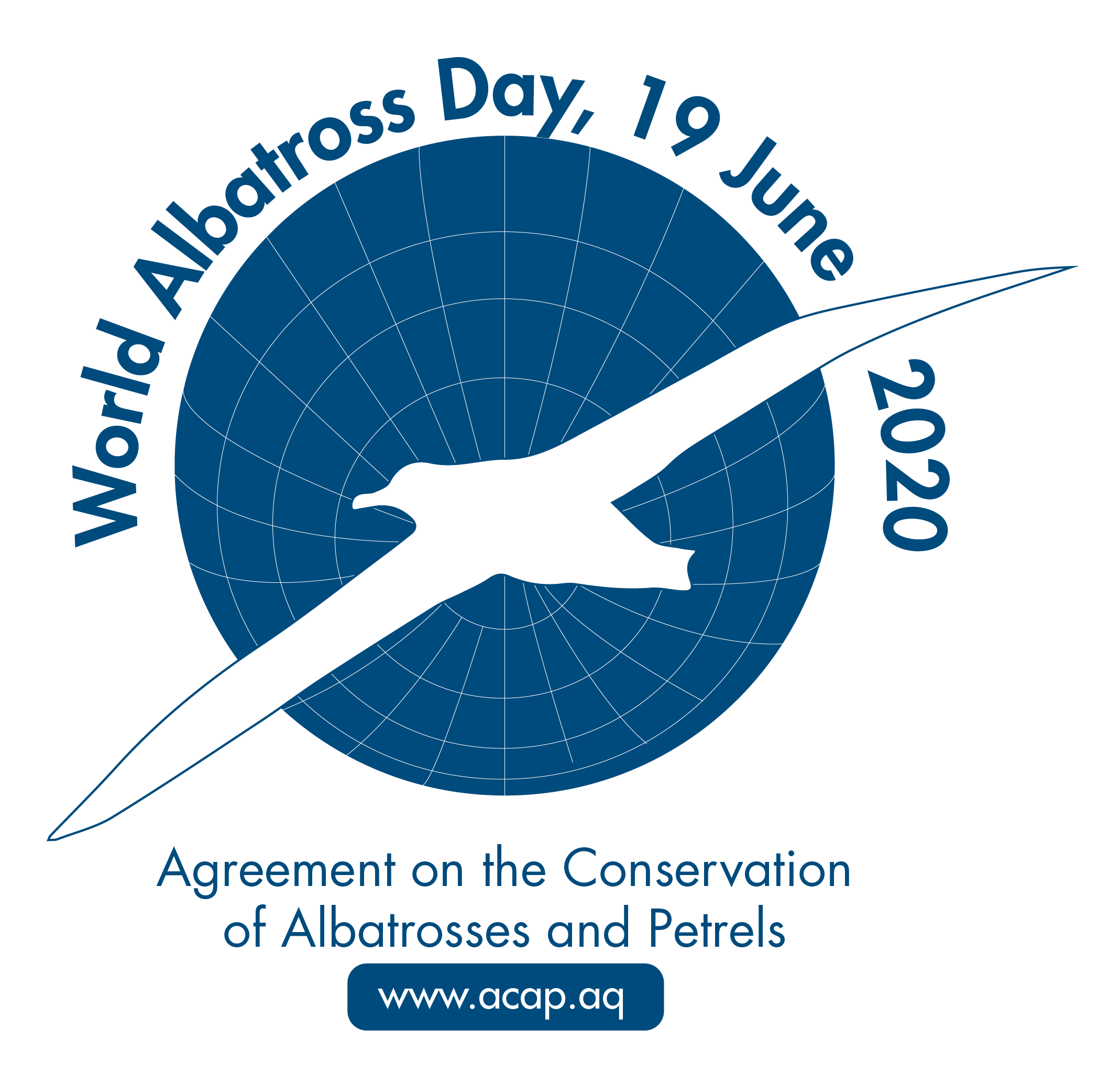 Updated 02 April 2020