The fishery for Patagonian Toothfish Dissostichus eleginoides around the Falkland Islands (Islas Malvinas)* has been recommended for certification by the Marine Stewardship Council.
"Following a 30-day period of comment on the Draft Report for the Falkland Island toothfish fishery, the Conformity Assessment Body, Intertek Moody Marine, has met to consider the report of the assessment team, the report of the Peer Review panel and all stakeholder comments. The Determination reached by the certification body is that the Falkland Island toothfish fishery should be certified in accordance with the MSC Standard. Please note that this is a determination, not a final certification result. This fishery is therefore not yet certified, nor is it able to use the MSC ecolabel on any products. Any intent to file an objection should first be addressed to the Independent Adjudicator care of the MSC's Chief Executive, Mr Rupert Howes at the email addressThis email address is being protected from spambots. You need JavaScript enabled to view it., by 30 December 2013." (click here).
The fishery takes place by longline in the south-west Atlantic in FAO Area 41. In 2010 the fishery caught 943 tonnes; the 2011 catch was 1220 mt. The final report by Intertek Moody Marine states that "[m]anagement measures include bird scaring devices, night-setting of lines, line weighting, use of only thawed bait, careful management of offal discharge, removal of hooks from offal and bycatch and use of the 'Brickle curtain' to deter birds from bait during hauling. The use of the Chilean 'umbrella' hook system also significantly discourages interactions with seabirds and marine mammals".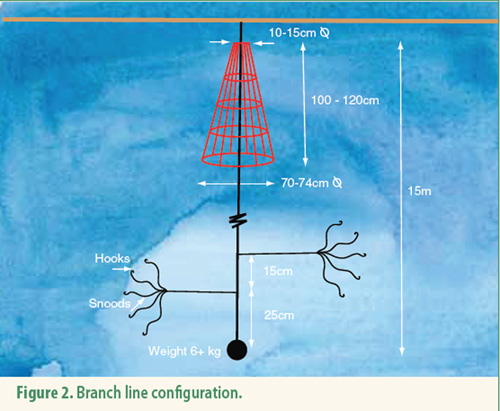 Once formally certified, the fishery will join five others that go after toothfish by trawl or longline in the Southern Ocean and that have been approved as considred to be environmentally (and seabird) friendly by the Marine Stewardship Council (click here).
John Cooper, ACAP Information Officer, 29 December 2013
*A dispute exists between the Governments of Argentina and the United Kingdom of Great Britain and Northern Ireland concerning sovereignty over the Falkland Islands (Islas Malvinas), South Georgia and the South Sandwich Islands (Islas Georgias del Sur y Islas Sandwich del Sur) and the surrounding maritime areas.