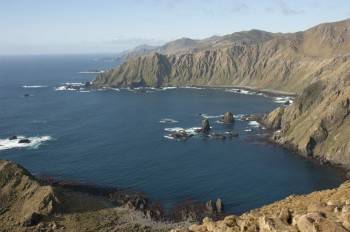 The coastal slopes of Macquarie Island, a sub-Antarctic island approximately half way between Australia and Antarctica, are home to seven species of ACAP listed albatrosses and petrels. Macquarie Island is a State Nature Reserve managed by the Tasmanian Parks and Wildlife Service and has been a World Heritage Site since 1997. The island is surrounded by an Australian Commonwealth Marine Reserve in the Exclusive Economic Zone declared in 1999.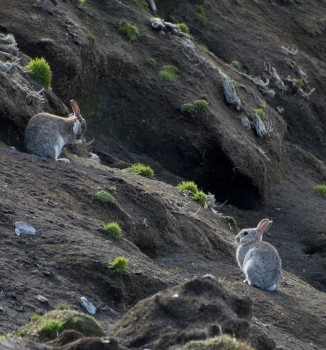 Over the last two decades, grazing by introduced European Rabbits Oryctolagus cuniculus has had a substantial impact on many of these coastal slopes, in many cases reducing them to bare ground. Such heavily grazed areas are much more susceptible to erosion and the establishment of non-native plant species.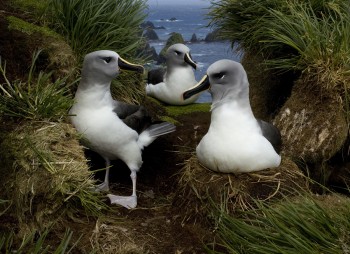 Heavy grazing and the associated effects have impacted on the breeding habitat of several seabird species, including of the Grey-headed Thalassarche chrysostoma (shown here) and Black-browed T. melanophris Albatrosses. In addition to these two mollymawks there is a small population (<20 pairs) of Wandering Albatrosses Diomedea exulans in the south of the island.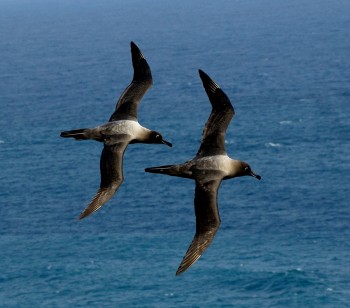 Other species whose breeding habitat has been impacted include the Light-mantled Sooty Albatross Phoebetria palpebrata (shown above) and several species of burrowing petrels, including the ACAP-listed Grey Petrel Procellaria cinerea. An eradication operation (the Macquarie Island Pest Eradication Project - MIPEP) was initiated in 2010 and completed in 2011. No rabbits, rats or mice have been sighted on the island for over 12 months; however, intensive searching with the help of specially trained dogs still continues. Many of the coastal slopes are already showing promising signs of vegetation recovery.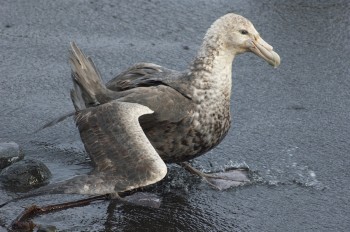 Although there was some non-target mortality, including of the ACAP-listed Southern Giant Petrel Macronectes giganteus (shown above) and particularly of the Northern Giant Petrel M. halli, the long-term benefits of the eradication exercise are thought to far outweigh short-term impacts such as these.
Selected References:
Baker, G.B., Gales, R., Hamilton, S. & Wilkinson, V. 2002. Albatrosses and petrels in Australia: a review of their conservation and management. Emu 102: 71-97.
Department of Sustainability, Environment, Water, Population and Communities 2011. National Recovery Plan for Threatened Albatrosses and Giant Petrels 2011-2016. Hobart: Commonwealth of Australia. 30 pp.
Environment Australia 2001. Macquarie Island Marine Park Management Plan 2001-2008. Canberra: Department of Environment and Heritage.
Frost, Leslie 2006. Macquarie Island Nature Reserve and World Heritage Area Management Plan 2006. Hobart: Parks and Wildlife Service, Department of Tourism, Arts and the Environment. 176 pp. + 15 maps.
Schulz, M., Robinson, S. & Gales, R. 2005. Breeding of the Grey Petrel (Procellaria cinerea) on Macquarie Island: population size and nesting habitat. Emu 105: 323-329.
Shaw, J., Terauds, A & Bergstrom, D. 2011. Rapid commencement of ecosystem recovery following aerial baiting on sub-Antarctic Macquarie Island. Ecological Management & Restoration 12: 241-244.
Springer, K. 2011. Planning processes for eradication of multiple pest species on Macquarie Island – an Australian case study. In: Veitch, C.R., Clout, M.N. & Towns, D.R. (Eds). Island Invasives: Eradication and Management. Gland: IUCN. pp. 228-232.
Terauds, A. & Stewart, F. 2008. Subantarctic Wilderness: Macquarie Island. Crows Nest: Jacana Books. 176 pp.
Terauds, A., Gales, R. & Alderman, R. 2005. Trends in numbers and survival of Black-browed (Thalassarche melanophrys) and Grey-headed (T. chrysostoma) Albatrosses breeding on Macquarie Island. Emu 105: 159-167.
Terauds, A., Gales, R., Baker, G.B. & Alderman, R. 2005. Foraging areas of black-browed and grey-headed albatrosses breeding on Macquarie Island in relation to marine protected areas. Aquatic Conservation: Marine and Freshwater Ecosystems 16: 133-146.
Terauds, A., Gales, R. Baker, G.B. & Alderman, R. 2006. Population and survival trends of Wandering Albatrosses (Diomedea exulans) breeding on Macquarie Island. Emu 106: 211–218.
Trebilco, R., Gales, R., Baker, G.B., Terauds, A. & Sumner, M.D. 2008. At sea movement of Macquarie Island giant petrels: relationships with marine protected areas and Regional Fisheries Management Organisations. Biological Conservation 141: 2942-2958.
Aleks Terauds, Australian Antarctic Division, Kingston, Tasmania & John Cooper, ACAP Information Officer, 31 March 2013