Laysan Albatrosses Phoebastria immutabilis on the Hawaiian island of Kauai breed in some unusual places: within a military missile range, adjacent to a lighthouse, on golf courses and in suburban gardens.  At all localities save within the Kilauea Point National Wildlife Refuge they have to contend with living right next to people, dogs and passing vehicles (click here).
This year 35 pairs of Laysan Albatrosses have been reported incubating eggs in the garden suburb of Princeville on Kauai, where they are protected with signs warning dog owners, road users and lawn mowers alike that are erected by their dedicated neighbours (click here and here for two series of fascinating photos).  This number is slightly up from the previous season's approximately 30 pairs breeding in the garden suburb, with 20 of them resulting in fledged chicks, representing a two-thirds breeding success.  Because some of the pairs are made up of two females the number of eggs laid was  a few more than 35.
Click here for earlier news of egg swapping among Kauai's Laysan Albatrosses, detailing how viable eggs from the 75-odd pairs that breed within the Pacific Missile Range Facility Barking Sands have been candled and collected annually and given to pairs with infertile eggs elsewhere on the island, including withn the refuge.  This season's egg-candling exercise in Princeville was undertaken by Lindsay Young (who is also ACAP's North Pacific News Correspondent) and Eric VanderWerf of Pacific Rim Conservation on 19 December.  Eighteen eggs were considered fertile and 11 infertile; about 20 chicks are expected from them with hatching now underway, similar to the previous season. So far five nests have been abandoned, leaving 25 still active (information from My Albatross Diary).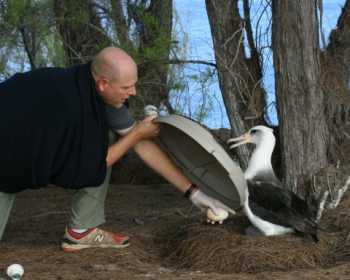 Checking viability of Laysan Albatross eggs on Kauai.  Photograph by Lindsay Young
A total of 105 incubating Laysan Albatross pairs has been counted within the Kilauea Point National Wildlife Refuge on Kauai this year.  Click here to read about successes with the actively-managed Newell's Shearwaters Puffinus newelli that also breed at Kilauea Point.
With thanks to Cathy Granholm and Bob Waid of Princeville and Lindsay Young for information.
John Cooper, ACAP Information Officer, 31 January 2013
NOTE: The ACAP web site is being upgraded.  Unfortunately, it has not proved possible to load new pictures to the current version since September last year.  New pictures will once more appear when the new version goes live.