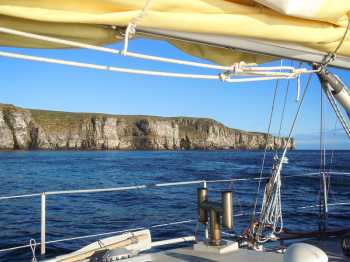 Beauchêne Island is the southernmost and most isolated of the Falkland Islands (Islas Malvinas)*. Its coastal cliffs are here viewed from the yacht Saturnin in 2010. The 187-ha island is approximately 3 km long and 1 km wide at its widest point. Given its remote and pristine nature, the island is seldom visited. It has been a National Nature Reserve since 1964 and is an Important Bird Area (IBA).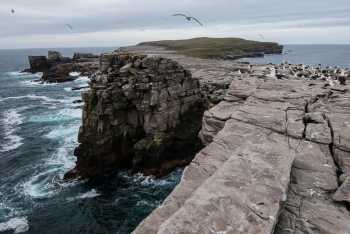 The view here is of the southern section of the island, known as The Citadel, looking northwards to the main seabird breeding area. Much of the island is covered in dense Tussac Grass Parodiochloa flabellata.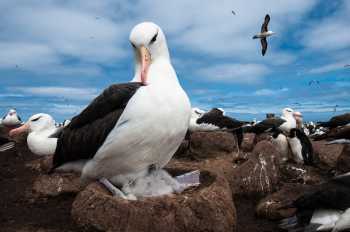 Approximately 35 ha support large seabird colonies, generally mixed groups of Endangered ACAP-listed Black-browed Albatrosses Thalassarche melanophris, Southern Rockhopper Penguins Eudyptes chrysocome and Imperial Cormorants Phalacrocorax atriceps. A few Southern Giant Petrels Macronectes giganteus breed (six pairs in 2005/06).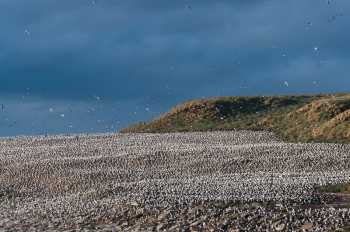 Beauchêne supports in excess of 100 000 breeding pairs of Black-browed Albatrosses, with an aerial census in 2010 of 105 777 pairs comparing with 139 336 pairs based on density and area of occupancy estimates made later in the same year.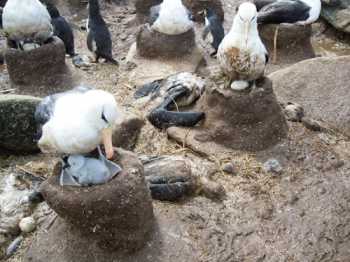 A severe storm in December 2010 caused the death of at least 300 adult Black-browed Albatrosses and the failure of c. 25 000 breeding attempts (click here).
Selected References:
Catry, P., Forcada, J. & Almeida, A. 2011. Demographic parameters of Black-browed Albatrosses Thalassarche melanophris from the Falkland Islands. Polar Biology 34: 1221-1229.
Lewis Smith, R.I.L. & Prince, P.A. 1985. The natural history of Beauchêne Island. Biological Journal of the Linnean Society 24: 233-283.
Strange, I.J. & Strange, G. 2011. Black-browed Albatross Thalassarche melanophris. Aerial photographic survey methodology: advantages over ground surveying in the Falkland Islands. Results and comparisons with surveys in 2005 and 2010. Stanley: Design in Nature. 30 pp.
Wolfaardt, A., 2012. An Assessment of the Population Trends and Conservation Status of Black-browed Albatrosses in the Falkland Islands. 23 pp.
Wolfaardt, A., Crofts, S. & Baylis, A.M.M. 2012. Effects of a storm on colonies of seabirds breeding at the Falkland Islands. Marine Ornithology 40: 129-133.
Wolfaardt, A.C., Rendell, N. & Brickle, P. 2010. Falkland Islands Implementation Plan for the Agreement on the Conservation of Albatrosses and Petrels (ACAP): Review of Current Work and a Prioritised Work Programme for the Future. Stanley: Falkland Islands Government. 57 pp.
Anton Wolfaardt, Joint Nature Conservation Committee & John Cooper, ACAP Information Officer, 9 March 2013
*A dispute exists between the Governments of Argentina and the United Kingdom of Great Britain and Northern Ireland concerning sovereignty over the Falkland Islands (Islas Malvinas), South Georgia and the South Sandwich Islands (Islas Georgias del Sur y Islas Sandwich del Sur) and the surrounding maritime areas.