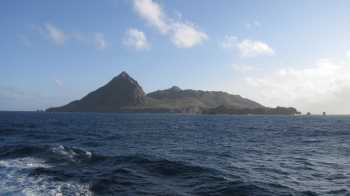 Photograph by John Cooper from S.A. Agulhas, October 2011
Nightingale is part of the United Kingdom's Overseas Territory of St Helena, Ascension and Tristan da Cunha in the South Atlantic. In front can be seen the islets of Middle and Stoltenhoff.

A view of the main island of Tristan da Cunha from tussock-dominated Nightingale Island. Although Nightingale is not a formal nature reserve it has no permanent human population and tourism visits are carefully managed. Exploitation of its wildlife by the Tristan Islanders is restricted by law to eggs of Northern Rockhopper Penguins Eudyptes moseleyi and eggs and chicks of Great Shearwaters Puffinus gravis. The two ACAP-listed albatross species that occur are fully protected. Importantly the island has always been free of introduced mammals, including rodents. Nightingale was in the news in 2011 when it suffered a shipwreck that oiled many penguins (click here).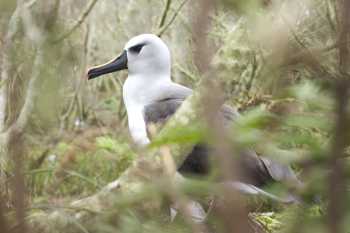 The Endangered Atlantic Yellow-nosed Albatross Thalassarche chlororhynchos is endemic to the islands of Tristan, Nightingale, Inaccessible and Gough. An estimated 3000 to 4000 pairs breed on Nightingale Island.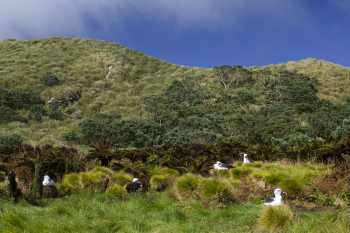 Occupied nests of Atlantic Yellow-nosed Albatrosses are counted by members of the Tristan Conservation Department at the four 'ponds' towards the island's centre every September and again in the summer to estimate breeding success (click here). The vegetation around the Ponds is dominated by short grasses and Bog Ferns Blechnum palmiforme. The albatrosses also build nests between the tall Tussock Grass Spartina arundinacea and in forest patches of the Island Tree Phylica arborea.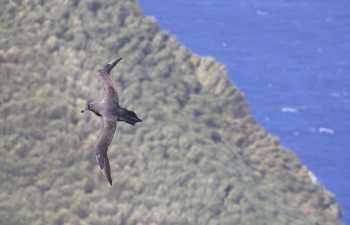 Photographs by Otto Whitehead
Finding Endangered Sooty Albatross Phoebetria fusca nests along the steep coastal cliffs of Nightingale is tricky. However, they are often seen flying gracefully along the edges of the cliffs and on relatively calm days they can be heard calling from the top of High Ridge. Roughly 200 pairs breed on Nightingale.
Selected references:
[Cooper, J.] 2006. The Conservation of Native Organisms and Natural Habitats (Tristan da Cunha) Ordinance 2006. The St. Helena Gazette Extraordinary Vol. XLIV, No. 13.
Cuthbert, R., Ryan, P.G., Cooper, J. & Hilton, G. 2003. Demography and population trends of the Atlantic Yellow-nosed Albatross. The Condor 105: 439-452.
Sommer, E., Cuthbert, R. & Hilton, G. 2008. Tristan and Nightingale Islands Wildlife Monitoring Manual Research Report. RSPB Research Report 33: 1-36.
Ryan, P.G. (Ed.) 2007. Field Guide to the Animals and Plants of Tristan da Cunha and Gough Island. Newbury: Pisces Publications. 162 pp.
Ryan, P.G. 2008. Important Bird Areas: Tristan da Cunha and Gough Island. British Birds 101: 586-606.
Tristan Island Government 2006. Tristan da Cunha Biodiversity Action Plan. 53 pp. + 10 annexes.
Wolfaardt, A.C., Glass, J. & Glass, T. 2009. Tristan da Cunha Implementation Plan for the Agreement on the Conservation of Albatrosses and Petrels (ACAP): Review of Current Work and a Prioritised Work Programme for the Future. Edinburgh, Tristan da Cunha: Tristan da Cunha Government. 46 pp.
Otto Whitehead, FitzPatrick Institute, University of Cape Town and John Cooper, ACAP Information Officer, 28 February 2013