Lehua is a small, crescent-shaped island situated a kilometre north of Niʻihau and west of Kauai in the USA's Hawaiian Islands. The uninhabited 126-ha island is an eroded tuff cone.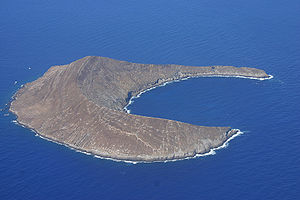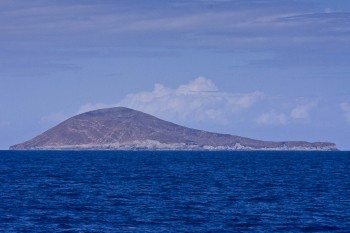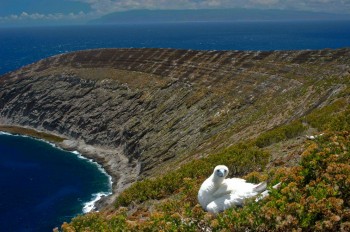 Views of Lehua Island, bottom two photographs by Eric Vanderwerf
Lehua is protected as a Hawaii State Seabird Sanctuary managed by the Hawaii Department of Land and Natural Resources (HIDLNR) (click here). It is owned by the U.S. Coast Guard which maintains a navigational light on the island's highest point Unsupervised landings on the shoreline only are allowed but access to the island's interior requires a permit.
The island has been designated an Important Bird Area (IBA No. H102) by BirdLife International.
ACAP-listed Black-footed Phoebastria nigripes and Laysan P. immutabilis Albatrosses have bred in small numbers on Lehua since at least 2002. In 2011/2012 89 Laysan and 32 Black-footed Albatrosses were counted in an island-wide census conducted in December 2011, with 45 Laysan and 20 Black-footed chicks counted the following May. In 2012/13 equivalent censuses yielded only 14 Laysan and 19 Black-footed Albatrosses in January, with six Laysan and five Black-footed Albatross chicks remaining by the time of the follow-up survey in May of the same year.
Eight to 16 Black-footed and nine to 28 Laysan Albatross chicks were present over the period 2002-2005 on the western end of the inner slope 20–100 m below the summit (click here). Reproductive success of both species is highly variable, and is often low at this site.
Wedge-tailed Shearwaters Puffinus pacificus breed in large numbers (an estimated 23 000 pairs) on Lehua and the island also holds an important population of Bulwer's Petrels Bulweria bulwerii. Newell's Shearwater P. newelli and Madeiran or Band-rumped Storm Petrel Oceanodroma castro have both been confirmed breeding on the island in the past, although if any remain to the present day they are present in extremely small numbers. In addition the Christmas Shearwater P. nativitatus is suspected of breeding on the island.
The island holds large breeding populations of Red-footed Sula sula and Brown S. leucogaster Boobies as well as of Red-tailed Tropicbirds Phaethon rubricauda and Black Noddies Anous minutus.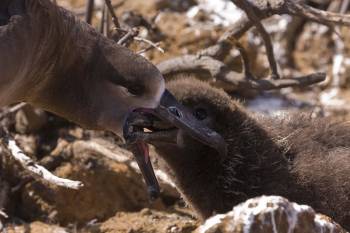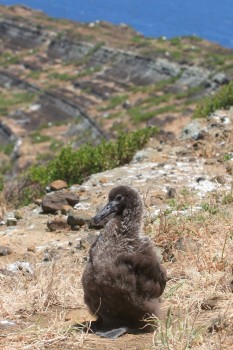 Black-footed Albatrosses on Lehua Island, photographs by Eric Vanderwerf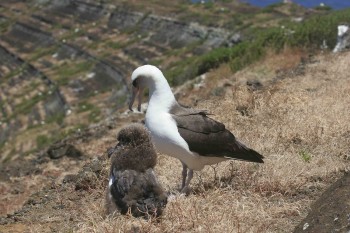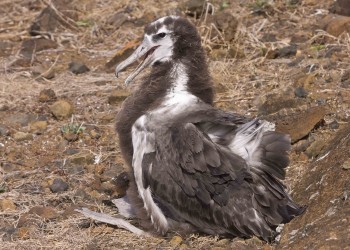 Laysan Albatrosses on Lehua Island, photographed by Eric Vanderwerf
Lehua Island is both the most southerly and the highest breeding locality for Black-footed Albatrosses and the only place where they breed in the main Hawaiian Islands.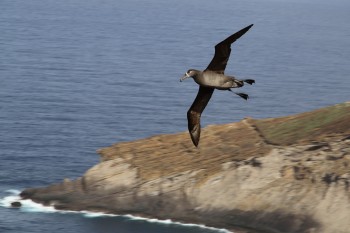 A Black-footed Albatross flies over Lehua, photograph by Andre Raine
The Lehua Island Ecosystem Restoration Project managed by the Offshore Islet Restoration Committee aimed to rid the island of introduced European Rabbits Oryctolagus cuniculus and Polynesian or Pacific Rats Rattus exulans that had been present since the 1930s. Following an Environmental Impact Assessment (EIA) in 2005 hunting over November 2005 to January 2006 was successful in removing rabbits leading to vegetation recovery (click here). Following a second EIA in 2008 an attempt was made in January 2009 to remove the rats by aerial poisoning using the rodenticide diphacinone but this was unsuccessful and to date has not been reattempted (click here). A review of the failed eradication has suggested that a second attempt should be by ground-baiting by either (or both) hand-broadcasting poison bait or the use of bait stations (click here). Planning for a second eradication attempt is currently underway.
With thanks to Andre Raine, Eric Vanderwerf and Lindsay Young for information and photographs.
Selected References:
Arata, J.A., Sievert, P.R. & Naughton, M.B. 2009. Status Assessment of Laysan and Black-footed Albatrosses, North Pacific Ocean, 1923-2000. U.S. Geological Survey Scientific Investigations Report 2009-5131. Reston: U.S. Geological Survey.
Eijzenga, H. 2011. Vegetation change following rabbit eradication on Lehua Island, Hawaiian Islands. In: Veitch, C.R., Clout, M.N. & Towns, D.R. (Eds). Island Invasives: Eradication and Management. Gland: World Conservation Union & Auckland: Centre for Biodiversity and Biosecurity. pp. 290-294.
Harrison, C.S. 1990. Seabirds of Hawaii: Natural History and Conservation. Ithaca: Cornell University Press. 249 pp.
Naughton, M.B., Romano, M.D. & Zimmerman, T.S. 2007. A Conservation Action Plan for Black-footed Albatross (Phoebastria nigripes) and Laysan Albatross (P. immutabilis). Version 1.0.
Parkes, & J. Fisher, P. 2011. Review of the Lehua Island Rat Eradication Project. Lincoln: Landcare Research. 48 pp.
Raine, A.F., Johnson, O.J., Lee, K. & Vercelli, J. 2012. Trip Report for Lehua Island, 15-18 May 2012. DOFAW/PCSU Report. 15 pp.
Raine, A.F., McFarland, B., Harris, J., Smith, R. & Seigel, K. 2013. Trip Report for Lehua Island, 14-16 May 2013. DOFAW/PCSU Report. 15 pp.
Vanderwerf, E.A., Wood, K.R., Swenson, C., LeGrande, M., Eijzenga, H. & Walker, R.L. 2007. Avifauna of Lehua Islet, Hawai'i: conservation value and management needs. Pacific Science 61: 39-51.
John Cooper, ACAP Information Officer, 24 December 2013, updated 31 December 2013