Wisdom, the now 62-year old Laysan Albatross Phoebastria immutabilis, is once more back on Sand Island in the Midway Atoll National Wildlife Refuge and has laid her latest egg, now being incubated by her partner.
Following a query earlier this week from ACAP, Pete Leary, Wildlife Biologist on Midway, visited the usual breeding site and reports "I checked yesterday evening [30 November] after work and Wisdom was back.  She was just getting pushed off of her egg by her mate.  He's on the egg now.  So she's still around!"  Wisdom is recognized by her red colour band Z333. Last year she was first seen on 1 December (click here).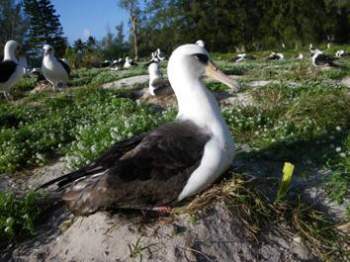 Wisdom during her successful 2010 breeding attempt.
She was first banded as a breeding adult incubating an egg on Midway by Chandler Robbins of the Patuxent Wildlife Research Center, USA in December 1956.  Robbins estimated that the bird was a minimum of five years old at the time (click here).
Wisdom is now the oldest-known albatross (and one of the oldest known wild birds in the World) and has become quite famous with her own Facebook Page (with so far 494 friends) which contains her often-philosophical musings, an illustrated book "Wisdom the Midway Albatross" for children written about her. She also has her painting on post and note cards, coffee mugs and even a Kindle Keyboard case (click here).
Last year a Wisdom mascot accompanied the round-the-word Volvo Ocean Race and helped with beach clean-ups.  You can follow her tweets at @WisdomZ333 and watch Eyes of Wisdom | Time Amongst the Waves on Vimeo.  She has also inspired poetry (click here).
To read more about this remarkable bird search on Wisdom on this web site.
With thanks to Pete Leary, Wildlife Biologist, Midway Atoll National Wildlife Refuge for information and for the use of this season's photograph - which can be viewed on ACAP's Facebook Page.
John Cooper, ACAP Information Officer, 2 December 2012