Seabird smart fishers met HRH the Prince of Wales earlier this month at a "Conservation Champions" reception held at Government House, Wellington, New Zealand after receiving top honours in the 2012 Seabird Smart Awards from the Southern Seabirds Solutions Trust (SSST).  The prestigious conservation award was presented jointly to young longline skippers Adam Clow (26) and Zak Olsen (23).  Brian Kiddie, owner and operator of an inshore fishing boat, was named a finalist and met the Prince of Wales together with the joint winners.
Janice Molloy, Chief Awards Judge and SSST Convenor said "The Seabird Smart Awards ... recognise those who demonstrate leadership or innovation in their approach to minimising risks to seabirds while fishing, as well as commitment to best practice seabird smart fishing methods.  The joint winners are both great young role models when it comes to seabird smart fishing practice.  They both have a strong personal interest in seabirds and do everything in their power to avoid harming them while they are fishing.  Their passion and actions have positively affected the attitudes and behaviour of others on their vessels and in their fleets.  This is the leadership we are looking for." (click here)
Practices adopted by the two winners include using a bird-scaring line that can be actively moved across the back of the vessel to keep seabirds away from sinking baits during line-setting, extra weights to ensure the baited lines sink quickly, and ensuring no offal or old baits go over the side of the vessel when risks are high for seabirds.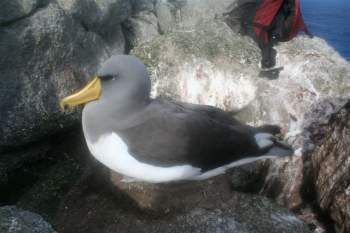 The Chatham Albatross Thalassarche eremita is endemic to New Zealand
Photograph by Matt Charteris
The Trust is an alliance of the New Zealand seafood industry, the New Zealand Government, WWF-New Zealand and Te Ohu Kaimoana (the Maori Fisheries Trust) and was formed in 2002 to reduce fishing-related harm to seabirds.  The Trust has been running the Seabird Smart Awards since 2005.  They are held every two or three years.  The 2012 Seabird Smart Awards are sponsored by The New Zealand Ministry for Primary Industries, Sealord Group and Sanford Ltd.
Click here to read more about Prince Charles' visit to New Zealand and becoming the Patron of the Southern Seabird Solutions Trust.
John Cooper, ACAP Information Officer, 30 November 2012