Back in the last millennium in pre-Internet and PDF days when one sent specially printed postcards to request reprints of articles published in scientific journals I wrote to Lance Richdale in New Zealand to ask for some of his publications on penguins.  I received a reply, written with a shaky hand, apologizing that he could not honour my request as he was now living in a retirement home and as a consequence had had to dispose of his accumulated scientific papers.  He did not tell me, as I now know, that he was then suffering from Parkinson's Disease.
I guess I did not think too much of this at the time but now much regret I did not keep his letter, because I have recently finished reading his biography published last year by Neville Peat - to discover what an exceptional person he was.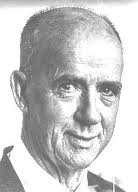 Lancelot Eric Richdale, OBE, DSc (University of New Zealand)
4 January 1900 - 19 December 1983
Lancelot Eric Richdale was born in 1900 in Marton, New Zealand.  After his upbringing and education he became an agricultural instructor, visiting New Zealand schools in South Island's Otago District where he was known as the 'Nature Study Man'.  In 1936 Lance Richdale decided to follow up a report of albatrosses at the tip of the Otago Peninsula.  He travelled out on his Douglas motorbike and walked to the headland.  He later wrote:  "...there on a grassy path, before my astonished gaze, sat a male Albatross incubating a large white egg".  At that moment Richdale's life changed for ever.
The story of how Lance Richdale then single-handedly protected the Northern Royal Albatrosses Diomedea sanfordi of Taiaroa Head by camping near the nests practically every weekend and on holidays though the breeding season for years is a compelling one.  Neville Peat's well-written and illustrated bibliography sets out the vicissitudes of this sterling effort, which has culminated in a thriving colony (with about 25-30 annually-breeding pairs, click here), now one of New Zealand's major tourist attractions, and also one of the very few places in the World where the general public can view breeding albatrosses in a mainland situation at the Royal Albatross Centre.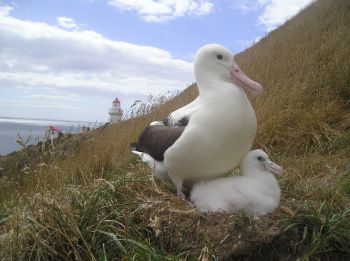 A Northern Royal Albatross with its chick at Taiaroa Head
Photograph by Lyndon Perriman
Richdale did more than protect the albatrosses from egg-nappers, stone-throwing youths and the like.  He also studied the Taiaroa Head birds in detail, publishing lengthy papers on the Royals, along with research publications on other tubenose seabirds such as Buller's Albatross Thalassarche bulleri, shearwaters, prions and others, as well as important monographs on penguins.  These are deservedly still cited today and form valuable additions to any good seabird library.  A list of Richdale's publications is included in the biography (click here for a selected list on albatross and petrels).
Lance Richdale died after a good and productive life at the age of 83 in 1983, the year after being awarded an OBE (Order of the British Empire) in the Queen's Honours List for his services to ornithology.  He received several other honours in his life, including a Doctorate of Science, and the viewing facility at Taiaroa Head is now known as the Richdale Observatory.
Neville Peat's nicely-produced book does full justice to the man and is a strongly recommended read for all marine ornithologists.  Take a copy to read in the evenings on your next marine cruise, or even better, in a field hut or tent among the types of birds Lance Richdale studied, protected and surely loved.  Most importantly, help to keep his memory as a pioneering ornithologist and conservationist, indeed as a "seabird genius", alive for present and for future generations.
Reference:
Peat, Neville 2011.  Seabird Genius.  The story of L.E. Richdale, the Royal Albatross, and the Yellow-eyed Penguin.  Dunedin: Otago University Press.  288 pp.  paperback. ISBN 978 1 877578 11 3.  NZD 45.00.
John Cooper, ACAP Information Officer, 14 March 2012