In 2010 I started a demographic study of Southern Giant Petrels Macronectes giganteus on Gough Island in the south Atlantic (click here).  Such a study is of interest as Gough is the most northerly breeding locality for this ACAP-listed species, with a total of 253 pairs laying eggs at different localities in the latest (2012/13) breeding season (click here).
With the study now in its third year it is pleasing to once more report that the birds in the chosen study colony below Low Hump on the island's eastern coast continue to breed well.  The most recent colony visit to band downy chicks last month revealed a hatching success of 68% (from 166 eggs laid).  This compares with 79% (164 eggs laid) in 2010 and 85% (170 eggs laid) in 2011.  Overall for the three years of study 500 eggs have been laid of which 386 (77%) hatched.  Although hatching success in the third year is the lowest of the three, it is still high when compared with published studies conducted at some other islands (e.g. an average hatching success of only 43% (range 24-63%) over nine years at Marion Island in the southern Indian Ocean - click here).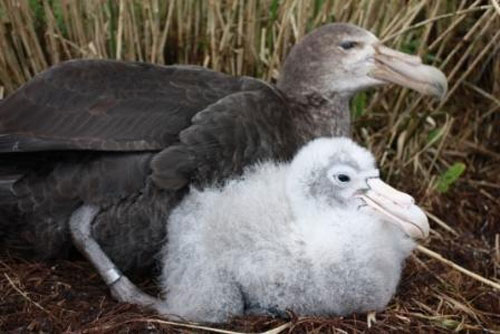 A Southern Giant Petrel attempts to brood its large downy chick on Gough Island
Photograph by Jophn Cooper
The demographic study of Southern Giant Petrels on Gough has been funded by a Captain Simpson Scholarship received in 2010 from the Royal Naval Birdwatching Society.  The support of the FitzPatrick Institute, University of Cape Town, Royal Society for the Protection of Birds, the South African Department of Environmental Affairs, the South African National Antarctic Programme and the Tristan Conservation Department is gratefully acknowledged.  With thanks to Chris Bell and Mara Nydegger for field work and information.
Reference:
Cooper, J., Brooke, M.deL., Burger, A.E., Crawford, R.J.M., Hunter, S. & Williams, A.J. 2001.  Aspects of the breeding biology of the Northern Giant Petrel (Macronectes halli) and the Southern Giant Petrel M. giganteus) at sub-Antarctic Marion Island.  International Journal of Ornithology 4: 53-68.
John Cooper, ACAP Information Officer, 10 November 2012