Taiaroa Head on the tip of the Otago Peninsula near Dunedin, South Island, New Zealand is one of the very few places in the World where breeding albatrosses may be viewed by the public without joining a dedicated expedition or tour.  Taiaroa Head is a nature reserve managed by the New Zealand Department of Conservation.  Northern Royal Albatrosses Diomedea sanfordi breeding within the reserve may be viewed from the Richdale Albatross Observatory operated by the Royal Albatross Centre of the Otago Peninsula Trust since 1983.
"Last year we had a nest being very close to our viewing observatory, and this year that nest has been reused by a different pair of somewhat lazy but very cooperative birds.  They saw a nest all prepared and took advantage of it.  Luckily for the albatrosses our viewing observatory is sound deadened and has a one way glass system to ensure our disturbance to them is at a minimum." (click here)
Of the 36 active nests on the headland in the latest (2012/12) breeding season 30 eggs currently remain under incubation.  Actually, 38 eggs were laid in total as two nests were occupied by female-female pairs, each laying two eggs.  So far 113 individually banded birds have been recorded in the colony this season.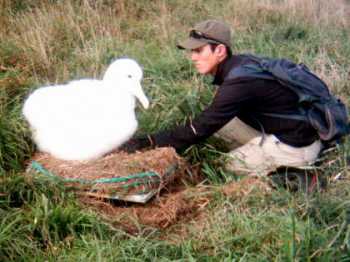 A Northern Royal Albatross chick gets studied at Taiaroa Head
Photograph by Junichi Sugishita
The colony continues to be protected against introduced mammalian predators by active trapping: "[t]his season thus far has seen four furry creatures with sharp teeth (stoats) removed from our colony.  The hard work and commitment with pest management on Taiaroa Head is really going well.  We have not lost any albatrosses from mammal attacks since 1994."
Click here to read of research being conducted on the albatrosses of Taiaroa Head.
The Northern Royal Albatross is considered Endangered and is endemic to New Zealand.
John Cooper, ACAP Information Officer, 26 December 2012