Salvin's Albatross Thalassarche salvini is endemic to New Zealand with its main breeding population occurring at the Bounty Islands (c. 30 000 breeding pairs) and a smaller (c. 1100 breeding pairs) population at the Snares Western Chain.
The species has been reported as bycatch, predominantly by trawlers, and so has been identified as at potentially high risk from commercial fisheries.  The apparently declining population and relatively high fisheries risk indicates the urgency of estimating the at-sea distribution of the species in order to determine the timing and location of overlap with fisheries activities.  Tracking data have previously been collected from Vulnerable Salvin's Albatrosses at the Snares Western Chain in 2010, but as yet no equivalent information is available for the much larger Bounty Island population.  Because of this gap the New Zealand Department of Conservation (DOC) asked the National Institute of Water & Atmospheric Research (NIWA) to determine the at-sea distribution of the Salvin's Albatrosses that breed on the Bounties.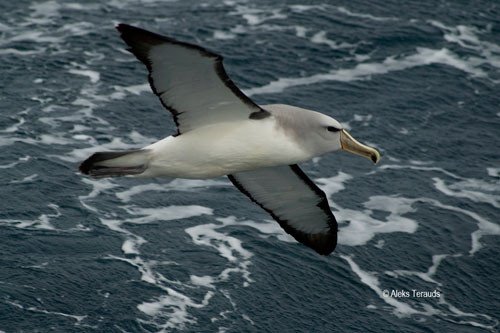 Salvin's Albatross.  Photograph by Aleks Terauds
Because of their low mass (<4 g) and the ability to attach them to bands light-sensitive geolocation sensors (GLSs) have become the usual means of tracking seabirds over long periods, even over several years.  At the Bounty Islands, egg-laying of Salvin's Albatrosses occurs in September and the peak of hatching is in mid-November.  Previously, at Toru Islet, Snares Western Chain, it was found that the egg-stage is appropriate for deploying geolocators on Salvin's Albatrosses, and so during October 2012 a trip was made to the Bounty Islands to undertake this task.
Landings were made on Proclamation Island in the Bounties, on 16 and 17 October 2012.  During this time geolocators, each of which was attached to a plastic leg band by cable ties and glue, were deployed on the legs of 50 breeding Salvin's Albatrosses.  The models used have an expected battery life of about five years.  In addition, geolocators were deployed on 25 Fulmar Prions Pachyptila crassirostris as part of a collaborative research project with Richard Phillips (British Antarctic Survey) and James Grecian (University of Glasgow).  Retrieval of the geolocators on both species is planned for November 2013.
Other New Zealand albatross news is that David Thompson of NIWA is travelling to the Snares, Auckland and Campbell Island groups this austral summer.  While on Campbell he will be consulting with and advising the albatross (and penguin) field teams and deploying GLSs on Southern Royal Albatrosses Diomedea epomophora as part of a collaborative project with DOC.  He will return to the mainland later this month.
With thanks to Matt Rayner, Australasian News Correspondent and Paul Sagar, National Institute of Water & Atmospheric Research Ltd for information.
John Cooper, ACAP Information Officer, 5 December 2012