Anton Wolfaardt (Joint Nature Conservation Committee, UK) and colleagues, writing in the journal Marine Ornithology, report on the effects of a severe storm on the Black-browed Albatrosses Thalassarche melanophris and other seabirds breeding on Beauchêne and Steeple Jason Islands in the Falkland Islands (Islas Malvinas)* in December 2010.
Over 50 000 Black-browed Albatross nests failed on the two islands and some 350 adult albatrosses were found dead or injured.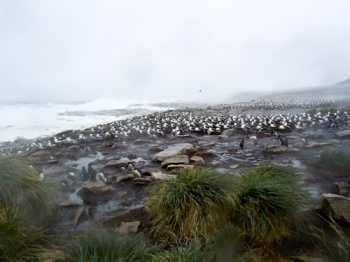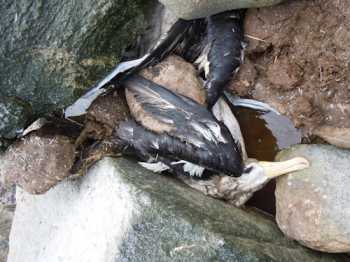 After the storm: the Black-browed Albatross colony on Beauchêne Island
Photographs by Anton Wolfaardt
Click here and here for two earlier illustrated reports on this incident in ACAP Latest News.
Reference:
Wolfaardt, A.C., Crofts, S., & Baylis, A.M.M. 2012.  Effects of a storm on colonies of seabirds breeding at the Falkland Islands.  Marine Ornithology 40: 129-133.
John Cooper, ACAP Information Officer, 22 December 2012
*A dispute exists between the Governments of Argentina and the United Kingdom of Great Britain and Northern Ireland concerning sovereignty over the Falkland Islands (Islas Malvinas), South Georgia and the South Sandwich Islands (Islas Georgias del Sur y Islas Sandwich del Sur) and the surrounding maritime areas.