The Volvo Ocean Race 2011-2012 is a round-the-World yacht race now underway.  The race is running a Keep the Ocean's Clean! Campaign to address the issue of marine pollution.  The campaign aims to "help raise awareness of the increasing volume of pollution that is swirling in our oceans and threatening sea-life across the globe".
To support the campaign the Volvo Ocean Race has adopted Wisdom A. Laysan Albatross, the now-famous 61-year-old Laysan Albatross Phoebastria immutabilis currently breeding on the USA's Midway Atoll National Wildlife Refuge, as its mascot (see Wisdom's Ocean Zone).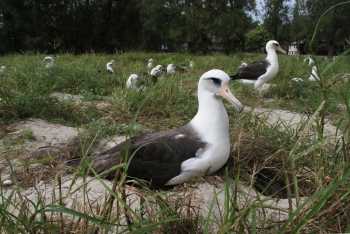 Wisdom with her 2011 chick on Midway
Photograph by Pete Leary
The campaign includes sculptures created from marine debris and the like in each Race Port by João Parrinha of Portugal, Spain's Luis de Dios and Xandi Kreuzeder of Germany, working together as the artist collective Skeleton Sea.  See also http://www.volvooceanrace.com/en/village/html_12_index_page1.html.  Click here to see the two fish the collective created out of marine debris and other junk in Cape Town.  Skeleton Sea was also involved with a shore-line clean-up along a Cape Town beach, which was attended by Wisdom the albatross mascot.
As part of these outreach activities the South African component of BirdLife International's Albatross Task Force gave talks to visiting school children each day during late November/early December in the Volvo Ocean Race Village in Cape Town's V&A Waterfront  (click here).  Cape Town was the first designated Race Port for the round-the-World race (click here) and the Wisdom mascot was in attendance at the official village opening on 25 November.
John Cooper, ACAP Information Officer, 30 December 2011