The second week in December marks the time when the annual "albatross egg swap" occurs on the island of Kauai, Hawaii, an innovative programme designed to discourage Laysan Albatrosses Phoebastria immutabilis from breeding on military airplane runways while simultaneously saving their eggs.
Several growing Laysan Albatross populations on the Hawaiian Islands of Oahu and Kauai have chosen various airfields as their nesting locations, much to the dismay of those in charge of maintaining aircraft and human safety.  Thankfully, the site with the largest number of breeding albatrosses, the military Pacific Missile Range Facility (PMRF) on the west coast of Kauai, has come up with an innovative solution to discourage nesting and re-locate any eggs that are laid.
Laysan Albatross adults at PMRF are captured and driven across the island to the Kilauea Point National Wildlife Refuge (where Laysans already breed) and released in the hopes of discouraging them from returning.  Despite this, approximately 75 albatross pairs attempt to breed each year at PMRF, and because of the conflict this creates with military aircraft the eggs are removed.  Previously, these eggs were legally destroyed or donated for research purposes.  However, in 2006 a programme was initiated with biologists from the U.S. Fish and Wildlife Service to save some of the breeding attempts by temporarily incubating the eggs collected at PMRF until suitable 'foster nests' could be found in the albatross colonies on Kauai's north shore.
In 2010 an added benefit was realized, and the  inviable eggs were donated to a contaminants research programme.  
The programme is now in its sixth year and has so far saved hundreds of Laysan Albatross eggs from being destroyed, as well as increasing the species' overall productivity on the island.  In December 2011 178 eggs in wild nests were candled (click here for details), and 33 suitable foster nests (a number being of female-female pairs which lay one or two unfertilized eggs) were identified at the Kilauea Point National Wildlife Refuge and on private properties on the island, and then had viable eggs placed in them.  Although 10 viable eggs were destroyed because there were not enough foster parents available, it is hoped that such eggs can be sent to other islands in the future as the albatross egg-exchange programme expands.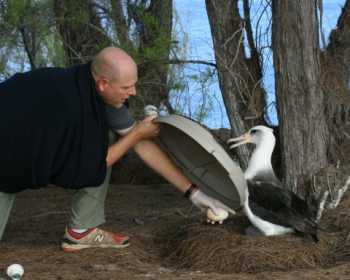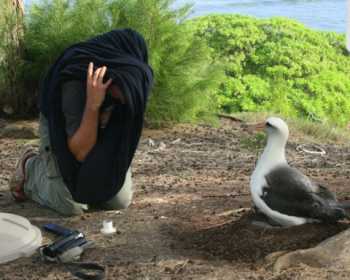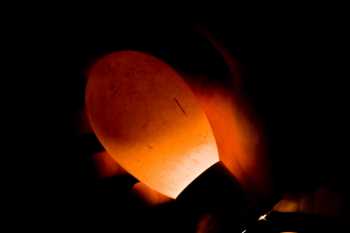 Egg candling and exchanging by Eric Vanderwerf at Laysan Albatross nests on Kauai
Photographs by Lindsay Young
To follow the fate of some of the exchanged eggs visit My Albatross Diary by Cathy Granholm for truly fascinating stories and photos of breeding attempts by Laysan Albatrosses in Princeville on Kauai's north shore where birds blithely nest in yards of private properties and on coastal golf courses - and also to learn that thankfully domestic dogs must be kept on leashes.  Private property owners are not allowed to move or harm a breeding Laysan Albatross or its egg or chick, with a penalty for noncompliance with the Migratory Bird Treaty Act of up to  US$ 5000 and six months in jail.
In addition, Bob and Joyce Waid post pictures and news of Kauai's suburban albatrosses on their monthly blog at http://www.albatrosskauai.com/blog%202011%2012%20dec/index.html.
Lindsay Young, ACAP North Pacific News Correspondent & John Cooper, ACAP Information Officer, 21 December 2011