Education and increasing awareness is one of the basic aims of the Albatross and Petrel Agreement.  Section 6 of ACAP's Action Plan calls for Parties to "seek to make local communities and the public in general more aware of the status of albatrosses and petrels and the threats facing them".
One way this aim can be achieved is by educating the next generation, who will soon be able to learn about albatrosses and the conservation threats they face via a new children's book, being illustrated by USA/Brazilian artist, Kitty Harvill.
Born in Clarksville, Tennessee, USA, Kitty received her Bachelor of Fine Arts cum laude in painting from Southern Methodist University (SMU), including a semester of study in Paris.  She has received an MA in art therapy from the University of Illinois at Chicago, and an Associate of Arts degree in illustration from Ray College, Chicago.  She has held positions of art director and creative director in the advertising industry.
Having dual residency in Brazil and the USA, Kitty divides her time between the two countries. She currently specializes in wildlife art, especially of threatened species, working in pastel and oil in addition to watercolour.  Kitty is actively involved with conservation efforts in Brazil, including painting book covers for the Ministry of the Environment's National Action Plans for threatened species.  She is also an active member of Artists for Conservation.
Kitty Harvill has illustrated a number of children's books and has now turned her skills to painting pictures of Laysan Albatrosses Phoebastria immutabilis to illustrate a children's book to be published next February.  The 32-page book, entitled Wisdom, the Midway Albatross:  Surviving the Japanese Tsunami and Other Disasters for Over 60 Years, has been written by noted children's author Darcy Pattison.  Click here to learn more about Wisdom's book.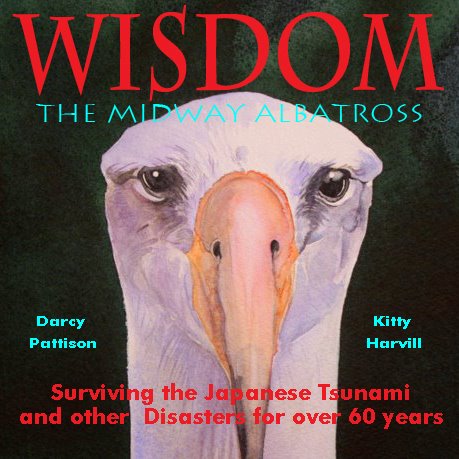 A selection of the book's paintings is shown here.  Once it is published a review of the book will appear in ACAP Latest News.  In the meantime click here to see a listing of other children's books written about albatrosses and petrels.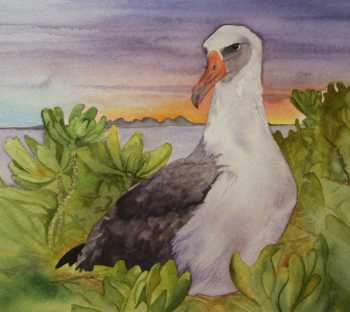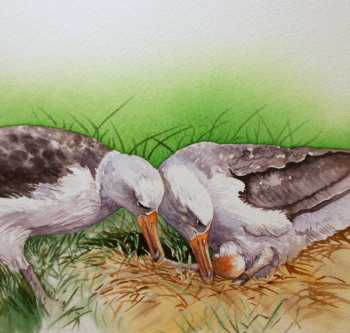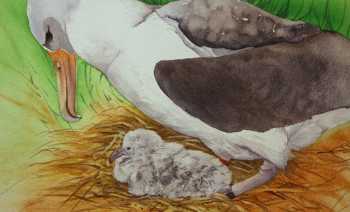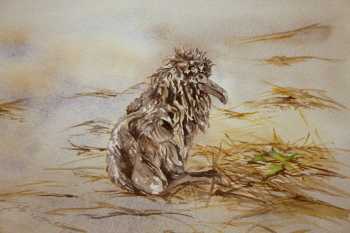 Wisdom, the oldest-known Laysan Albatross, at an estimated 61 years, is currently breeding once more on Midway Atoll in the North Pacific, part of the Papahānaumokuākea Marine National Monument.  Access earlier articles on her (including a poem written in her honour) at ACAP Latest News.
You can also follow Wisdom on her own Facebook page.
Click here to access another children's book (an on-line one illustrated with photographs) on a Laysan Albatross, a chick named Winston from the island of Kauai.
Click here to view a selection of paintings by Leigh-Anne Wolfaardt, an artist who works to help conserve seabirds, including albatrosses, in the South Atlantic.
With thanks to Kitty Harvill for information and for the use of her paintings of Wisdom.
John Cooper, ACAP Information Officer, 20 December 2011