Sebastian Jimenez is an at-sea observer/researcher working with BirdLife International's Albatross Task Force out of Uruguay in the South Atlantic.  On a trip this October Sebastián was aboard a pelagic longline fishing vessel targeting swordfish, tuna and sharks.  The objective was to evaluate the effectiveness of bird-scaring lines at reducing seabird bycatch.
On the trip he photographed a colour-banded Wandering Albatross Diomedea exulans (green 376) from Bird Island, South Georgia (Islas Georgias del Sur)*.  Enquiries to the British Antarctic Survey revealed that the bird was a female first banded in 1988 as a chick.  The bird had returned to Bird Island for the first time in summer 1990/91 and this breeding season is raising a chick.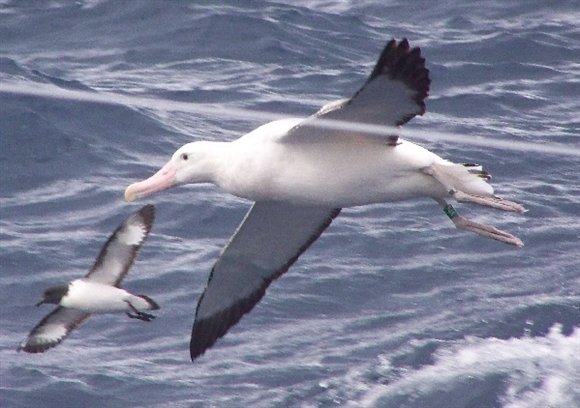 Green 376.  Photograph by Sebastian Jimenez
A second colour-banded Wandering Albatross (white 770) photographed off Uruguay a little later in November by Sebastián's colleague Martin Abreu was also an adult female, first banded on Bird Island in summer 1982/83 and recorded breeding for the first time in 1987/88, since when it has successfully raised no less than 10 chicks.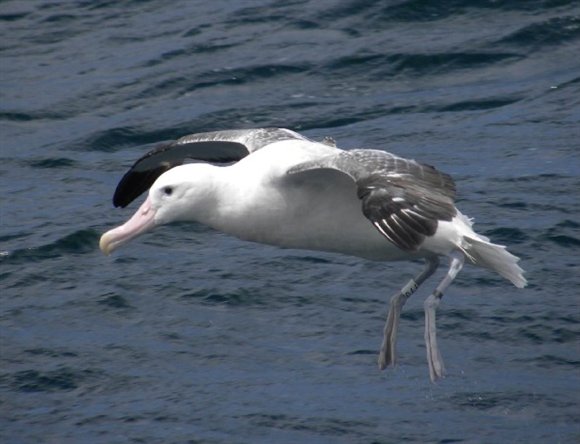 White 770.  Photograph by Martin Abreu
Sebastián makes the point that Wandering Albatrosses from Bird Island have been travelling the South Atlantic since before Uruguay commenced pelagic longlining in 1981.  So far the two birds recently photographed have managed to avoid being caught on longlines, although it is to be assumed that they have come in contact with fishing vessels many times.
The work the ATF is doing among the Uruguayan longline fleet will help reduce the chances of Wandering Albatrosses (and other seabirds) being killed at sea by the adoption of three proven mitigation methods: night setting, deployment of bird-scaring lines and adequate line weighting to ensure fast sink rates.
Sharing the long history of individual colour-banded birds (such as green 376 and white 770) seen from longliners with fishers should help educate them to the plight all albatrosses face, and so make them more willing to adopt the use of mitigation methods on their vessels.  Let's hope so!
Visit the Albatross Task Force on-line to read regular stories by Sebastián and other members of its at-sea teams who are based in a number of South American and southern African countries.
Atlantico sur Boletin, the bulletin of Proyecto Albatros y Petreles - Uruguay, edited by Sebastian Jiménez, Martin Abreu and others is available for download (including back numbers of all the eight issues so far produced).
Click here to read about colour-banded Tristan Albatrosses D. dabbenena, a close relative of the Wanderer, photographed at sea in the Atlantic off both South America and South Africa.
With thanks to Martin Abreu and Sebastian Jimenez for the use of their photographs.
John Cooper, ACAP Information Officer, 28 December 2011
*A dispute exists between the Governments of Argentina and the United Kingdom of Great Britain and Northern Ireland concerning sovereignty over the Falkland Islands (Islas Malvinas), South Georgia and the South Sandwich Islands (Islas Georgias del Sur y Islas Sandwich del Sur) and the surrounding maritime areas.