At its most recent meeting (AC11) ACAP's Advisory Committee expressed support for a proposal to hold a World Albatross Day to aid in giving greater visibility to the conservation crisis that continues to face albatrosses and petrels. An intersessional working was formed under the Chair of Verónica López from Chile to further the proposal. At its first meeting held at the time of AC11 it was agreed that the day should be marked annually on 19 June from next year, the date in 2001 that the Agreement on the Conservation of Albatrosses and Petrels was signed in Australia.
As part of publicizing World Albatross Day prior to its inauguration field teams working with albatrosses at breeding localities are being requested to make a suitably-worded banner advertising the 19 June event and drawing attention to the birds' conservation crisis. The banner would then be photographed with the field workers in a suitable setting close to albatrosses. Requests to join the 'banner challenge' are emphasizing that local regulations in respect to minimum approach distances to albatrosses and their nests should be adhered to and that birds (and their chicks) should not show signs of disturbance (or be held or restrained) when the photos are taken.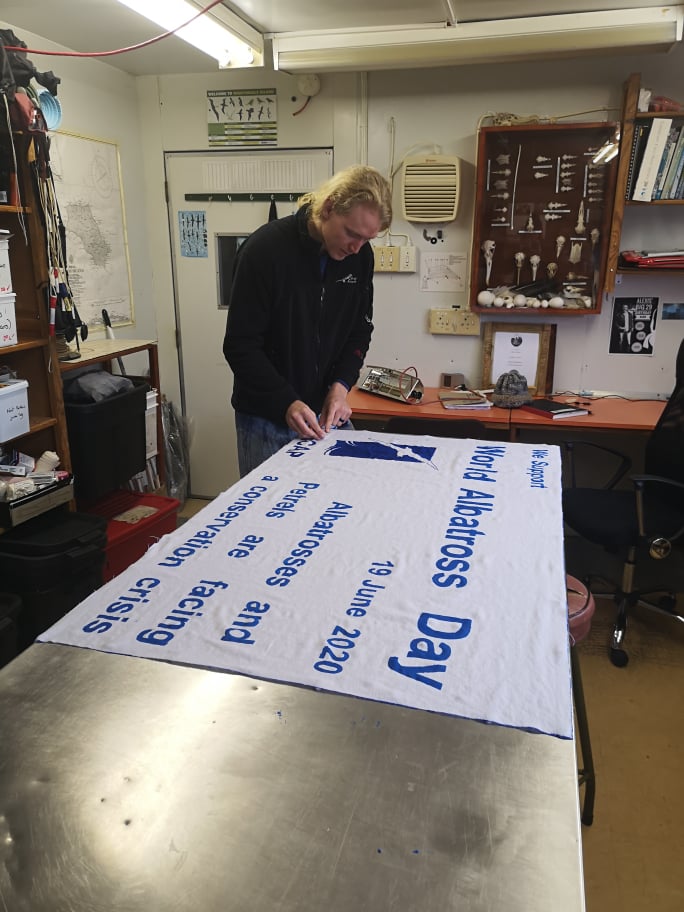 Chris Jones works on the banner in the laboratory on Gough Island
Michelle Risi of the Gough Island Restoration Programme, and a World Albatross Day Working Group member, is leading on the banner challenge from Gough Island where she is based until October 2020, corresponding with researchers and managers working with albatrosses around the world. To set the scene the three-person field team on Gough Island has already made and displayed their banner within the long-term study colony of Critically Endangered Tristan Albatrosses Diomedea dabbenena in Gonydale.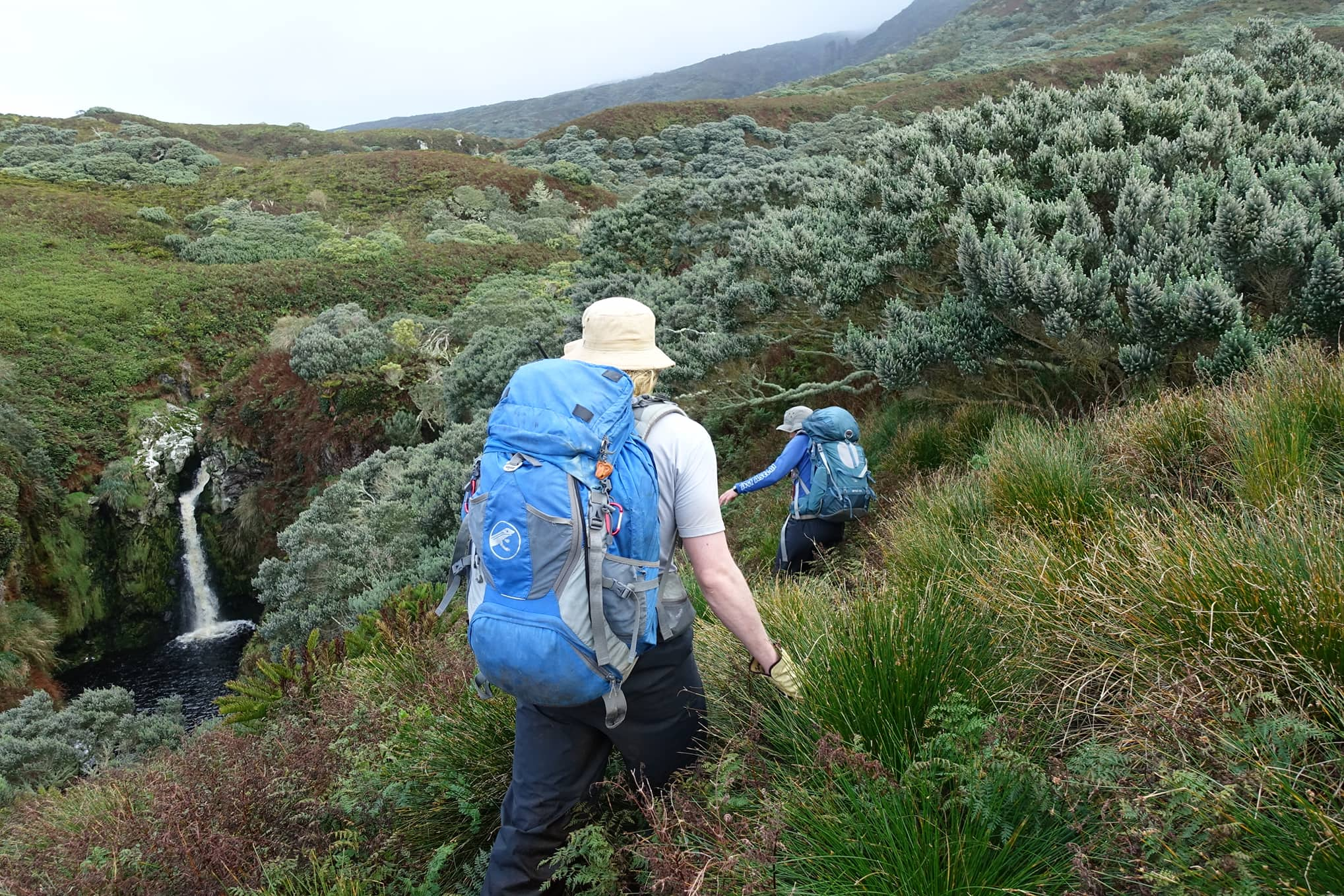 It's quite a climb to Gonydale with a small river to cross on the way: Chris Jones and Michelle Risi negotiate Gough Island's thick lowland vegetation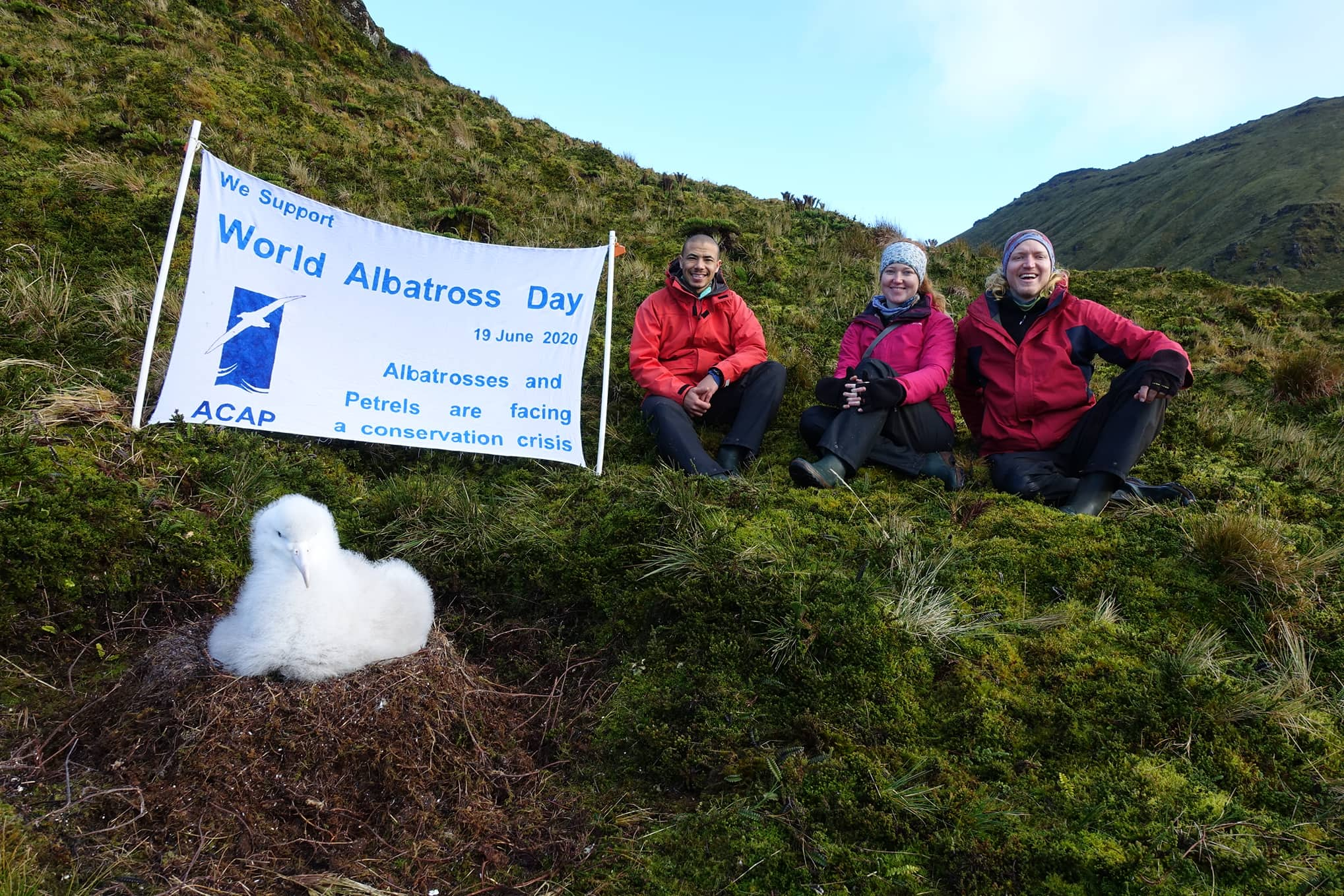 The very first World Albatross Day banner is displayed in the field by (from left) researchers Alexis Osborne, Michelle Risi and Chris Jones while making a regular monitoring visit to a study colony on Gough Island. The Tristan Albatross chick remains undisturbed on its mud and vegetation nest
Photographs by Michelle Risi
With the differences in timing of breeding seasons of albatrosses around the world, field teams may need to wait until 'their' species commences breeding before heading out with a banner. ACAP Latest News thus hopes there will be a spread of banner photography from now into next year and looks forward to posting the photographs along with their stories.
John Cooper, ACAP Information Officer & Michelle Risi, Gough Island Restoration Programme, 12 July 2019