New Zealand-based Wildlife Management International Limited (WMIL) is an environmental consultancy dedicated to research and nature conservation. It has been monitoring, protecting and managing natural ecosystems both in New Zealand and around the world for over 30 years. Founded in 1992 by the late Brian Bell QSM, the consultancy remains a family business, now headed by Brian's offspring, Mike Bell (Managing Director) and Elizabeth (Biz) Bell (Senior Ecologist).
ACAP Latest News reached out to Biz and Mike to hear more about their conservation work with two ACAP-listed species, both endemic to New Zealand: the globally Vulnerable Chatham Albatross Thalassarche eremita and the globally Vulnerable Black Petrel Procellaria parkinsoni – and to gain the WMIL's support for this year's inaugural World Albatross Day on 19 June.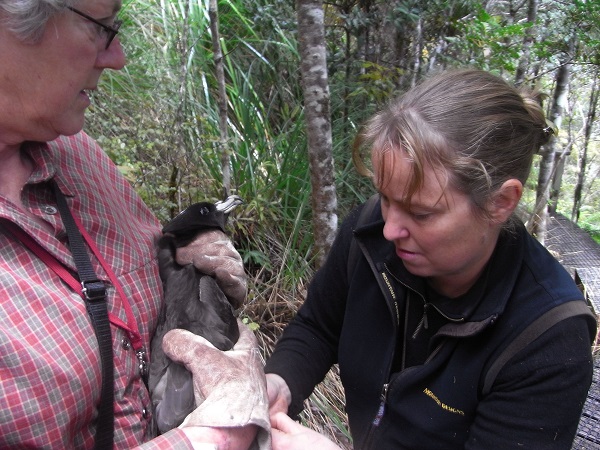 Biz Bell (right) bands a Black Petrel, photograph by Wildlife Management International

Mike and Biz have written in reply: "Every year, our team of passionate ecologists spend months on islands monitoring ACAP-listed species such as Chatham Albatross and Black Petrel, as well as Flesh-footed Shearwater and other seabirds. The Takoketai/Black Petrel project that WMIL has been undertaking for Ngati Rehua, Department of Conservation and Ministry for Primary Industries since 1995 is one of the longest-running seabird projects in New Zealand. Along with the Chatham Island Taiko Trust, the Chatham Albatross translocation project was ground-breaking as the first albatross transfer in New Zealand and the second in the world. Having directed over 20 invasive species eradications on islands around the world to protect and enhance seabird, land bird and reptile populations, WMIL recognises that World Albatross Day is a fantastic way to raise the profile of these iconic species and the importance of protecting their homes by eradicating island pests."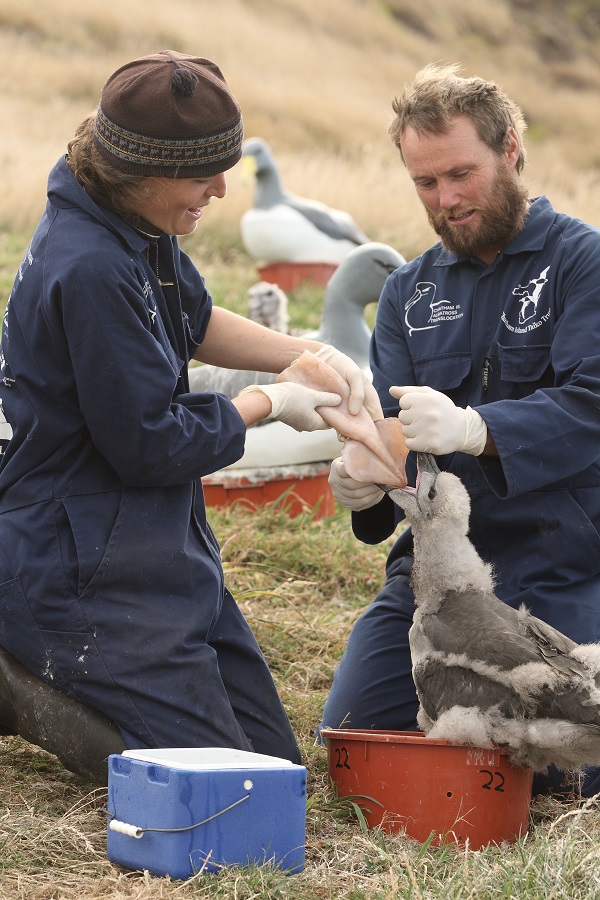 Mike Bell (right) helps feed a translocated Chatham Albatross chick a large squid, photograph by Wildlife Management International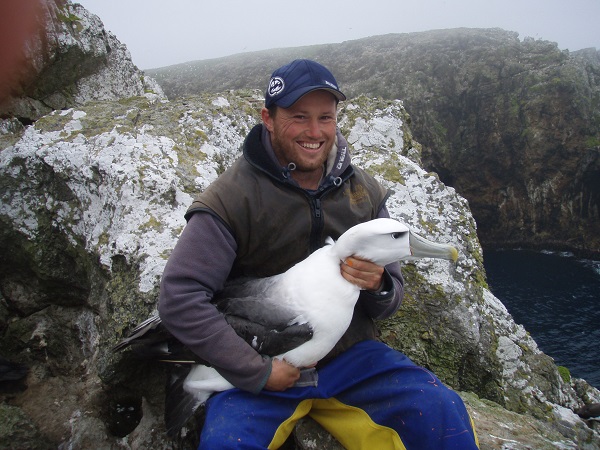 Mike Bell holds a White-capped Abatross Thalassarche steadi for banding on Motuhara, photograph by Mark Fraser

With thanks to Biz and Mike Bell, Wildlife Management International.
John Cooper, ACAP Information Officer, 04 May 2020