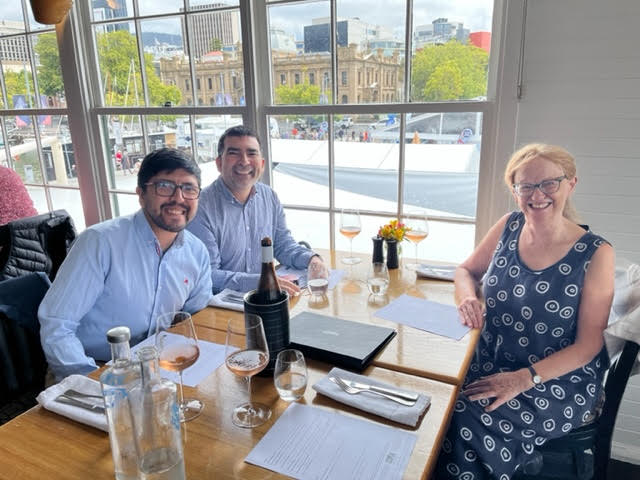 Translation students, Jhonny Pedraza (front left) and Angelo Berbotto (back left) enjoy lunch out with ACAP Executive Secretary, Dr Christine Bogle. Jhonny and Angelo spent a week with the ACAP Secretariat as in-house translators as part of ACAP's Translation Student Internship Programme
The ACAP Secretariat was delighted to welcome back translation students to its internship programme this year, after a two-year pause due to the pandemic.
In February two Postgraduate students spent a week with the Secretariat, helping with translation into Spanish of technical reports, information on the website, press releases and other material.
The two students were Angelo Berbotto from the University of New South Wales and Jhonny Pedraza from Macquarie University. This was the first year that Macquarie University took part in the internship programme which has been in place since 2013.
The pandemic was a catalyst for change for many people across the world, and this was the case for Master in Translation and Interpreting student, Angelo Berbotto, who decided to step back from practising law in order to pursue a previous passion in translation. Far from leaving his expertise in law behind though, Angelo has discovered a keen interest in the transfer of meaning across legal cultures.
Speaking about his week with the Secretariat Angelo said: "I really enjoyed the terminology work. Applying my legal knowledge, I took it upon myself to read the English and Spanish versions of the Agreement and add expressions to the glossary. One of the biggest challenges I found was maintaining consistency across the large volume of documentation."
International student Jhonny Pedraza, who hails from Colombia, is completing a double master's degree of Applied Linguistics and TESOL and Translation and Interpreting Studies. He found completing his internship in a small international organisation had big benefits and hopes to provide ongoing translation support to ACAP.
"I had a sense of what working as an in-house translator for an organization whose impact goes beyond borders means. I was able to get insights and ask for clarification directly from the staff who were an endless source of knowledge and awareness regarding political and technical aspects concerning bird conservation," he said of his experience as an intern.
Reflecting on the students' week in the Secretariat, ACAP's Executive Secretary said: "It's a pleasure to be able to engage in some in depth discussion about language issues. The assistance from the students is invaluable for ACAP and we receive very positive feedback from the students about their one-week immersion in ACAP's work."
27 March 2023