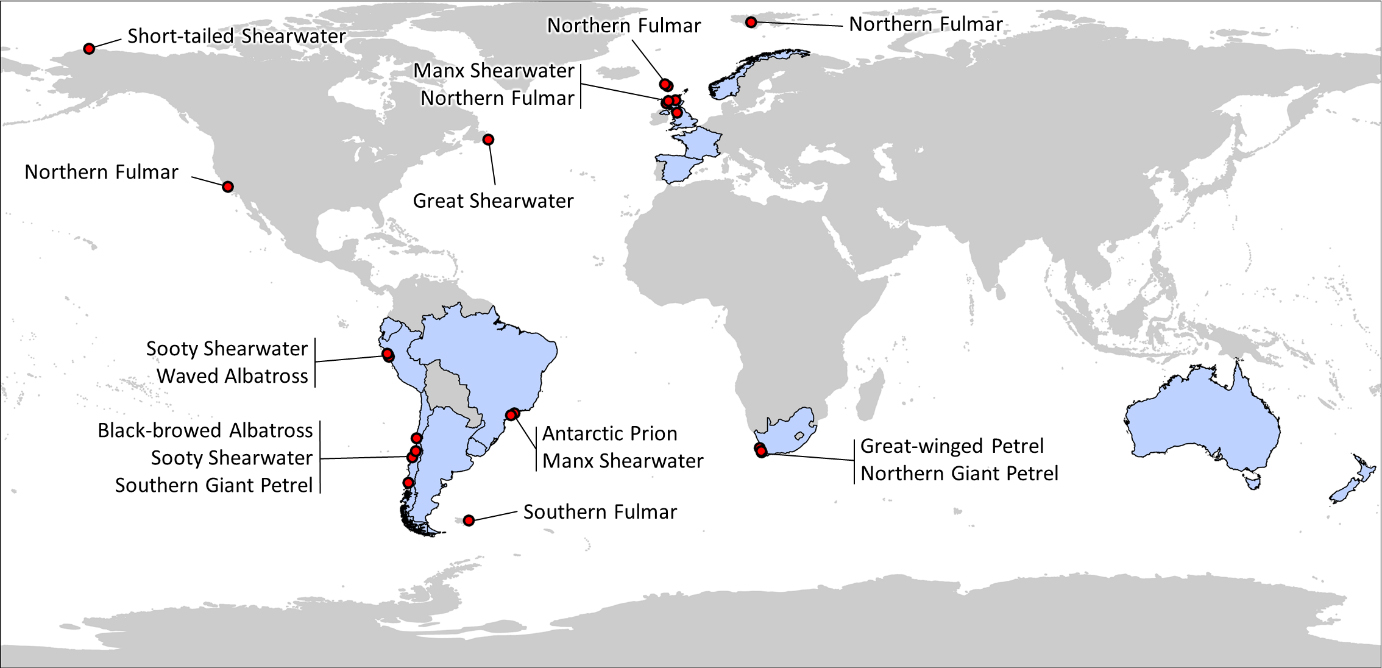 Notifications of HPAI outbreaks to the World Organisation for Animal Health (WOAH) in Procellariiformes (updated 5 November 2023). ACAP Parties are marked in blue.
The Agreement on the Conservation of Albatrosses and Petrels' Intersessional Group on High Pathogenicity Avian Influenza H5N1 has released an updated version of ACAP's Guidelines for working with albatrosses and petrels during the high pathogenicity avian influenza (HPAI) H5N1 panzootic.
An extract follows:
"Relevant information on high pathogenicity avian influenza (HPAI) H5N1
1. The current panzootic wave of high pathogenicity avian influenza (HPAI) subtype H5N1 started in 2021 and has killed millions of seabirds worldwide. 
2. HPAI H5N1 viruses spread to South America in late 2022 and have since caused mass mortality of seabirds and marine mammals. 
3. HPAI H5N1 viruses have arrived in sub-Antarctic islands in October 2023, but not yet in mainland Antarctica. The situation may change rapidly. 
4. Oceania, including Australia and New Zealand, is the only remaining region of the world free of this virus, but this situation may also change rapidly. 
5. By the end of October 2023 no mass mortality events of procellariiform birds have been attributed to HPAI H5N1; however, these species are susceptible to infection and could be vulnerable to future outbreaks. 
6. Birds infected by HPAI H5N1 viruses typically show one or more of the following disease signs: atypical behaviour, neurological signs, conjunctivitis, and respiratory distress. 
7. The virus is transmissible to humans, but risk is currently considered low."
In commenting on the overall scenario and the updated guidelines, Patricia Serafini, Co-convenor of the Agreement's Population and Conservation Status Working Group (PaCSWG) and member of the ACAP Intersessional Group said: "High pathogenicity Avian Influenza (HPAI), caused by the virus H5N1, results in rapid and high mortality in infected wildlife groups. Researchers and authorities have been engaged in studying and understanding the impacts of this ongoing panzootic since the first ACAP guidelines on HPAI were released in 2022, and a lot of new information has been released. Migratory bird species arriving to the Southern Ocean (mostly between September and November) could transmit HPAI to the region, coinciding with the arrival of breeding seabirds, including ACAP species. Furthermore, it is possible that the virus could survive in the environment beyond the austral summer. Considering the present global panzootic scenario and the new information available, experts from several countries have been engaged together in an ACAP intersessional group to update and provide managers and ACAP Parties with the most up-to-date guidance for surveillance, monitoring, and response for HPAI outbreaks that might occur this season."
Reference:
Serafini, P.P.; Vanstreels, R.E.T.; Uhart, M.; Dewar, M.; Wille, M.; Roberts, L.; Black, J.; Jiménez-Uzcátegui, G.; Baker, H.; Michael, S.; Gartrell, B.; Gamble, A.; Younger, J.; Lopez, V.; Work, T. 2023. Guidelines for working with albatrosses and petrels during the high pathogenicity avian influenza (HPAI) H5N1 panzootic. Agreement on the Conservation of Albatrosses and Petrels (ACAP), 11 pages. Available from https://www.acap.aq/resources/disease-threats/avian-flu
13 November 2023