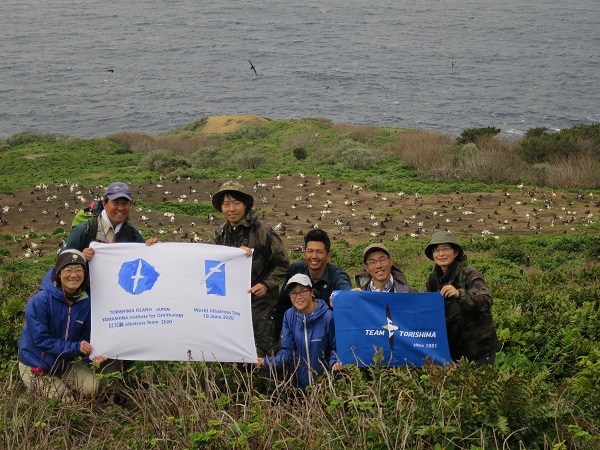 The Short-tailed and Black-footed Albatross Research Team at the Hatsunezaki colony
From left: Miwa Konno, Naoki Tomita, Bungo Nishizawa, Yuna Kimoto, Masayoshi Kamioki, Satoshi Konno and Haruka Hayashi, photograph by Miwa Konno
The World Albatross Day 2020 banner challenge has now reached 18 islands with the display of a banner on Japan's Torishima in the Izu Islands, home of most of the world's globally Vulnerable Short-tailed Albatrosses Phoebastria albatrus.
Naoki Tomita of the Yamashina Institute for Ornithology reports to ACAP Latest News that the banner was displayed on Torishima by the 2020 Short-tailed and Black-footed Albatross Research Team from the Yamashina Institute near the Hatsunezaki Short-tailed Albatross colony. It was joined with a flag designed by Fumio Sato who was the Leader of the project that established this new colony in 1995 by attracting birds using decoys and audio devices (click here). The 2020 research team was on the island over February and March monitoring the island's albatrosses.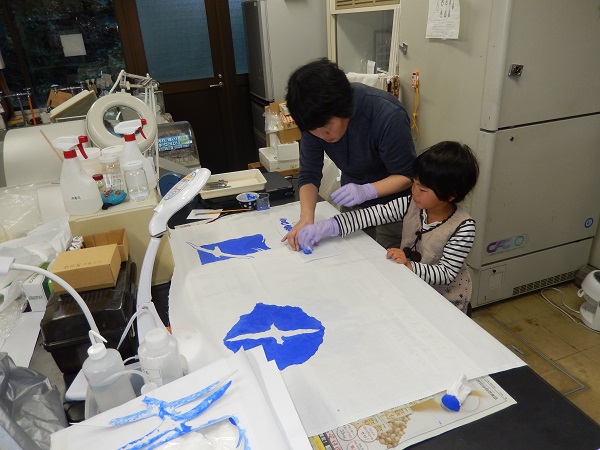 Yasuka and Mitsuki Tomita making the banner, photograph by Naoki Tomita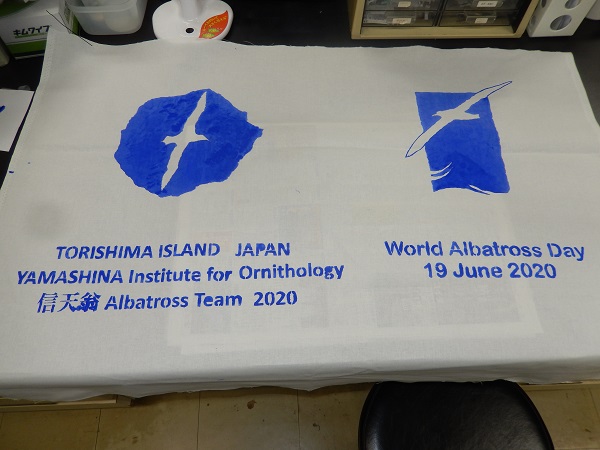 The Torishima banner completed, photograph by Yasuko Tomita
The Torishima WAD2020 banner was made by Naoki Tomita's wife, Yasuko and daughter, Mitsuku. Both, Naoki reports, much enjoyed the task.
With thanks to Naoki, Yasuko and Mitsuki Tomita.
References:
Eda, M., Izumi, H., Konno, S., Konno, M. & Sato, F. 2016. Assortative mating in two populations of Short-tailed Albatross Phoebastria albatrus on Torishima. Ibis 158: 868-875.
Sato, F. 2009. Increase in pairs of the Short-tailed Albatross Diomedea albatrus at an artificial breeding ground. Journal of the Yamashina Institute for Ornithology 40: 139-143.
Sato, F., Momose, K., Tsurumi, M., Hiraoka, YT., Mitamura, A. & Baba, T. 1998. The first breeding success in the Short-tailed Albatross Colony Restoration Project on Tori-shima, using decoys and vocal lure. Journal of the Yamashina Institute for Ornithology 30: 1-21.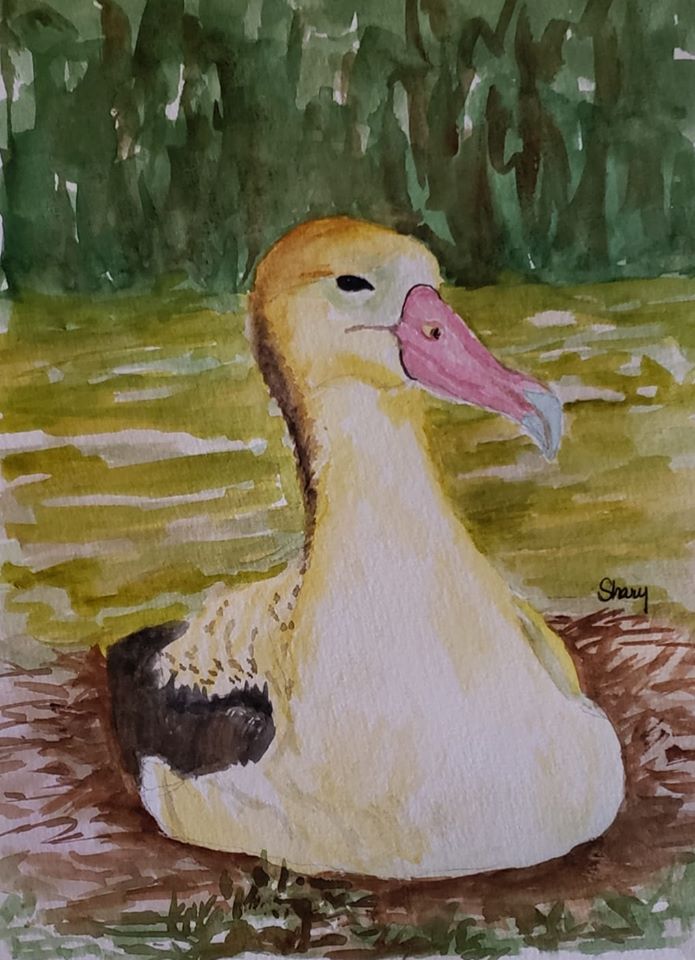 Short-tailed Albatross by ABUN artist, Shary Page Weckwerth‎
John Cooper, ACAP Information Officer, 25 April 2020