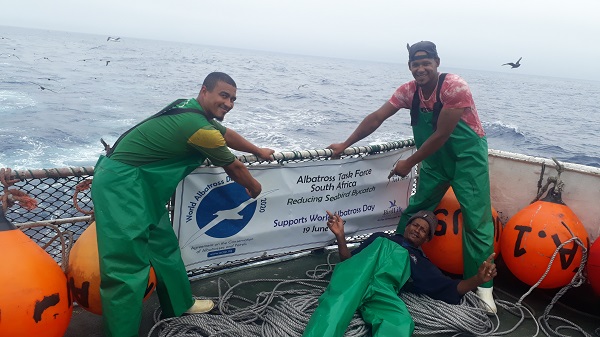 Crew members on the Augusta 1 point to Albatross Task Force - South Africa's 'WAD2020' banner
BirdLife International's Albatross Task Force (ATF) is an international team of bycatch experts dedicated to saving albatrosses and other seabirds by working on fishing vessels to promote the use of best-practice mitigation measures. Since 2006 ATF teams have been working directly with both small-scale fishers and fishing companies to raise awareness and demonstrate the effectiveness of mitigation measures to fishing crews and thereby increase compliance with their use. The ATF has field teams in five southern hemisphere fishing countries: Argentina, Brazil, Chile, Namibia and South Africa, with overall cordination coming from the UK's Royal Society for the Protection of Birds (RSPB).
ACAP Latest News reached out to the five ATF teams with a request that they help raise awareness of this year's inaugural World Albatross Day on 19 June by making banners to photograph out at sea on fishing vessels. ATF-Chile was the first to respond, taking its banner to sea on a trawler back in December (click here). South Africa has now followed suit and ATF-South Africa's Instructor, Reason Nyengera took a most professional-looking 'WAD2020' banner out to sea into the rich fishing grounds of the Benguela Current last month. He was aboard the Augusta 1, a demersal long liner fishing for hake Merluccius, where he photographed the banner (see design below) with willing crew members.
Reason observes: "I've learnt that the fate of our seabirds lies in the hands of the fishers themselves. Therefore, engaging with fishers during their daily operations is the greatest key to saving our precious albatrosses and petrels."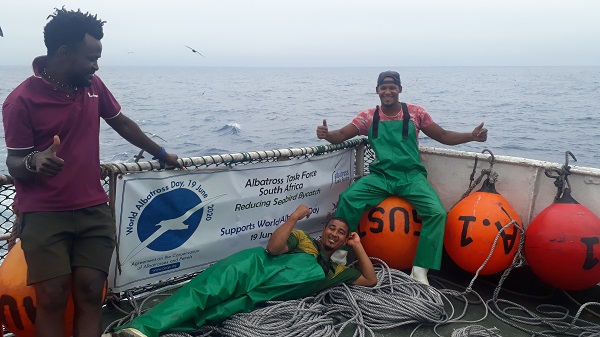 ATF-South Africa's Instructor, Reason Nyengera (left) and crew members on the Augusta 1 with Albatross Task Force - South Africa's 'WAD2020' banner
Andrea Angel is the Leader of the Albatross Task Force in South Africa. Based with Reason in the Cape Town office of BirdLife South Africa, her role includes engaging with South African fishing fleets on the implementation and uptake of seabird bycatch mitigation measures and advancing policy and advocacy for seabird conservation in the Southern Ocean. She writes to ACAP Latest News: "My passion for albatrosses stems from my life-changing experience of spending a year on Gough Island in 2003/04. There I was awe struck by their beauty, their immense size and grace in the air. As the stillness, that only remote places have, is broken by the whoosh of the wind through a Tristan Albatross's flight feathers one can only be humbled. I count myself as immensely privileged to have had the opportunity to come close to albatrosses and to dedicating the past 15 years of my career to safeguarding them."

ACAP Latest News has been sent photos of 'WAD2020' banners made by Albatross Task Force teams based in Argentina and Brazil that are being taken out to sea on fishing vessels. Watch this space for more news of them!
John Cooper, ACAP Information Officer, 24 March 2020