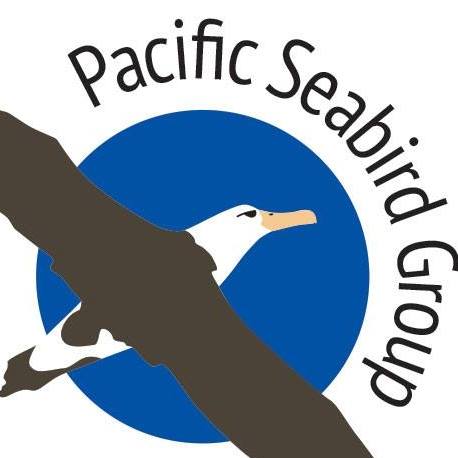 The Pacific Seabird Group (PSG) is a society of professional seabird researchers and managers dedicated to the study and conservation of Pacific seabirds and their environment. The PSG was formed in 1972 out of a need for increased communication among academic and government seabird professionals. The principal goals of the PSG are (1) to increase the quality and quantity of seabird research through facilitating exchange of information; and (2) to identify and assess the importance of threats to seabird populations and provide government agencies and others with expert advice on managing their threats and populations. Since 2007, the PSG's Craig S. Harrison Conservation Fund Grants Program has supported research and conservation of seabirds including encouraging at-sea monitoring of Critically Endangered Waved Albatrosses Phoebastria irrorata by small-scale fishers, educational materials for fisheries and their communities in Peru, and Black-browed Albatross diet and fisheries interactions in Chile (click here).

PSG members include biologists, wildlife managers, post-docs, students and conservation biologists from 21 countries, including Canada, Japan, Mexico and the USA and from ACAP Parties Australia, Chile, Ecuador, New Zealand, Peru, South Africa and the United Kingdom. The total membership is currently 470. PSG annual meetings and publications (including the peer-reviewed journal Marine Ornithology) provide forums where members can share their findings on all research topics related to Pacific seabirds and discuss local and large-scale conservation issues. The Executive Council (the current Chair is Robert Suryan) guides the organization and makes decisions regarding operations. The council is made up of 15 members including six Officers, a Student Representative and eight Regional Representatives.
The Executive Council has written to ACAP Latest News stating "The Pacific Seabird Group lends its support to World Albatross Day, as a day to find joy in these incredible birds, solidify future efforts for their conservation and celebrate global and local initiatives that continue to have an impact on the resilience of these species." This welcome support means the Pacific Seabird Group joins the original (United Kingdom) Seabird Group, the Australasian Seabird Group and the Durch Seabird Group in recognizing the value of celebrating a World Albatross Day every year.
The PSG has also asked its members to reflect on their motivations for studying albatrosses, their conservation and thoughts on what World Albatross Day means to them. The several replies received follow.
"No matter how long you have been studying albatrosses, or through which lens you study them, they are a true wonder of nature and remain immensely fascinating. Being part of a global effort to study and protect these gentle giants threatened with extinction means hard work but feels more like giving back." - Jean-Baptiste Thiebot, National Institute of Polar Research, Japan.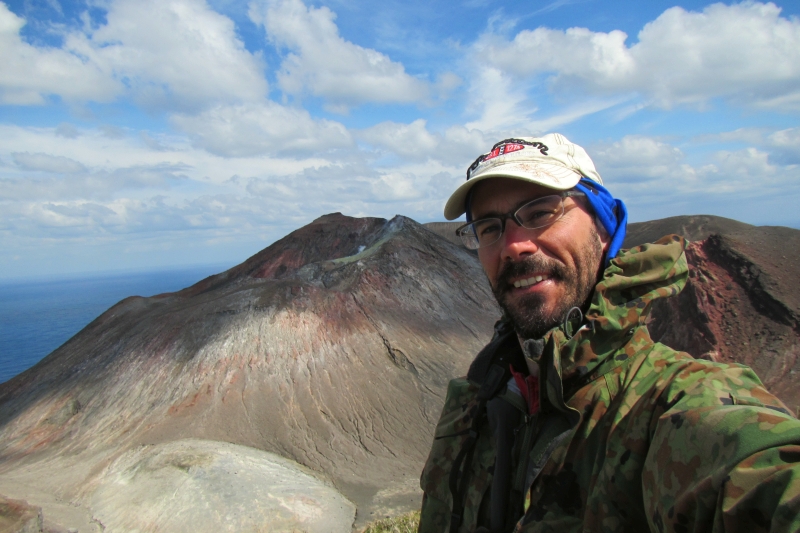 Jean-Baptiste Thiebot on Torishima, Japan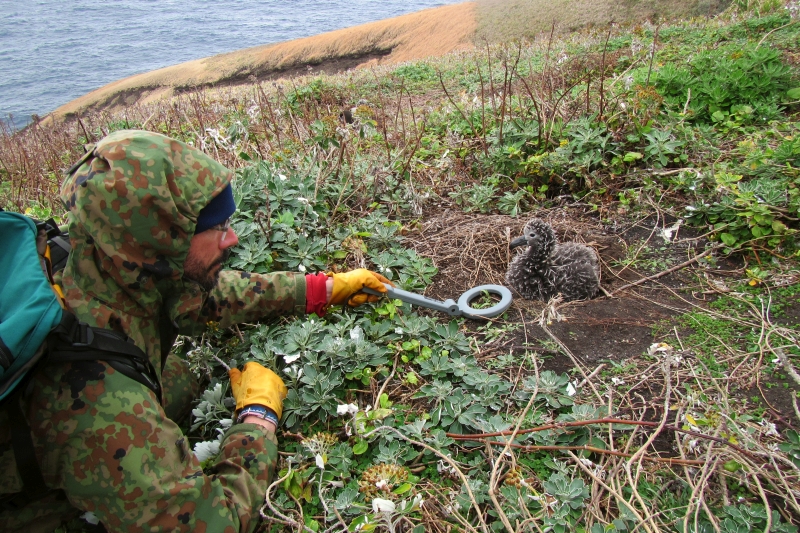 Jean-Baptiste Thiebot uses a metal detector to scan for ingested fishing hooks onn Torishima

"When we think of the iconic migrations of the world, we often think of East Africa and the migrations of the Serengeti: a landscape of 30 000 km². But an albatross harnesses the wind to cover a seascape of 500 000 km² in a single year or to circumnavigate Earth's southern pole. An albatross is the stuff of myth and legend and poetry, but real. How could one not celebrate and protect such a bird?" - Autumn-Lynn Harrison, Migratory Bird Center, Smithsonian Conservation Biology Institute, USA.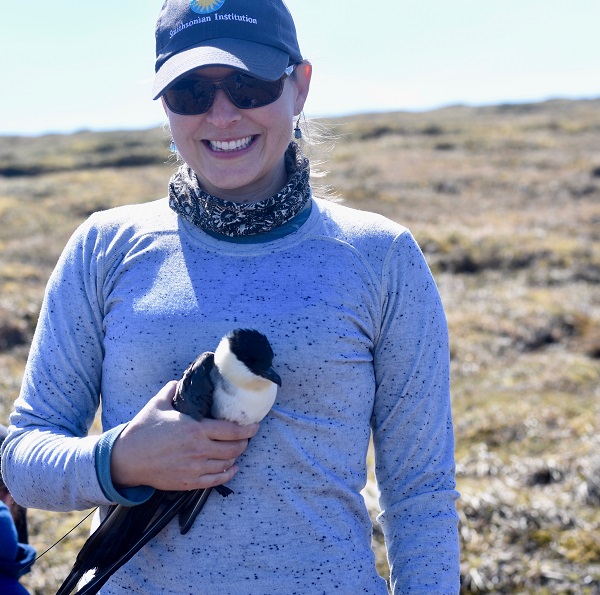 Autumn-Lynn Harrison with a Long-tailed Jaeger in Denali National Park, Alaska
"My motivation for studying albatrosses is to understand their ability to travel so far with such little effort and cost. They make flight look so graceful." - Scott Shaffer, Biological Sciences, San Jose State University, USA.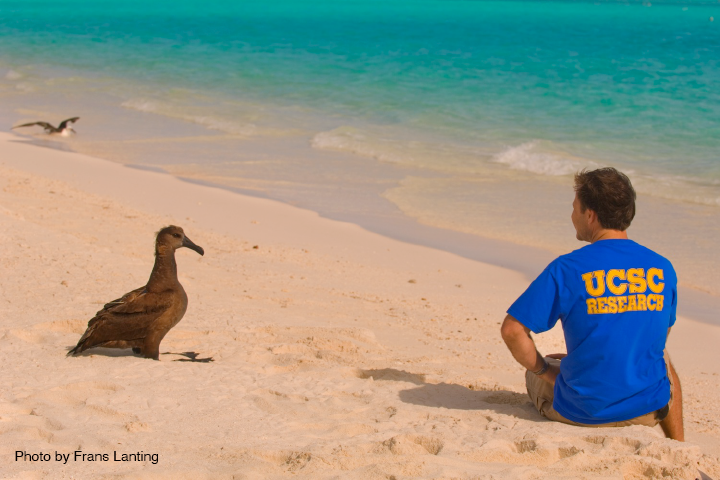 Scott Shaffer with a Black-footed Albatross fledgling, Midway Atoll
"What could be more fascinating than a bird that lives as long or longer than you and I, that sails across tempestuous ocean basins on giant specialized wings, and that courts his or her lifelong mate with a ritual dance every breeding season? Albatrosses are a gift of beauty and intrigue to our collection of biodiversity on this planet and it would be a great tragedy to lose them. On World Albatross Day we get to come together to recognize and celebrate these magnificent animals." - Melinda Conners, School of Marine and Atmospheric Sciences, Stony Brook University, USA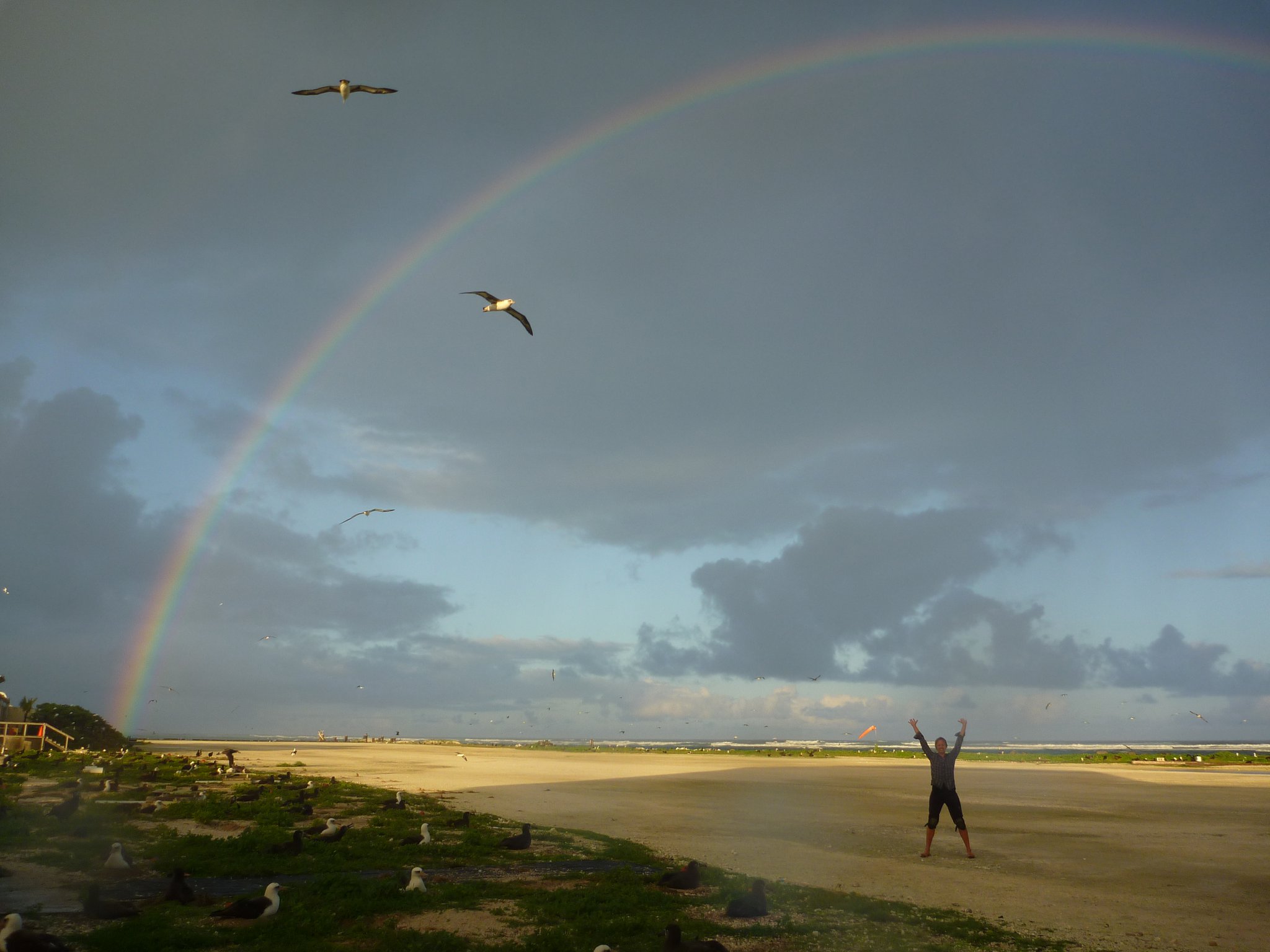 Melinda Connors, Tern Island, French Frigate Shoals, Northwestern Hawaiian Islands
"When I look into the eyes of an albatross I always wonder what it has experienced during its life-time: what fishing vessels it has encountered, how many chicks it has raised, what storms it has weathered, and how many miles has it flown. I am looking forward to celebrating World Albatross Day and building efforts to ensure that the next generations of albatrosses continue to explore the oceans." - Rachael Orben, Oregon State University, USA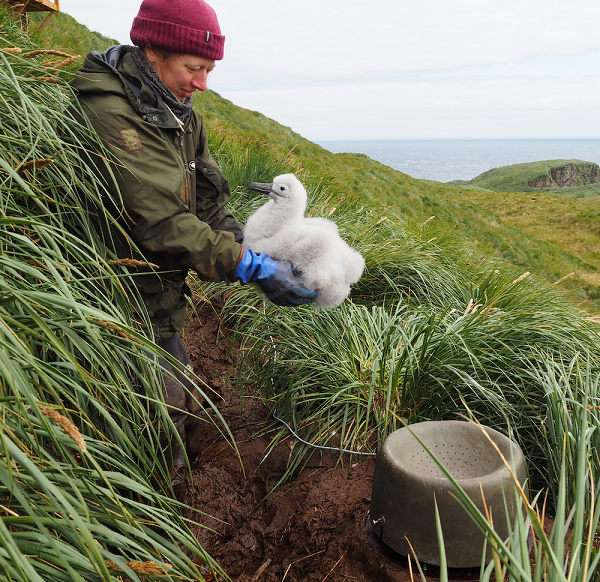 Rachael Orben returns a Black-browed Albatross chick to its nest weigh balance, Bird Island, South Atlantic
"Humans have a long history of altering landscapes, but fewer examples of restoration and repatriation. Albatrosses are emblematic of anthropogenic pressures on land and at sea. Humans owe these resilient yet vulnerable seabirds our stewardship towards the restoration and maintenance of stable albatross populations. How can we work together to prevent the extinction of remote, wide-ranging, yet vulnerable species? World Albatross Day connects admirers of albatrosses globally to aid in the mutual goal of protecting these fascinating seabirds." - Corey Clatterbuck, San Diego State University, USA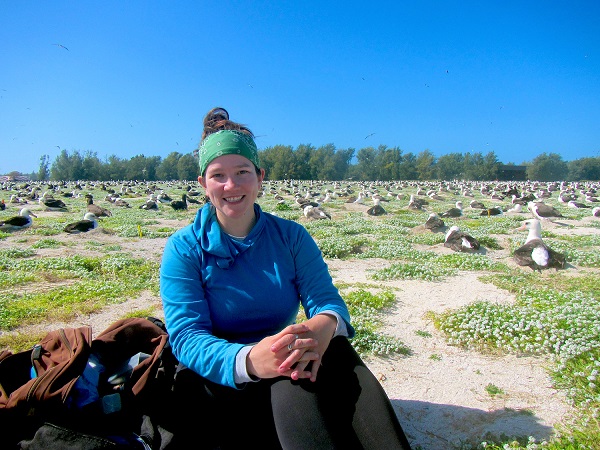 Corey Clatterbuck, Midway Atoll National Wildlife Refuge
"A decade ago, I started my journey along with the albatrosses in Chile. I had the opportunity to learn more about these mysterious animals when I arrived on the Diego Ramírez Islands, south of Cape Horn. In this world of salt and feathers, I learned more about albatrosses, and in particular of their alarming interaction with fisheries when I started to find debris and hooks carried by adults returning to the nest. It made me realize that looking after albatrosses at the colony was only one part of the story – that we had to do something about the threats they were facing in the marine realm as a whole. Since that time, I have been able to combine my colony and at-sea experience trialling mitigation measures to improve the prospects of albatrosses. I will celebrate the first World Albatross Day in 2020 since my country has a huge global responsibility to not only understand but also solve the threats that these natural treasures are facing beyond the waves." – Cristián G. Suazo, JLU-Giessen & Albatross Task Force - Chile, BirdLife International – CODEFF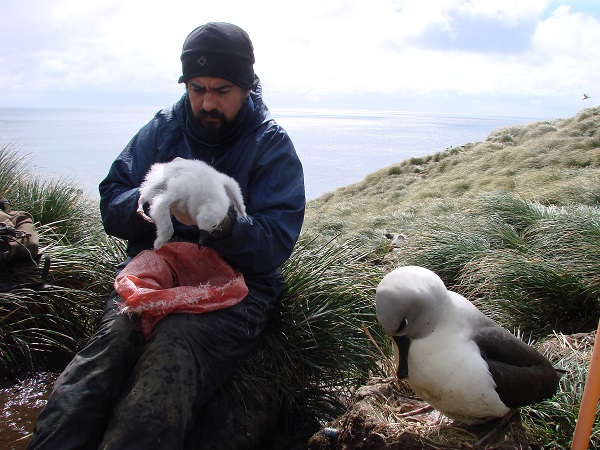 Cristián Suazo, with Grey-headed Albatrosses on the Diego Ramírez Islands, Chile
"The grace by which an albatross navigates a storm at sea has always amazed me. To understand more fully their remarkable travels across the oceans and unique life-histories is even more inspirational. Albatrosses are amazingly resilient, but only to a point, which many have reached and need our collective help. I feel incredibly fortunate to have participated in a few of these efforts. I look forward to celebrating World Albatross Day to raise awareness of these amazing birds, their remote island and ocean homes, and the many people and organizations that are devoted to protecting them" – Robert Suryan, NOAA Alaska Fisheries Science Center, USA and Chair, Pacific Seabird Group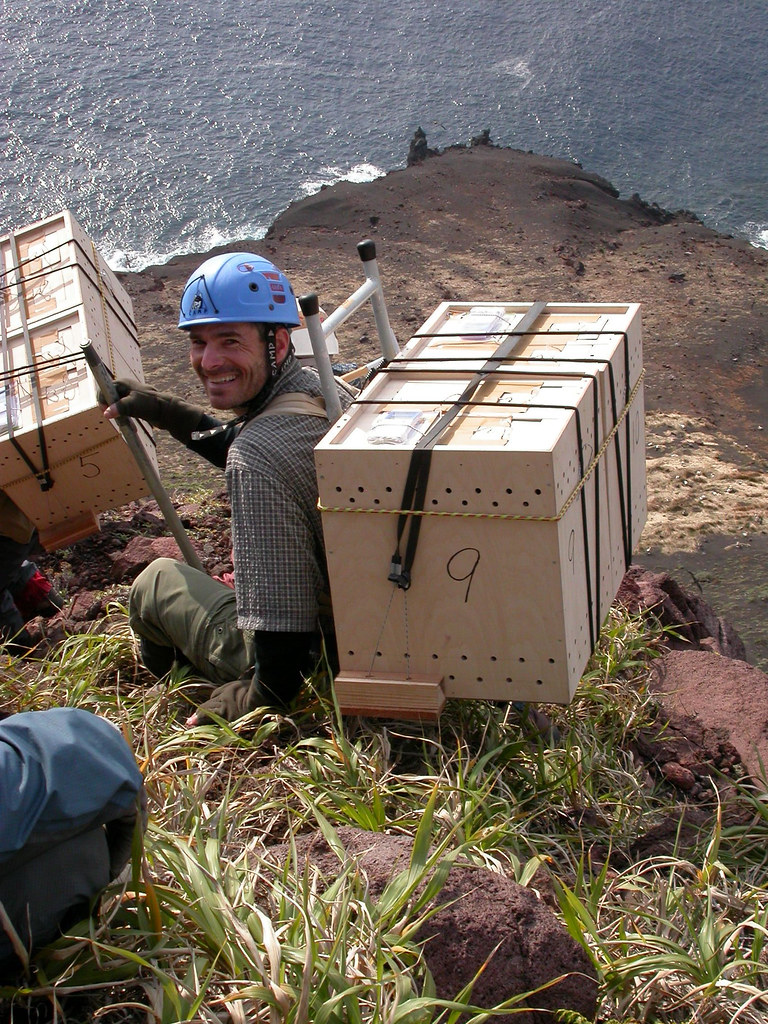 Robert Suryan, Torishima, Japan. Transporting Short-tailed Albatross chicks to re-establish a colony on Mukojima, Ogasawara (Bonin) Islands
Rachael Orben, Regional Representative, Pacific Seabird Group & Department of Fisheries and Wildlife, Oregon State University, USA & John Cooper, Honorary Member & 2012 Lifetime Achievement Awardee, Pacific Seabird Group & ACAP Information Officer, 24 May 2020