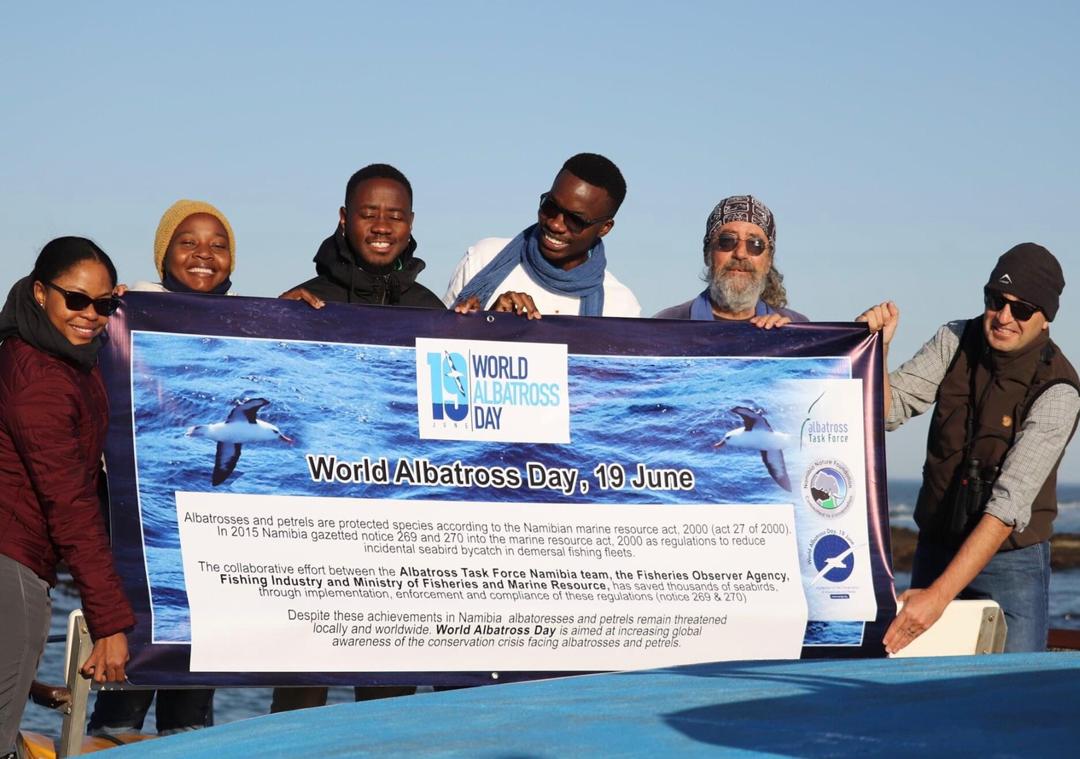 From left: Samantha Matjila (Albatross Task Force Team Leader/Namibian Nature Foundation Marine Coordinator), Diina Mwaala, (Ministry of Fisheries and Marine Resources Senior Fisheries Biologist – Marine Mammal Section), Desmond Tom (MFMR Senior Fisheries Biologist – Seabirds Section & Namibia's Observer to the 2019 ACAP meeting), Abner Amadhila (MFMR Fisheries Research Technician), Jean-Paul Roux (NNF Technical Advisor) & Angus Middleton (NNF Director); photograph taken at sea off Halifax Island near Lüderitz in southern Namibia
Last week, the Albatross and Petrel Agreement (ACAP), along with a host of other organizations worldwide, marked the inaugural World Albatross Day on 19 June. BirdLife International and its national affiliates and partners in more than a dozen countries were among the foremost bodies offering support through their social media and other outlets – as has been regularly reported on this website and shared to ACAP's Facebook page over the last 12 months.
BirdLife International and its UK partner, the Royal Society for the Protection of Birds, jointly launched the Albatross Task Force (ATF) in 2005 – an international team of seabird bycatch mitigation experts on a mission to reduce bycatch in some of the world's deadliest fisheries for seabirds. Today the ATF has teams based in five countries across South America and southern Africa working to reduce the at-sea mortality of albatrosses and petrels caused by both longline and trawl fisheries. Four of these teams, those in Argentina, Brazil, Chile and South Africa, had prior to 'WAD2020' responded to ACAP's 'Banner Challenge' by making and displaying a banner advertising World Albatross Day. Two teams, in Chile and South Africa, were able to take their banners to sea on fishing vessels as originally intended, but Argentina and Brazil were stymied by COVID-19 Pandemic shutdowns in their countries and had to photograph their banners on shore. This left only one ATF team unrepresented, that of Namibia.
Most welcome then on World Albatross Day itself for ACAP Latest News to receive a banner photo taken by the Namibian ATF Team, thus completing a full house of responses from the ATF. Samantha Matjila is the team leader for the Albatross Task Force in Namibia and the marine coordinator for the environmental NGO, the Namibian Nature Foundation (NNF). In the absence of a BirdLife national affiliate or partner in Namibia, the ATF is hosted by the NNF and Samantha and her team also work closely with Namibia's Ministry of Fisheries and Marine Resources (MFMR). The NNF describes itself as the leading conservation and sustainable development organisation in the country. It "promotes sustainable development, the conservation of biological diversity and natural ecosystems as well as the wise and ethical use of natural resources for the benefit of all Namibians both present and future."
ATF-Namibia works with the hake demersal longline and trawl fisheries, consisting of 13 and 56 vessels, respectively, operating out of the ports of Walvis Bay and Lüderitz. In 2019/20 the team spent 129 days sea observing seabird mortality from fishing vessels and undertook outreach activities that included training workshops, distribution of seabird identification guides and beach clean ups.
Namibia's photo here now joins 52 other banner displays entered into the WAD2020 Banner Challenge. Visit the ACAP Facebook album and click on those that you particularly like. The banner with the most likes come 30 June is up for a prize!
With thanks to Nina da Rocha, Albatross Task Force Project Officer, Royal Society for the Protection of Birds.
John Cooper, ACAP Information Officer, 23 June 2020