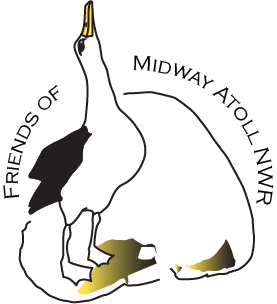 The Friends of Midway Atoll National Wildlife Refuge (FOMA) is a non-profit organization that works to help preserve, protect and restore the biological diversity and historic resources of Midway Atoll, while providing opportunity for wildlife-dependent recreation, education, cultural experiences and scientific research. The NGO is governed by a volunteer Board of Directors that works to support the Refuge. A 2015 Strategic Plan helps guide FOMA's activities, which are reported on via Facebook and the Gooney Gazette II newsletter.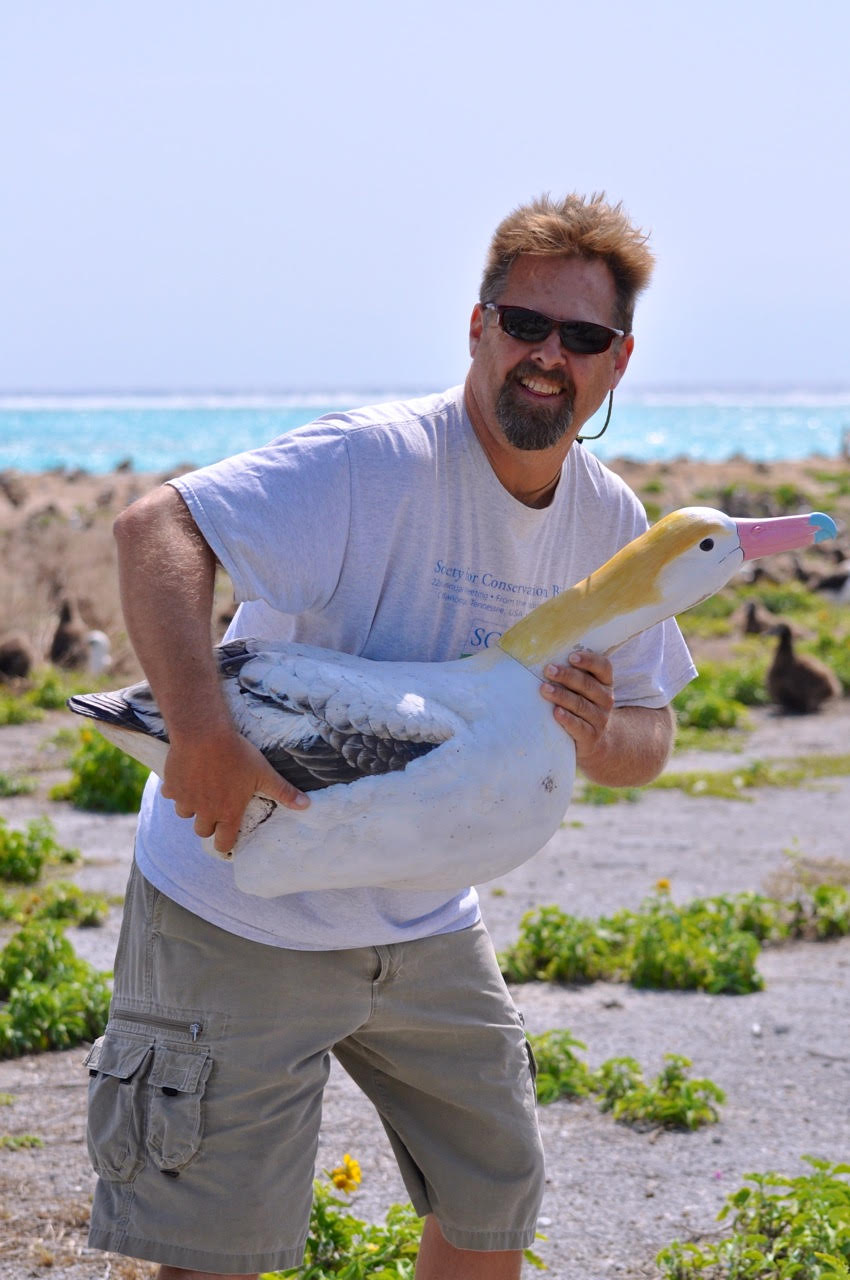 ACAP Latest News has been in touch with FOMA about this year's inaugural World Albatross Day with its theme of "Eradicating Island Pests". Wayne Sentman, FOMA President, has written back: "Founded in 1999 the Friends of Midway Atoll has been supporting the Midway Atoll National Wildlife Refuge's albatross conservation and seabird habitat restoration efforts over the last 20 years. During that time many field volunteer hours have been supported, and with nearly US$750 000 raised we have been able to aid a variety of research and conservation measures aimed at promoting the annual success of the three species of albatrosses (and other seabirds) that breed on the atoll. The 2020 World Albatross Day theme of "Eradicating Island Pests", could not be better timed, as Midway is in the midst of initiating a large scale, multi-million-dollar effort to rid the refuge of the introduced House Mice Mus musculus. Rats were eliminated in 1997 with great benefits for the island's birds; in 2021 we hope to be sharing similar news about the elimination of mice, removing yet one more obstacle to the annual breeding success of the albatrosses of Midway Atoll."
Wayne Sentman holds a Short-tailed Albatross decoy on Midway Atoll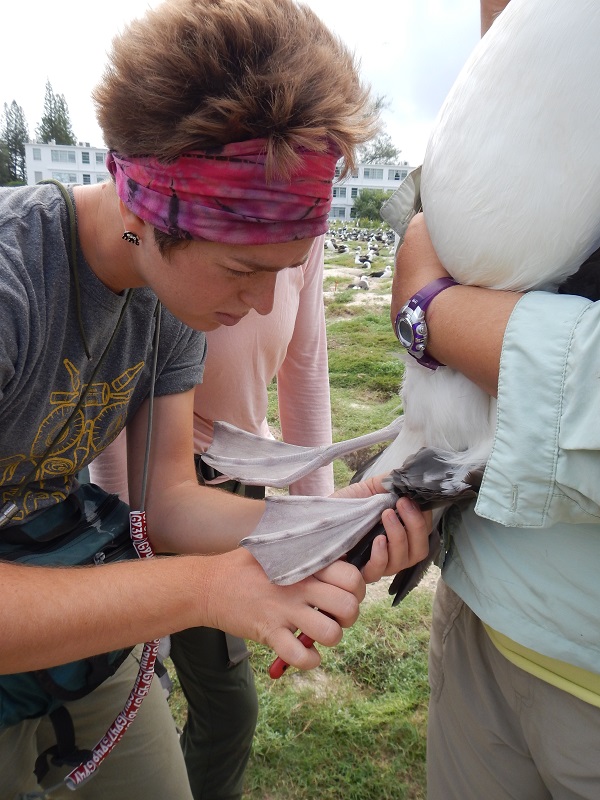 Wieteke Holthuijzen, FOMA Board Director and an MSc student studying Midway's House Mice that have taken to attacking the island's albatrosses also writes in response to ALN: "For over 20 years, FOMA has supported restoration and conservation efforts on Midway Atoll National Wildlife Refuge - the world's largest albatross colony - and we are proud to celebrate World Albatross Day to increase visibility of the work being done all around the world to protect albatrosses and petrels. Moreover, given this year's theme of eradicating invasive species on islands, FOMA is working with the U.S. Fish and Wildlife Service to eradicate invasive House Mice on Midway Atoll NWR in July 2020 via fundraising and purchasing needed equipment and supplies. Rodent eradications are proven conservation tools and we are thrilled to help restore safe, breeding habitat for Midway Atoll NWR's albatrosses--for generations to come."
Wieteke Holthuizen bands a Laysan Albatross in Midway Atoll
Read about FOMA supporting the annual albatross count on Midway here and how some of the volunteer counters marked the coming World Albatross Day while in the field among the albatrosses here.
ACAP Latest News looks forward to reporting on the Midway mouse eradication later this year – and hearing how Friends of Midway Atoll NWR contributed to it.
John Cooper, ACAP Information Officer, 20 February 2020