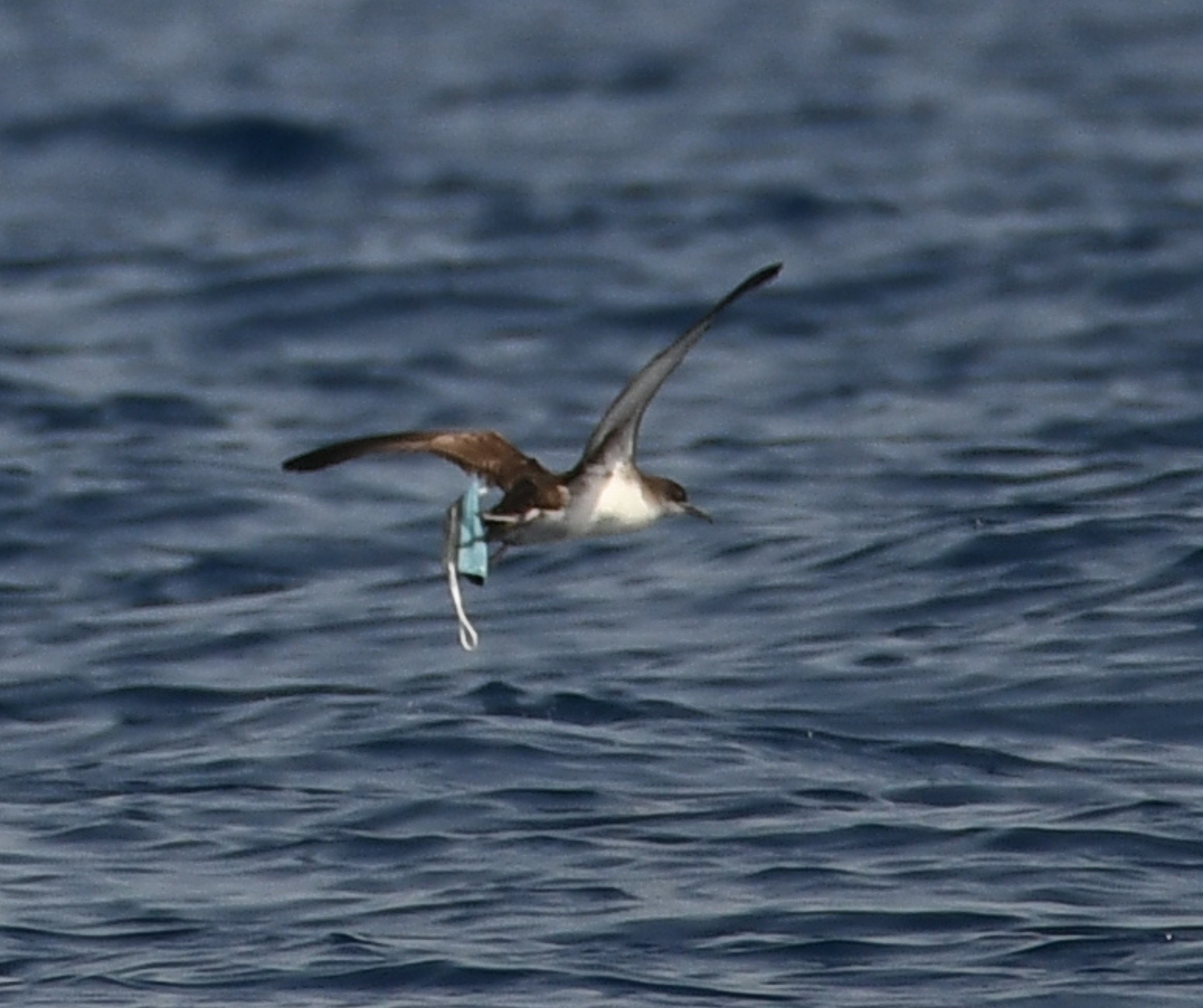 The Yelkouan Shearwater Puffinus yelkouan spotted on 10 April 2022 entangled with a disposable COVID-19 face mask (Cyprus, Levantine Sea, and Eastern Mediterranean); photograph by Ioannis Savva
George Karris (Department of Environment, Ionian University, Zakynthos, Greece) and colleagues have published open access in the journal Mediterranean Marine Science on what is thought to be the first sighting of a pelagic seabird entangled in a COVID-19 disposable facemask.
The abstract follows:
"Seabirds are increasingly recognized as important bio-indicators of marine ecosystems that are useful in assessing environmental disturbance on the marine biota. Over the period 2020-22 and during the first national systematic recording of the sea waters surrounding the Republic of Cyprus, we recorded the spatio-temporal presence, abundance and behaviour of seabirds using the ESAS (European Seabirds At Sea) methodology. Here we present the observation of an accidentally entangled pelagic seabird in COVID-19 material which to the best of our knowledge is the first incident in the Mediterranean Basin. The systematic recording of entangled marine birds in personal protective equipment (PPE) used to prevent COVID-19 transmission worldwide seems to be of crucial importance for one of the most important emerging threats for the conservation of seabirds at global scale."
Reference:
Karris, G., Savva, I., Kakalis, E., Bairaktaridou, K., Espinosa, C., Smith, M.S., Botsidou, P., Moschous, S., Voulgaris, M.-D., Peppa, E., Panayidies, P., Hadjistyllis, H. & Iosifides, M. 2023. First sighting of a pelagic seabird entangled in a disposable COVID-19 facemask in the Mediterranean Sea. Mediterranean Marine Science, 24(1), 50–55. https://doi.org/10.12681/mms.31918.
23 January 2023