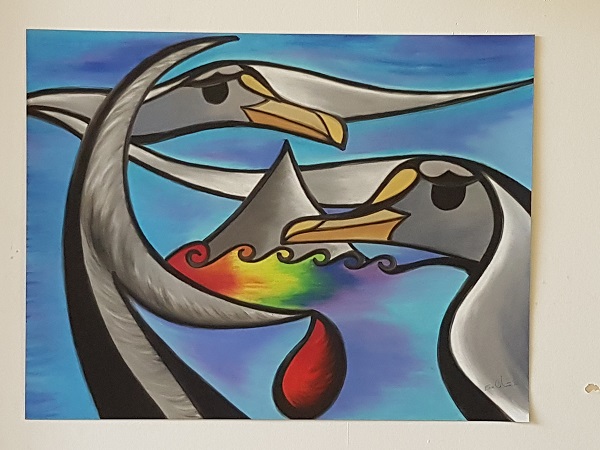 Eva-Cherie Artz is a self-taught artist based in Owenga on New Zealand's Chatham Islands, working predominantly with dry pastel and acrylics. She is a Chatham Islander with both Maori and Moriori heritage. On her website she has written: "Drawing on my experiences at sea and life on the Chatham Islands, I'm inspired by seascapes, bird and fish life, as my ancestors were. My works represent a spiritual connection with the land and sea, using defining shapes to portray my subjects and the blending of colour to symbolise emotion and a character's aura".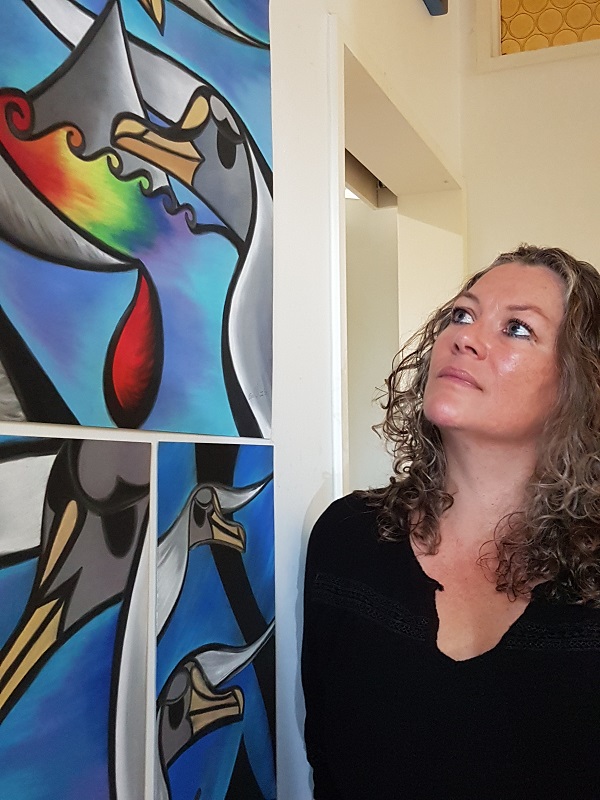 Eva-Cherie Artz with examples of her "Silent Slaughter - Chatham Albatross" series
Her 'muse' is the globally Vulnerable (and nationally Naturally Uncommon) Chatham Albatross Thalassarche impavida. This albatross, endemic to New Zealand, breeds only on The Pyramid, an imposing rocky stack situated south of Pitt Island in the Chatham Island group.
At ACAP Latest News' request, Eva-Cherie has produced two evocative paintings of Chatham Albatrosses in her "Silent Slaughter" series to mark the inauguration of World Albatross Day on 19 June. She writes: "The Hook represents the hazards and perils Chatham Albatrosses face when they are at sea on their life's journey; the Tear Drop of blood represents the sadness of the fatalities and the birds that never return home; the Rainbow represents treasure and how valuable the albatrosses are to me and to the rest of the world; and the Pyramid represents their home, a small rugged island in the Chatham Islands group."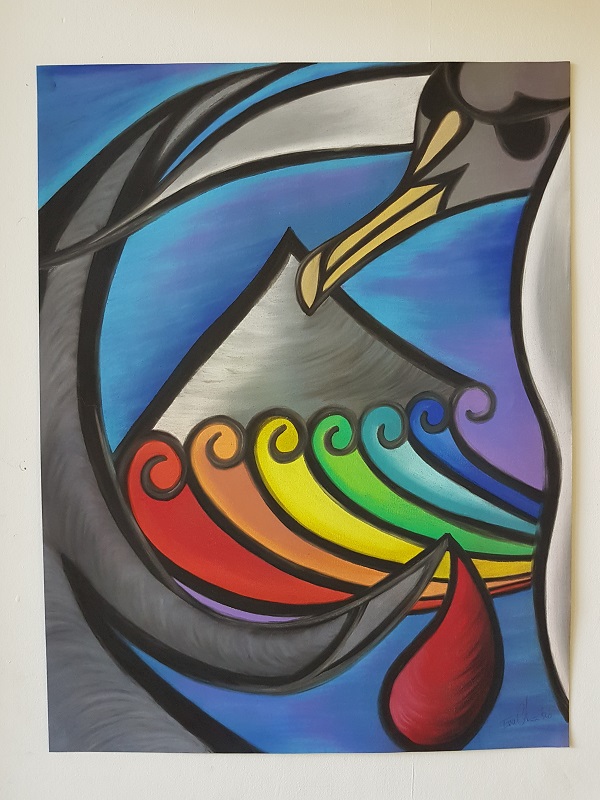 View more of Eva-Cherie Artz's art here.
With grateful thanks to Eva-Cherie Artz
John Cooper, ACAP Information Officer, 18 March 2020