Steeple Jason is the second largest island in the Jason Islands Group, Falkland Islands (Islas Malvinas)*. The uninhabited island, a private nature reserve since 1970 that is owned by the Wildlife Conservation Society, supports breeding populations of two ACAP-listed species: Black-browed Albatross Thalassarche melanophris and Southern Giant Petrel Macronectes giganteus. The island supports the largest colony of the former species in the Falkland Islands (Islas Malvinas)*.
Back in November last year Falklands Conservation (BirdLife partner) travelled to Steeple Jason as part of the Falkland Islands Seabird Monitoring Programme (FISMP) to survey breeding albatrosses and penguins. Equipped with a home-made World Albatross Day banner (and the novelty of a drone) the team obtained some great photos from the edge of an albatross colony.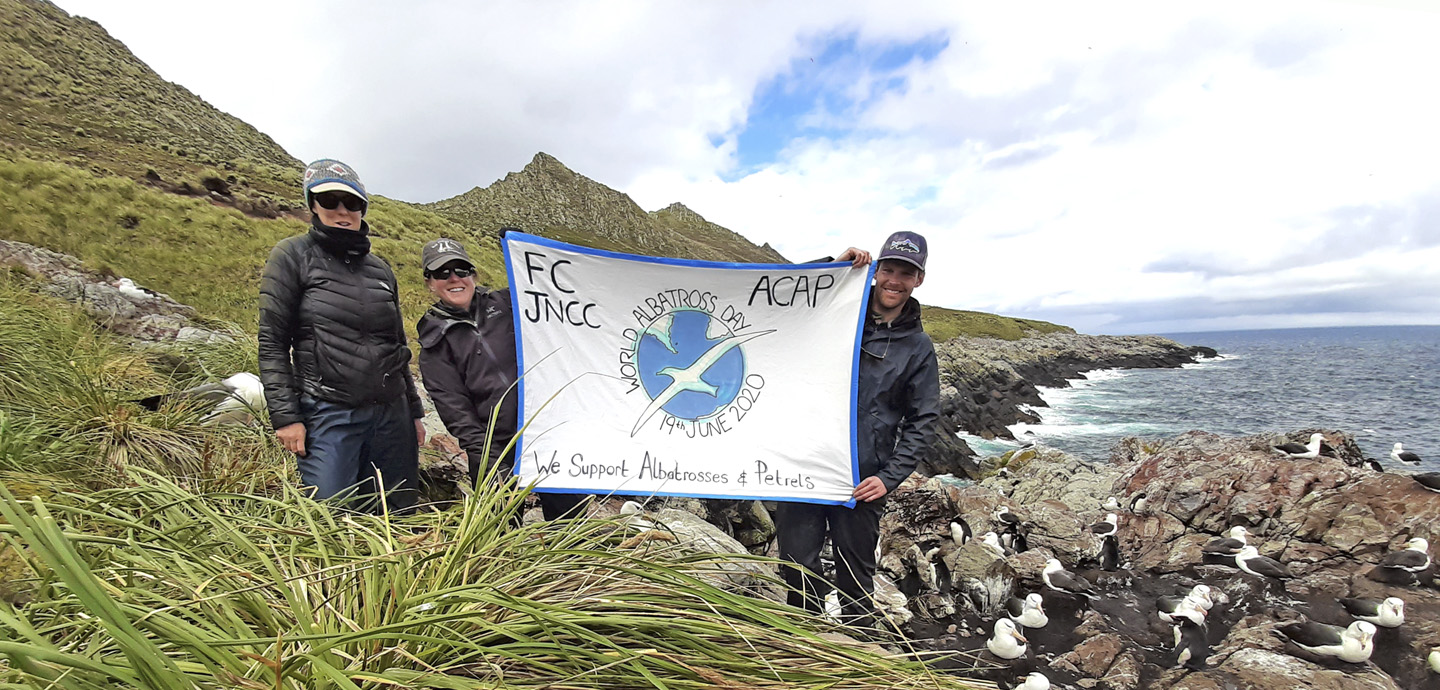 From left: Sarah Crofts, Megan Tierney and Peter Wessels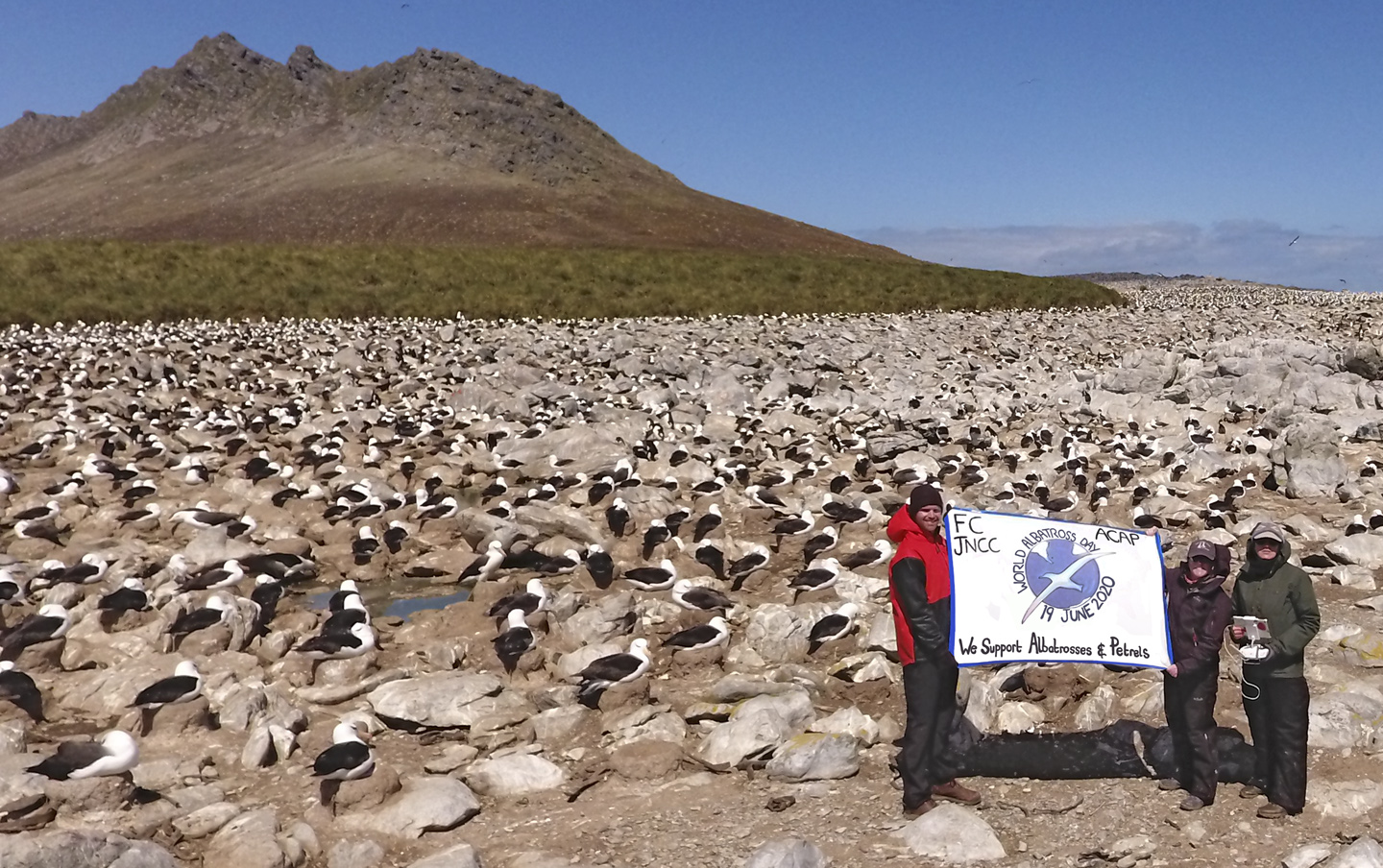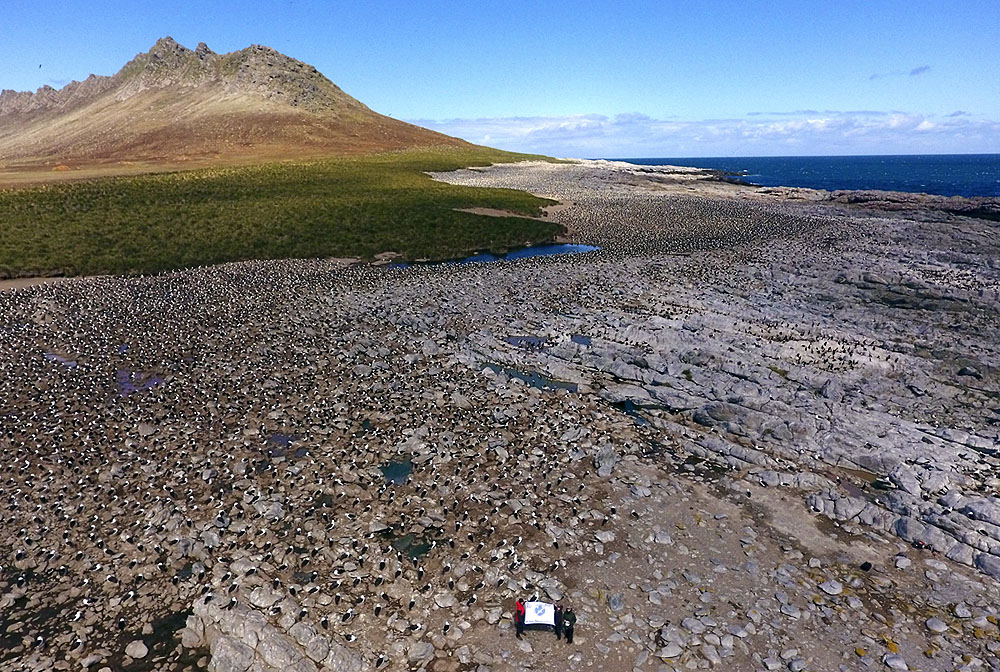 The above two photos by drone: the albatrosses appear to take no notice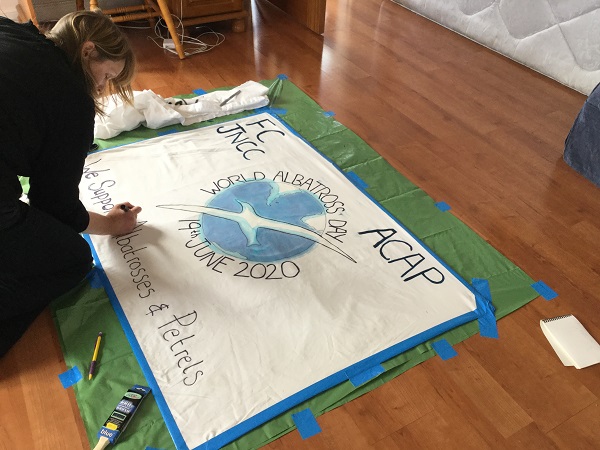 Sarah Crtofts works on the banner destined for Steeple Jason
Before the field trip Conservation Officer Sarah Crofts wrote to ACAP Latest News: "World Albatross Day brings awareness of the global conservation plight of these extraordinarily long-lived ocean navigators. It also celebrates the efforts achieved by scientists, conservationists, governments and industry working together to sustain albatross populations into the future".
Steeple Jason is the ninth albatross island to be part of the 'WAD2020 Banner Challenge', and the first for the Falkland Islands (Islas Malvinas)*. More islands are expected to be added to the list, hopefully also including several in the northern Hemisphere. If a few more islands are included it is intended to make a poster of the banner photos in time for World Albatross Day on 19 June that will be freely available for downloading.
With thanks to Sarah Crofts and Peter Wessels, Falklands Conservation and Megan Tierney, Joint Nature Conservation Committee.
John Cooper, ACAP Information Officer, 06 January 2019
*A dispute exists between the Governments of Argentina and the United Kingdom of Great Britain and Northern Ireland concerning sovereignty over the Falkland Islands (Islas Malvinas), South Georgia and the South Sandwich Islands (Islas Georgias del Sur y Islas Sandwich del Sur) and the surrounding maritime areas.