José Báez and colleagues (Centro Oceanográfico de Málaga, Instituto Español de Oceanografía, Málaga, Spain) have published in the journal Biodiversity and Conservation on how to avoid Scopoli's Shearwaters Calonectris diomedea (a potential ACAP candidate species) being caught by Spanish longliners in the Mediterranean.
The paper's abstract follows:
"Cory's shearwater Calonectris diomedea is the main seabird species by-caught by the Spanish longline fleet operating in the western Mediterranean Sea. Identification of the principal factors that determine this by-catch and understanding how they could be controlled is fundamental for improving the management of fisheries and so carry out a better conservation of Cory's shearwater populations in the Mediterranean. The aim of this paper was to model the longline by-catch of Mediterranean Cory's shearwater in the Spanish Mediterranean longline fishery as a function of time of the year, technical characteristics of the fishing operation, and geographical location. We used data recorded by an onboard observer program monitoring commercial longline fisheries. During the 10 years covered in this study, 80 birds were captured in 30 fishing operations out of a total of 2,587 observed fishing sets. We used favourability functions and Random Forest analyses to relate the presence of Cory's shearwater in the by-catch with the explanatory factors. The most explanatory factor in relation to incidence of by-catch was the geographical location (longitude and fishing over the continental shelf) and then the technical characteristics of the fishing operation (number of hooks and fishing during non-working days). Our conclusion is clear, because seabirds are more likely to approach longline vessels when trawlers are not allowed to operate (i.e. non-working days), activity of longliners should be limited to working days, and closing longliners activity during the month of October could reduce greatly reducing [sic] seabird bycatch."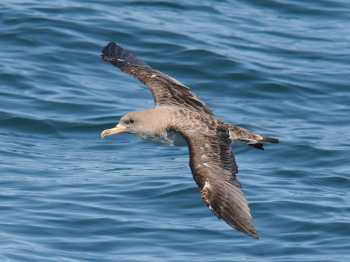 Cory's/Scopoli's Shearwater Calonectris borealis/diomedea at sea
Photograph by John Graham
With thanks to Richard Phillips for information.
Reference:
Báez, J.C., García-Barcelona, S., Mendoza, M., Ortiz de Urbina, J.M., Real, R. & Macías, D. 2014. Cory's shearwater by-catch in the Mediterranean Spanish commercial longline fishery: implications for management. Biodiversity and Conservation 23: 661-681.
John Cooper, ACAP Information Officer, 15 March 2014