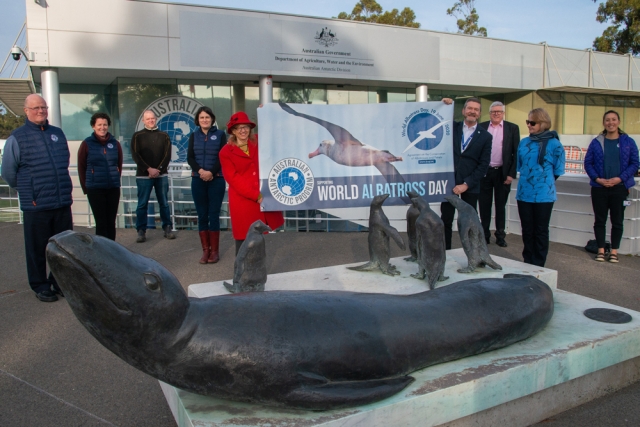 Christine Bogle, ACAP Executive Secretary and Kim Ellis, Director, Australian Antarctic Division, along with some socially distanced AAD colleagues, join in global celebrations of the first World Albatross Day on 19 June 2020. Photograph by Simon Payne, Senior Digital Producer, AAD
A year after ACAP first mooted the idea at its 2019 meeting and after 12 months of planning and awareness raising around the world, today we mark the very first World Albatross Day. With Australia hosting the ACAP Secretariat it is fitting that 'WAD2020' celebrations started early in that country. Christine Bogle, ACAP Executive Secretary, and Kim Ellis, Director of the Australian Antarctic Division, along with a few socially distanced AAD colleagues who included Australia's Representative to ACAP, Jonathon Barrington, gathered to raise a banner at the AAD Headquarters in Kingston, Tasmania.
Christine Bogle writes: "The inaugural World Albatross Day comes at a time when the world has been turned upside down by a global pandemic. I hope this crisis reminds us how much we must treasure the natural environment of which we are custodians. To paraphrase the words of Sir Geoffrey Palmer (former New Zealand Prime Minister) who in May 1990 was speaking about whales, if we allow albatrosses to become extinct, how can we imagine ourselves capable of solving the many other environmental problems the world faces?"
The Australian Antrarctic Division adds its view: "Today we celebrate the first World Albatross Day that has been established to highlight the conservation crisis affecting these iconic species. Australia has been at the forefront of albatross conservation over many decades. The Australian Antarctic Division has undertaken field research, developed recovery plans, and engaged with the global community to protect threatened albatrosses. The AAD will continue to support all efforts for albatross conservation, on this and every other day, especially through our long-standing close cooperation with the ACAP Secretariat, which is hosted by Tasmania in Hobart."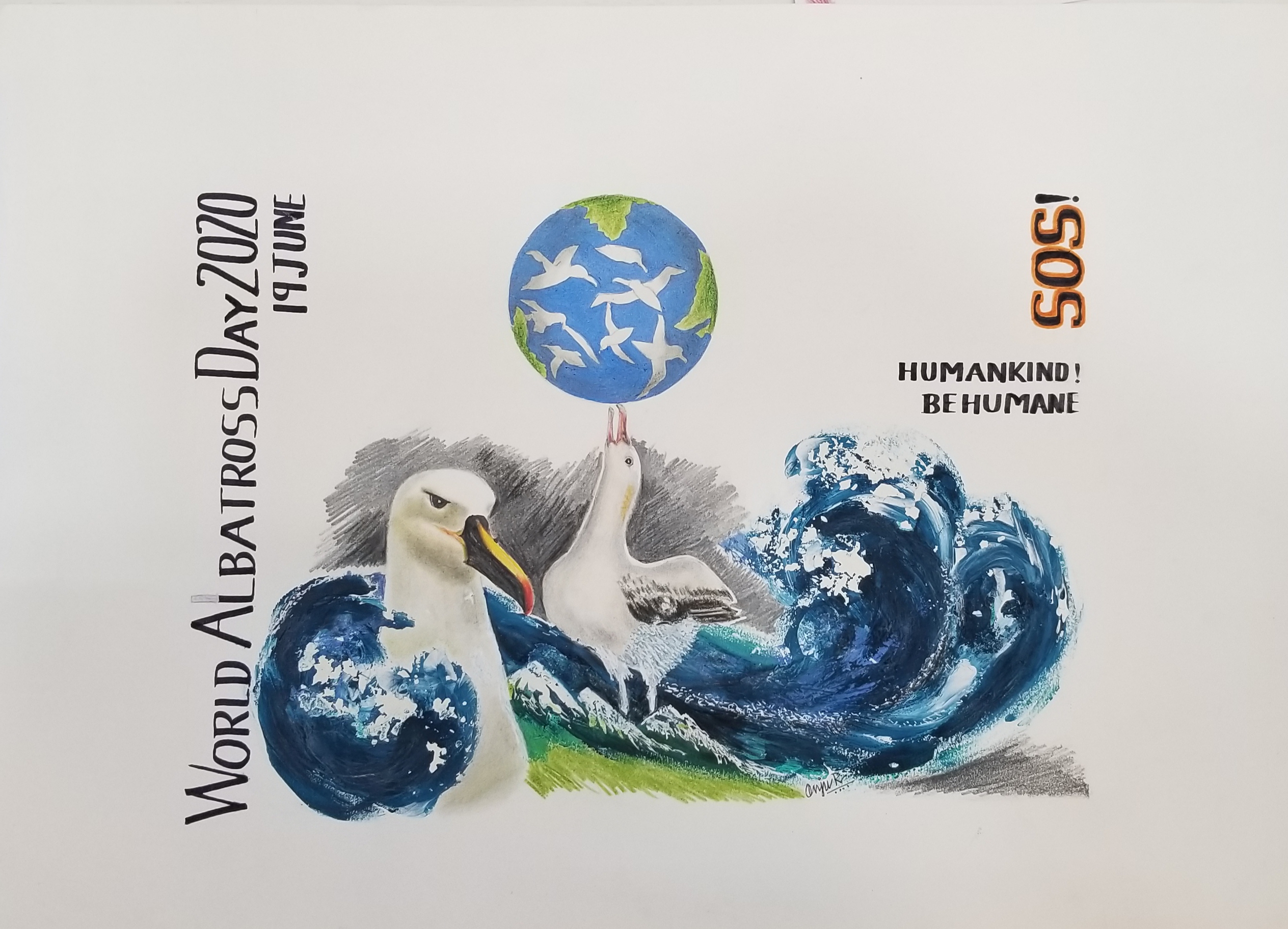 Artwork by Anju Rajesh, Artists & Biologists for Nature
Nathan Walker, Chair of ACAP's Advisory Committee adds: "Albatrosses are amazing creatures that can glide effortlessly across vast oceans, but they are susceptible to pests on the islands where they raise their chicks, and can be caught accidentally by fishers. World Albatross Day is a great opportunity to learn more about these beautiful birds and how we can reduce pest and human impacts on them."
Senior Campaign Manager Alexia Wellbelove, of Humane Society International (an NGO that regularly attends ACAP Meetings as an observer), makes a sobering point: "In 2019 ACAP declared albatrosses were facing a conservation crisis and urgent action needed to be taken to protect populations. COVID-19 risks the situation worsening for the albatross with critical meetings delayed or cancelled, and essential observers prevented from getting on board fishing vessels due to infection risk."
ACAP will continue to work in these difficult times of a global pandemic to improve the conservation status of the world's 22 species of albatrosses, as well as of the other ACAP-listed species.
Read more about World Albatross Day in ACAP's media release in four languages and in the World Albatross Day section from this website's home page – where you can find artworks, videos, games and competitions for children and adults alike.
With thanks to Jonathon Barrington, Australian Antarctic Division. Jessica Fitzpatrick, Media Production Manager, Corporate Communications, AAD designed the banner.
John Cooper, ACAP Information Officer, 19 June 2020